Celebrity outfits can influence high street trends, there's no doubt about it. However, there are some trends that not even superfans are willing to follow.
Taking six of the world's most talked-about celebrities, we've rounded up the outfits that made them the most headlines and sent the world of fashion into a frenzy.
Kim Kardashian
2006 – Kim K was working as Paris Hilton's assistant and stylist. Wearing the Louis Vuitton 'it' bag of the season, Monogram Miroir designed by Marc Jacobs, plus matching metallic Louis Vuitton swimsuit.
2010 – No longer Paris Hilton's PA, 2010 saw Kim star in a reality TV show, Kourtney and Kim take New York. Oozing glamour in the first episode, Kim wore a fur jacket, wide-brimmed hat, gold accessories and Hermes Birkin handbag.
2014 – The Balmain mini dress Kim wore for her hen party in Paris cost £15,000 alone. Whilst out celebrating, her total wardrobe in Paris including wedding dress cost around £2,000,000 in total.
2015 – Not afraid to show off her bump, pregnant with Saint West, Kim wore a shocking sheer lace Givenchy bodysuit at the LACMA Art + Film Gala. The revealing outfit received a rush of media attention, sparking major debate around the world.
2016 – Attending Kanye's concert in 2016, Kim and daughter North wore matching silver gowns, designed by Vetements. Introducing North to the world of designer fashion, the matching dresses reportedly cost £10,550.
2019 – Whilst athleisure is still a key part of Kim's look now, at this year's annual Met Gala Kim made fans blush as she wore a very glamourous sheer nude Thierry Mugler dress, showing she's still not afraid to flash some flesh.
VIDEO: Remember Kim Kardashian on DWTS?
Video info: Kim Kardashian was seen hanging out backstage at Dancing with the Stars in LA during her stint on the show in 2008. The reality TV star also greeted Perez Hilton with a kiss before getting ready for the live show as she introduced her family to other contestants before performing on the show at CBS in Hollywood.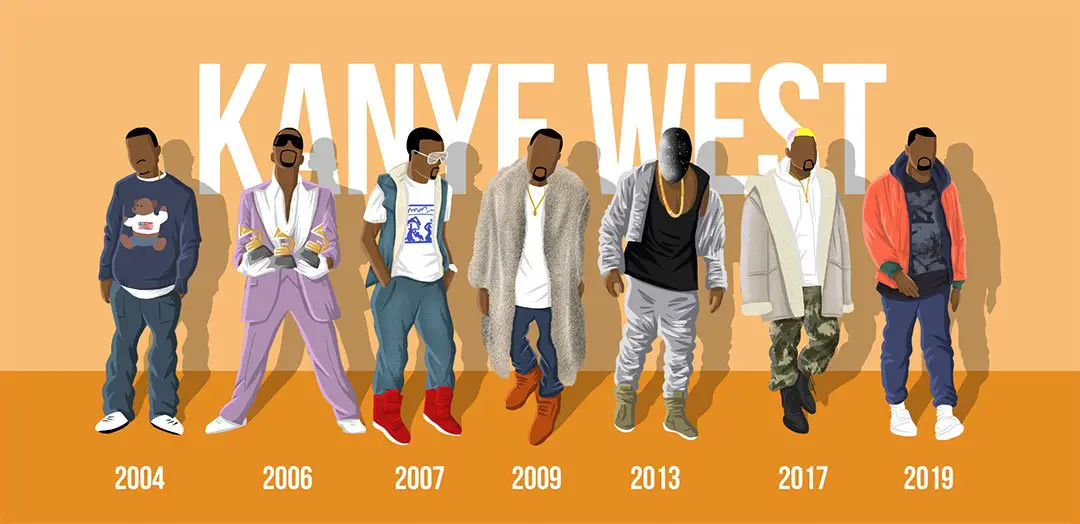 Kanye West
2004 – Kanye West revealed his love for soft toys, with one teddy bear stealing his heart. He featured the Ralph Lauren Polo Bear on the cover of his College Dropout album and was captured wearing Polo Bear knitwear on more than four occasions that year. The bear soon became a star, with Drake and John Mayer also following the teddy bear trend.
2006 – Making his way into the spotlight, Kanye's outfits began to steal the show. At the 2006 Grammy Awards he took home the glory in an eccentric dusty-pink, white satin-lapelled tux teamed with white driving gloves and sneakers.
2007 – Remember the shutter shades? We have Kanye to thank for this unforgettable fashion trend. Designer, Alain Mikli, designed a custom pair for Kanye, who wore them in the music video for hit single "Stronger".
2009 – Kanye appeared on PETA'S worst offenders list in 2009. We can understand why, after seeing this massive fur coat matching with Amber Rose at the Louis Vuitton show during Paris Fashion Week.
2013 – Kanye West was barely recognisable in a bizarre crystal balaclava whilst performing on stage during his 2013 Yeezus tour. French fashion house, Maison Martin Margiela, designed the piece as part of a collection exclusively for Kanye.
2017 – Kanye was first spotted with a vibrant new hair colour after alleged reports of splitting with wife, Kim Kardashian. Dying his hair pink and blonde, he wore an oversized sheepskin coat, camouflage combat trousers and military boots as he left the Arclight Cinema in Hollywood.
2019 – After years of outrageous outfits, Kanye has finally hit the style jackpot. With his Yeezy venture now worth over £1 Billion, Kanye is the king of contemporary fashion, with music being a key influence on his designs
VIDEO: Kayne West Tattoo Yeezy Shows Off His Cool Ink
Video info: Kanye West showed off his tattoos on his forearms with a very serious look on his face. On his left arm, there is reportedly a list of songs that have been important and especially meaningful in Kanye's career. The singer's right arm is inked with a large portrait of a Madonna and child in a medieval style.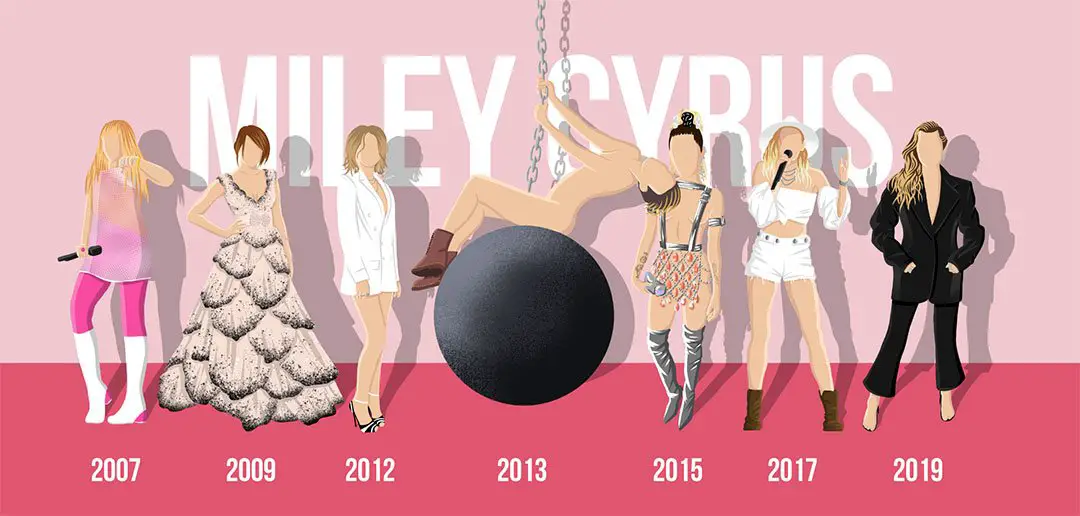 Miley Cyrus
2007 – Back when Miley was best known for starring as 'Hannah Montana' her outfits were pink, glitzy and packed with girl-power. A recent 2019 auction saw some of the character's most iconic outfits sold for more than $5,000, with fans still keen to get a piece of Miley's Disney Star days.
2009– At the 2019 Oscar's, Miley looked elegant in her silver Mermaid gown designed by Zuhair Murhad. She was hailed as one of the best dressed actresses at the awards gala, with her dress reportedly inspired by The Little Mermaid.
2012 – At 2012 Billboard Music Awards, Miley revealed her cheeky side when she wore an oversized Jean Paul Gaultier blazer – with no knickers! From here, things got even more risqué, from see-through skirts to side boob, the star began to sex up her image.
2013 – In 2013, she came in like a wrecking ball and caused destruction on the style scene. Completely naked in the music video, and keen to shake off her pop princess past, the singer baited controversy at every turn.
2015 – The star hosted the 2015 MTV Video Music Awards, wearing 11 outfits in just one night. In true Miley style she arrived on the red carpet with a BANG! In this near-naked spangly ensemble teamed with silver thigh high boots she left very little to the imagination.
2017- After a run of raunchy outfits and a reputation for rebellion, Miley shocked us again at the 2017 billboard awards, keeping it casual in white denim shorts, cowboy hat and boots. Going back to her country routes, she wore the outfit to coincide with the theme of her single 'Malibu'.
2019 – Miley strutted the Grammys red carpet wearing a stunningly sophisticated black suit designed by Mugler. While the black blazer Miley donned may suggest she's calmed down a little, think again, as she wore no shirt or bra under the blazer.
VIDEO: Miley Cyrus Cartwheels & Does The Splits on the Beach
Video info: While filming Hannah Montana: The Movie, Miley Cyrus was spotted playing in the water with her friend, doing cartwheels, and riding onto set in an off-road vehicle.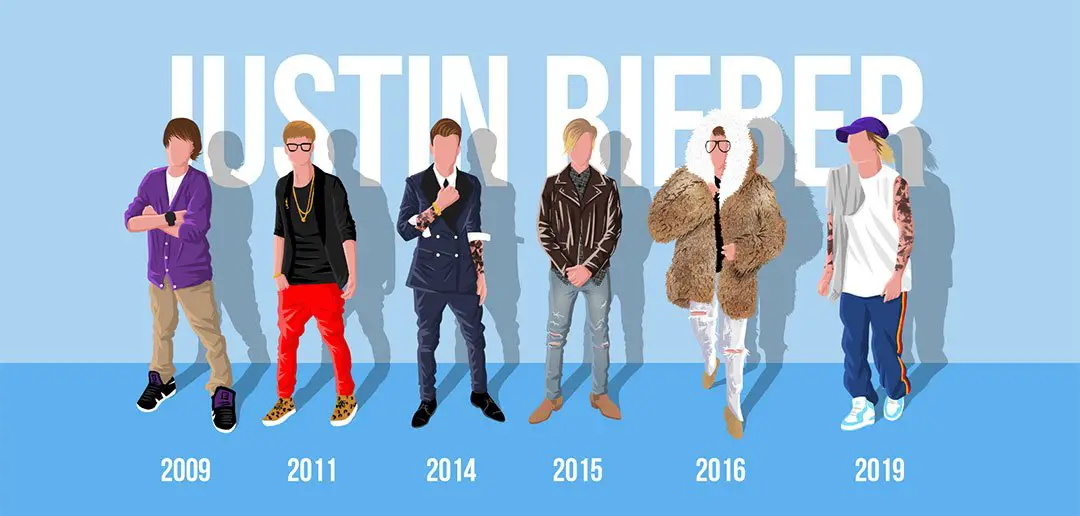 Justin Bieber
2009 – Back when Bieber was just a baby, he made one of his first public appearances at the Nintendo World Store in New York City. Sporting a preppy purple cardigan and his iconic bowl cut hairstyle, the 15-year-old singer was set to release his debut single 'Baby'.
2011 – In one of his first forays into patterned clothing, Bieber paired his black blazer, gold jewellery, and bright red pants with bold cheetah-print shoes at the 2011 MTV Video Music Awards.
2014 – After a huge run of successful singles, Bieber took the chop and revealed a mature new look. Pairing an arm of new tattoos with a sleek monochrome suit at amfAR's 21st Cinema Against AIDS Gala, Bieber looked cool, stylish and confident.
2015 – First appearing at the 2015 VMA Awards rocking a punk inspired hairstyle, Bieber began to incorporate a 'rough and ready' look. The leather jacket, skinny jeans and moody expression were bang on trend at this time.
2016 – Stepping out in an OTT fur jacket with throwback, hip-hop vibes, the star began to refine his look with staples from Balmain, Calvin Klein Collection, and Saint Laurent.
2019 – Now married to Hayley Baldwin, Bieber's style has taken a backseat. Recently labelled a' Scumbro' by Vanity Fair, this new trend involves taking a sloppy approach to wearing expensive, designer clothing.
VIDEO: Bieber plays KITT from Knight Rider in New Movie!
Video info: David Hasselhoff was pictured giving pop superstar Justin Bieber a big bear hug when they both teamed up to shoot a comedy movie titled 'Killing Hasselhoff' in Venice Beach, Los Angeles.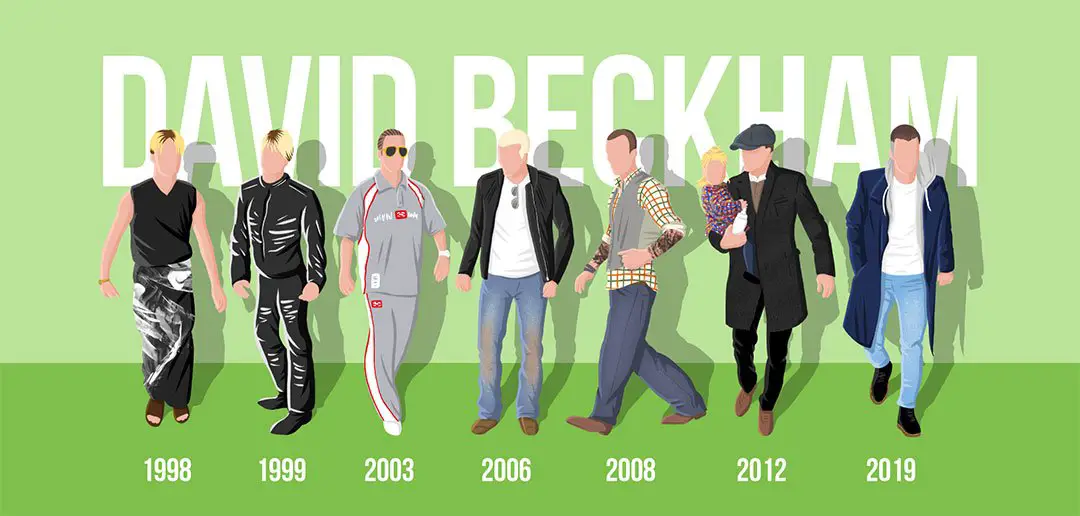 David Beckham
1998 – Golden Balls got in a spot of bother during the 1998 World Cup, resulting in a red card for reportedly kicking Argentian player, Diego Simeone. But was that his worst offence? In the same year, he was papped with new wife Victoria wearing a sarong he took from her wardrobe, teaming with a black tank top and sandals.
2000 – David and Victoria Beckham wore matching leather outfits at the Midland Hotel in Manchester for their Millennium New Year's Eve party, and they certainly set off fireworks. The Versace two-piece made major headlines, with the couple knighted as style royalty during this time.
2003 – Teaming his Ecko Unlted tracksuit with an impressive set of corn rows, Becks ditched the leather in favour of some serious urban street style. The US brand Ecko Unltd, favoured by celebrities, was huge in the early 00's before going into liquidation in 2014.
2006 – Another year another hairstyle, not to mention a wardrobe refresh. Beckham dyed his hair platinum blonde and rekindled his love for leather as he teamed leather jackets with 80's washed denim and tight fitted tees.
2008 – Welcome to the year of the waistcoat. Pairing the formal garm with casual denim was a huge trend in 2008, and Beckham was the leader of the pack. He wore a classic combination at the Nickelodeon Teen Choice Awards.
2012 – Making headlines for his move to Paris St-Germain, Becks image reflected his London routes. Papped in the fashion capital, he wore a longline tailored jacket, flat cap and Chelsea boots.
2019 – Spotted in London earlier this year, Victoria's fashion expertise has clearly impacted Becks style. Here he combines staple items to create a simple yet chic look, reflecting the style of VB designs.
VIDEO: Easy Rider David Beckham Cruises Around LA On A Vintage Motorbike
Video info: David Beckham spent the day cruising around Venice, California on his Super Vintage 93 Knuckle motorbike, LA. Beckham was seen driving the streets of LA before stopping for lunch with a friend.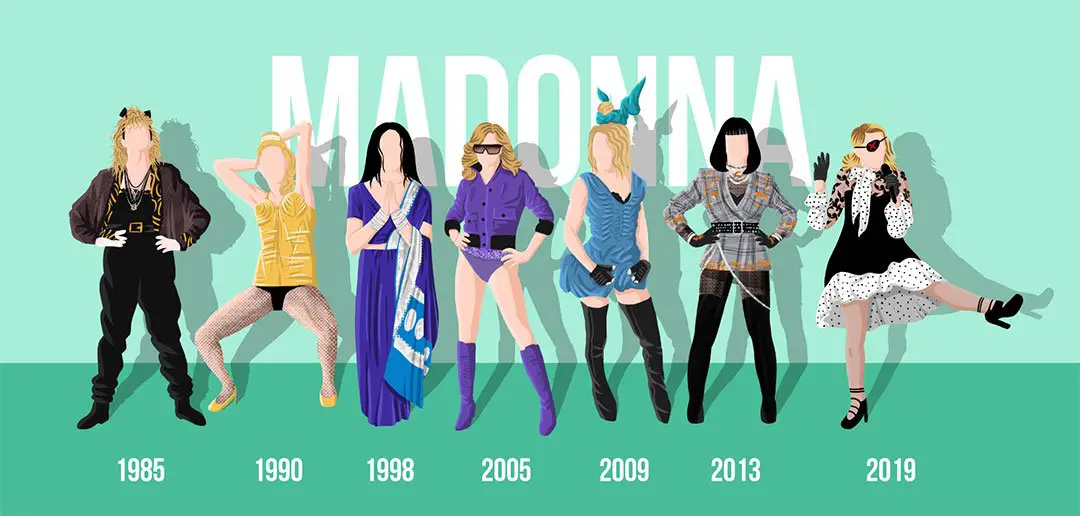 Madonna
1985 – This look, here seen on set for the film Desperately Seeking Susan, has undoubtedly become Madonna's most-recreated signature look. We fully owe new-wave punk style, huge hair bows, fishnets and tutus to her.
1990 – The cone-shaped Jean-Paul Gaultier bustier that Madonna rocked on her Blonde Ambition tour has become one of her most memorable looks to date. In 2012 it was auctioned for £48,000 at Christies.
1998 – Madonna caused major controversy with her second VH1 Fashion Awards outfit — a traditional royal-blue sari that referenced her growing interest in Eastern cultures and religions.
2005 – At the MTV Europe Music Awards in Lisbon, Madonna revealed her new 'Hung Up' disco phase in a purple bomber jacket and matching purple boots.
2009 – Styled by Marc Jacobs himself, Madonna rocked a Louis Vuitton autumn/winter 2009-10 blue dress, over-the-knee boots and custom haute couture bunny ears at the Costume Institute Gala in 2009. Though many considered her one of the event's worst-dressed at the time, it was a look that made headlines across the world.
2013 – The Met Gala 2013 theme was practically made for Madonna: Punk: Chaos to Couture. She paid tribute to her '80s style in an embellished Givenchy plaid jacket paired with excessive jewellery and fish nets.
2019 – Still in the media spotlight, this year Madonna has taken on a whole new persona. She recently revealed 'Madame X' is a spy, a secret agent, and sleeps with one eye open – which explains the mystery behind the eyepatch she's been sporting.
Video info: Madonna's gave a rousing speech at the Glaad Awards 2019 after receiving the Advocate For Change Award. The 60-year-old pop icon took the stage to celebrate her three decades of advocacy work for LGBT equality.
Considering switching up your style like one of the celebs above? You can find a vast array of designer clothing from some of the most recognizable brands in the fashion world such as Hugo Boss, C.P. Company, Barbour, Emporio Armani and more on Woodhouse Clothing.
**This article is based on a press release provided by iProspect