Michelle Williams looked delighted with a big smile on her face as she was pictured with friend and actress Busy Philipps.
The stylish pair, both dressed in blue, walked out of a ceremony together with Michelle holding on to the bronze trophy for her role in the biopic My Week With Marilyn in which she portrays the iconic star Marilyn Monroe.
Michelle showed off her short haircut and sported a menswear-inspired look with a chic dark blue Louis Vuitton sport coat and short suit with Fendi peep-toe heels showing off her legs. You can view the FULL gallery right here: Michelle Williams Catcher In The Rye Clutch Gallery
She accessorized her look with an Olympia Le-Tan clutch made to look like J.D. Salinger's iconic book The Catcher in the Rye. The pics were taken at 2030 Ocean Park, Santa Monica, Los Angeles, CA, 90401. Check out our PapMap for more celeb spots!
But where can you get this amazing clutch from? Well on the official Olympia Le-Tan website the design is no longer available but according to Net A Porter the clutch will set you back $1520!
As for Olympia Le-Tan, they explain their brand right here:
"Founded in 2009, the brand Olympia Le-Tan is well known for its creation of originals handbags and minaudières, which are a combination of embroidery and literature. The brand's signature book-clutch has been seen on Tilda Swinton, Natalie Portman or Michelle Williams to name a few. In March 2012, the brand launched its first ready to wear collection, classic clothes with a twist of humour, in the official Paris Fashion Week calendar. The first Paris store opened its doors in December 2014 on the outskirts of the jardin du Palais Royal."
Busy Philipps who joined Michelle Williams wore a 50s inspired collared light blue dress with her hair tied back.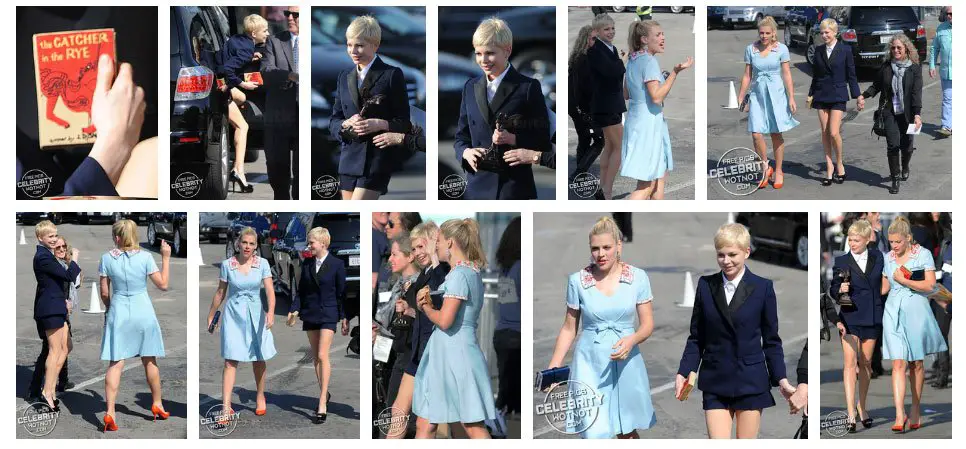 Michelle Williams is set to star as Christa McAuliffe, the American school teacher chosen to train and fly with the NASA aboard the 'The Challenger' shuttle in 1986 in her next movie.
Michelle Williams Trivia: Did you know Michelle Williams first two roles were in Baywatch (1993-1994) and Lassie (1994)!?