Madonna used a cane after leaving her gig in Paris. The fan in this video is amazing!  The superstar, wearing a long Versace logo coat, was apparently 3.5 hours late for the Madame X Paris stop!
VIDEO: Madonna Uses A Cane After Gig In Paris That Had Fans Waiting 3.5 Hours For Her Arrival
This meant the concert finished a little after 2:15 a.m. on Sunday night and left most viewers without public transport.
You can buy Madame X, Madonna's highly-anticipated 14th studio album on Amazon via the Amazon Associates program which we participate in by earning fees to keep our Free website running…Thanks!
Apparently, Madonna was using the cane due to a blown out knee and we hope she recovers quickly. This is Madonna's eleventh tour and supports her fourteenth studio album of the same name. Madonna is set to complete her SEVENTY NINE concerts in Paris after starting in new York in September 2019.
VIDEO: Madonna's Boyfriend Ahlamalik Williams Seen Leaving Paris Hotel To Meet Her After Concert
Madonna's boyfriend, Ahlamalik Williams, was also spotted leaving the Crillon Hotel (Hôtel de Crillon) in Paris to meet her after her concert at the Grand Rex.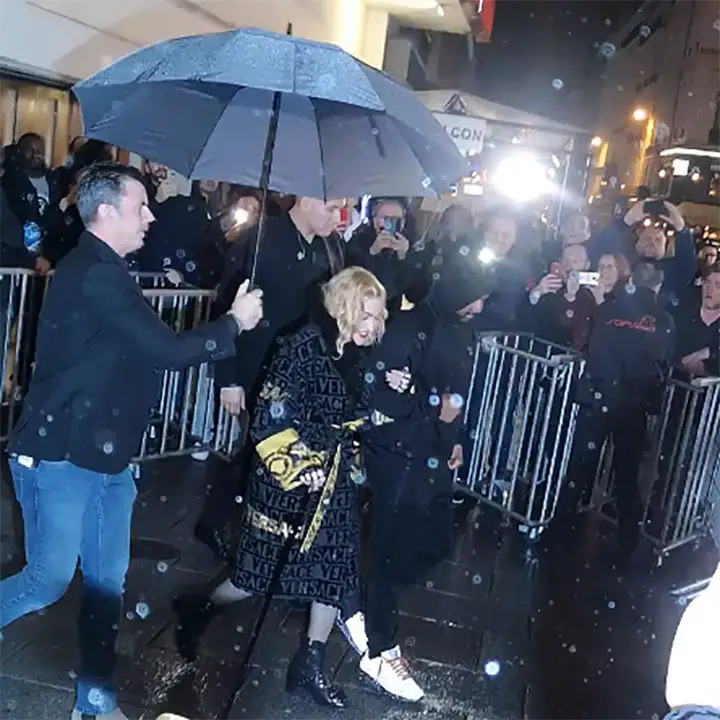 Check out more FREE pictures of Madonna on our free celebrity image gallery "CelebritySessed". You can even use the images on your blog, website or publication:
Madonna Trivia: Born in the 1950s (August 16th 1958 to be exact) Madonna was Madonna Louise Ciccone and her nickname was "Little Nonni" growing up in Detroit, Michigan.