Joe Wicks upped his fitness games by putting on a Frog fancy dress costume to do a H.I.I.T session!
The "Lean in 15" Body Coach, who is known for his High-Intensity Interval Training YouTube videos, has been helping school children across the world. Now, in their homes everyone can enjoy with some fun "PE" sessions during the coronavirus Pandemic lockdown.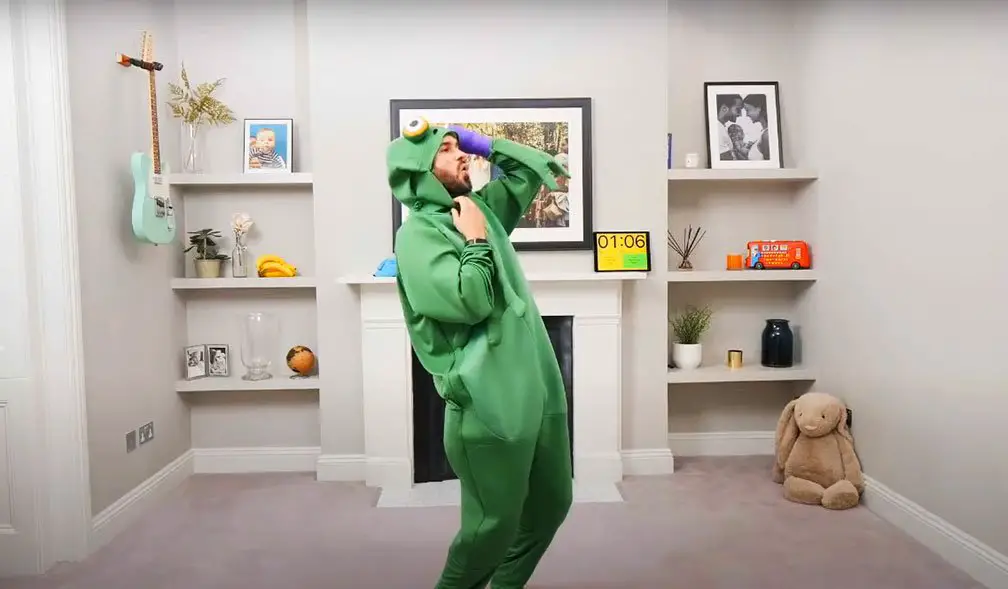 To make things a bit more fun Joe put on a green frog fancy dress outfit for a 30 minute workout that saw him gasping for air and rehydrating himself with water. No doubt he was thirsty after hopping around like a frog at one point! Check out the video below that was #1 trending on YouTube:
VIDEO: Joe Wicks Frog Video PE Class!
We also have Exclusive video of Joe Wicks working out on Santa Monica beach with a couple of other female fitness enthusiasts.
Joe showed off his incredible physique as he chatted to the two girls and showed them something on his cell phone.
EXCLUSIVE VIDEO: Joe Wicks The Body Coach Impresses Locals in Santa Monica
At one point Joe removed his top in front of the two ladies and showed off some of his moves on the bars. He was pictured at the original and famous Muscle Beach on Santa Monica Beach.
EXCLUSIVE VIDEO: Joe Wicks + Wife Rosie Jones – Body Coach Workout in LA
We even spotted Joe Wicks with his now wife Rosie Jones walking along the beachfront in Santa Monica, Los Angeles.
These Exclusive pictures show the couple after Joe had just performed a Facebook Live H.I.I.T session near the beach. Model Rosie almost looked unrecognizable with her hair tied back and makeup free.
She is usually seen by her fans posing for pics in a studio. However, here she was pictured wearing a stripy t-shirt and palm tree patterned shorts. Joe was snapped in a turquoise tee and black shorts.
Joe Wicks Wife: Who Is Rosie Jones AKA Rosie Wicks AKA Mrs Body Coach?
Rosie Jones is a model from the United Kingdom born on July 19, 1990. After attending St Paul's Catholic College in Sunbury-on-Thames she saw a TV program on Samantha Bond Management and decided to send some pictures in.
At the age of 17 she began modeling which included becoming a nude Page 3 model in The Sun newspaper and posing for several mens mags including Nuts below:
You can buy this Nuts poster of Model Rosie Jones on Amazon via the Amazon Associates program which we participate in by earning fees to keep our Free website running…Thanks!
Rosie Jones became Mrs Wicks on June 29th 2019 after they had their first baby girl together who they named Indie. She posted a snap of herself pregnant wearing a see-through B I B I L U X E dress with her second child on her Instagram page.
After giving birth in dec 2019 they now have a son called Marley. Her Instagram handle is @rosiewicks1 .
Did you know Rosie Jones is a World Record Holder!? She managed to take off and put on seven bras in one minute back in 2009.
Happy Easter! We thought we'd throw this throwback pic of Rosie Jones in here seen as it's the Easter weekend, with Rosie posing in the nude with nothing more than some Playboy style bunny ears!
For more pictures of Joe Wicks with wife Rosie Jones and exercising check out our FREE image galleries below:

Joe Wicks Trivia: Joe Wicks is Italian! His mother Raquela Mosquera is of Italian descent..is that where his great hair comes from?