Actress Linda Kozlowski was almost unrecognizable stepping out in Los Angeles! Spotted behind some huge blue mirror-tinted aviator sunglasses, she fashioned red windswept hair.
The American actress, aged 62 in 2020, shot to fame starring alongside Paul Hogan in Crocodile Dundee (1986), Crocodile Dundee II (1988) and Crocodile Dundee in Los Angeles (2001). However, she quit the film industry in 2001 for good even though she trained at the world-renowned Juilliard School. Juilliard's is a private performing arts conservatory in New York City graduating in 1981.
Linda had previously starred alongside Dustin Hoffman and John Malkovich in Death of a Salesman. She was even awarded a Golden Globe nomination for her role as Sue Charlton in Crocodile Dundee. But, after being offered "straight-to-video schlocky films", Linda decided to end her film career after the third installment of Crocodile Dundee.
Linda Kozlowski Crocodile Dundee Actress Now!
Linda married her Australian actor co-star Paul Hogan in 1990 and they have a child together called Chance Hogan. They divorced in 2014 and Linda was spotted with her new boyfriend cycling around Venice Beach in Los Angeles shortly after the divorce was finalized. Check out all the pics here: EXCLUSIVE: Linda Kozlowski On Bike Ride With Boyfriend in LA
Linda could be seen puffing as she cycled behind her new man wearing a black vest and showing off her arms. She teamed the pair of three quarter leggings with Nike trainers and a white sweatshirt tied around her waist.
At one point her mystery man looked behind to see if she was keeping up. The two of them then cycled back to her home together in Santa Monica, California.
We also spotted Linda Kozlowski on the trendy Abbot Kinney Blvd in Venice Beach doing a bit of window shopping. Wearing a white denim jacket, a black t shirt, tight denim jeans and leather sandals she lifted up her blue-tinted aviators to peek in one of the windows.
VIDEO: The Famous "Linda "Swimsuit" Crocodile Dundee Scene
The "Linda Swimsuit"
Linda Kozlowski is well known for the "Linda Swimsuit" scene in Crocodile Dundee. The scene shows her character, Sue Charlton, in a black thong swimsuit. She then tries to fill up her water bottle in the outback. Then a crocodile grabs her flask and Mick Dundee saves her.
You can watch the brilliant Crocodile Dundee on Amazon via the Amazon Associates program which we participate in by earning fees to keep our Free website running…Thanks!
That's Not A Knife…That's A Knife!
Another famous scene shows Linda's character Sue Charlton showing Michael J. Dundee round New York City. Some gang members try to rob them showing them a knife and Sue Charlton exclaims "He's got a knife". Mick then looks at the weapon and produces a much bigger knife with the famous line " That's not a knife. That's a knife".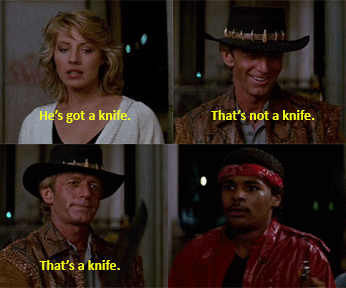 After twenty-three years of marriage her divorce to Paul Hogan was finalized in 2014. According to the The Sydney Morning Herald, Linda Kozlowski walked away with a cool one-off payment of $6.25 million. Paul Hogan retained the rights to the Crocodile Dundee rights and film company.
Linda has now reportedly moved to Morocco with her partner and tour guide Moulay Hafid Baba. According to News.com.au they married in 2017.
Linda Kozlowski Trivia: Linda now runs a company called Dream My Destiny which she co-founded with Moulay Hafid Baba.