Justin Bieber was spotted rapping about God while hiking with friends. Bieber is a devout Christian and was recently spotted heading to his Church, Churchome's at the Saban Theatre, with his new wife Hailey Baldwin. You can read about it here: ELLE Newlyweds Justin Bieber and Hailey Baldwin Return to Favorite Date Spot, Church
However, one of Bieber's tattoos, inked vertically down his ribcage, reads 'Yeshua' which translates as 'Jesus' in Hebrew. His friend and manager, Scott Samuel Braun, is Jewish and, according to his friends, Bieber often finds inspiration in reciting Hebrew prayers before performing on stage. He also has a picture of Jesus on his left calf.
Many of this tattoos represent his religious beliefs and you can see more of his many tattoos on our Justin Bieber Gallery page: Justin Bieber Gallery.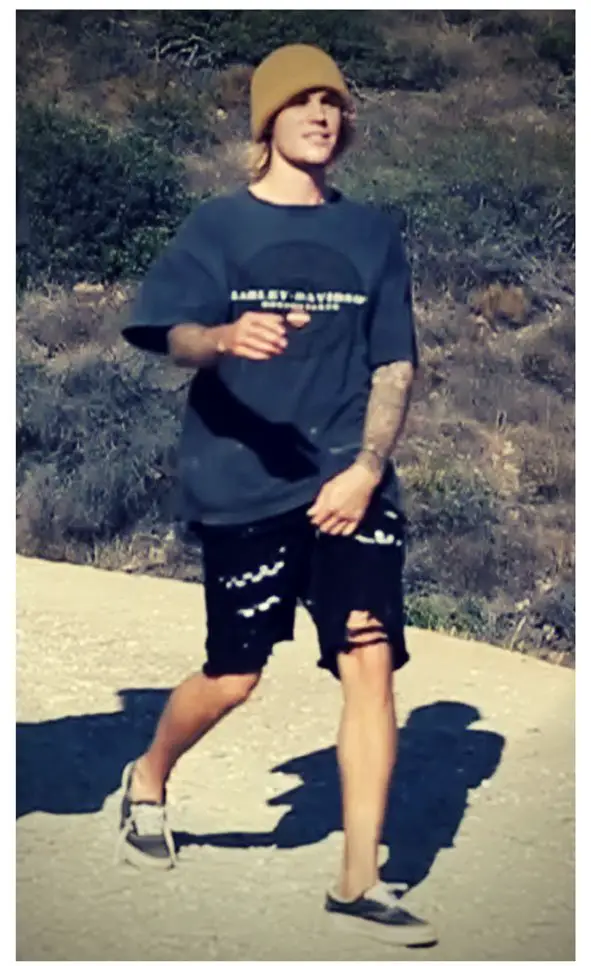 Walking down the canyon in a Harley Davidson T-Shirt another friend had a t-shirt that read "Pray First Grind Later". As for his rapping, can you pick out what he is saying???
Justin Bieber Trivia: According to TIME Magazine (they write about Justin Bieber trivia?) Justin Bieber's favorite sandwich is tomato and mayo on Wonder Bread.