After Hugh Hefner's death on 27th September 2017 the legendary Playboy Mansion is now in the hands of another owner.
Celebrity WotNot can bring you exclusive behind-the-scenes pics inside The Playboy Mansion 'Games Room' that secretly features three hidden bedrooms, floor to ceiling mirrored walls, a gambling table and dozens of arcade and pinball machines!
Before you can even enter the cabin-style 'Games Room' which is positioned away from the main mansion, you first enter the estate and are are given your first warning: "Playmates At Play"!! The yellow sign is your first hint that this visit might different than a normal visit to a Holmby Hills home.
After avoiding any Playmates jumping out in front of your car you then arrive at The Playboy Mansion which was built in the 1920s by British developer Arthur Lett's son, Arthur Jr and Hugh Hefner bought the estate for around $1 million in 1971.
The swimming pool and tennis courts are nearby with the infamous "Grotto" built into the back garden area. 'The Grotto' is one of the most well known parts of the Playboy Mansion which is a heated cove made of rocks and has scented candles scattered around it!
But it's the lesser known 'Games Room' that reveals more of an insight into Hugh Hefner's interests and it's hidden bedrooms at the back of the cabin.
The main room is full of retro Playboy pinball machines, old school arcade games-  including Frogger, Police911, Donkey Kong, Defender, and Centipede) and a billiards table right in the middle. There are even scoreboards next to each arcade with all the high scores and names on them.
Fun signs can be seen up on the walls including several neon signs that include Bart Simpson, the Hollywood Sign (that Heff had protected most of his life) and even a sign that read "HEF I LOVE YOU"!
VIDEO: Michael Jackson's Neverland Ranch Abandoned!
A gambling table has been placed by a window and a leather couch with a tartan-style carpet making the 'Games Room' feel cosy.
Hugh Hefner thought of everything though…after a late night of playing games three bedrooms were built in the back of the cabin all styled in a 1970's vintage decor with orange sheets, blue carpet and mid-century furniture.
A retro neon telephone could be seen next to one of the beds with tissues and even an old school rolodex nearby to call the main house for supplies!
Another bedroom was hidden behind a glass door with more mirrors up to the ceiling. This lounging room also featured 70's style colors with the seating on the floor and dozens of pillows dotted around for comfort.
So it looks like Hugh Hefner really did think of everything when entertaining his guests and we haven't even mentioned his mini zoo he had!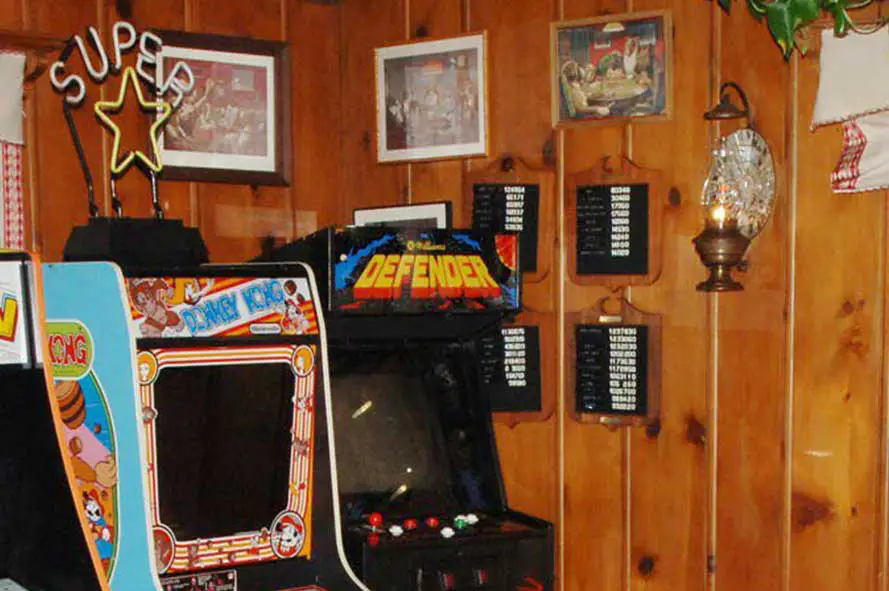 Hugh Hefner actually sold the Playboy Mansion for $100 million in 2016 to his next door neighbor Daren Metropoulos, but the deal reportedly stated that Hugh Hefner could live there until his death.
Hugh Hefner was buried next to the iconic Marilyn Monroe in a crypt at The Westwood Memorial Park and Mortuary in Los Angeles after passing away aged 91 at the famous Playboy Mansion. Check out the pics above of the famous crypt.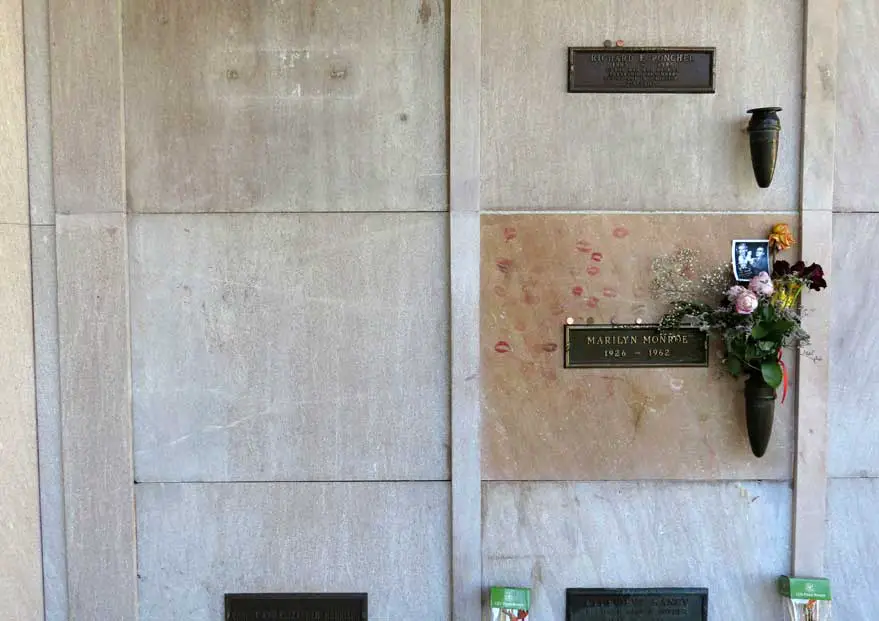 Hugh Hefner Trivia: Hugh Hefner helped restore the Hollywood Sign by organizing a fund-raising event in 1978. He purchased the 'Y' of the sign!