Kate Beckinsale turned heads in Santa Monica, Los Angeles but onlookers were staring at her adorable puppy, Ingrid, rather than the star actress.
Wearing a stylish casual outfit, Kate opted for some very high heels as she popped out with her new furry friend. She matched the white stilettos with grey skinny jeans and a matching grey vest top.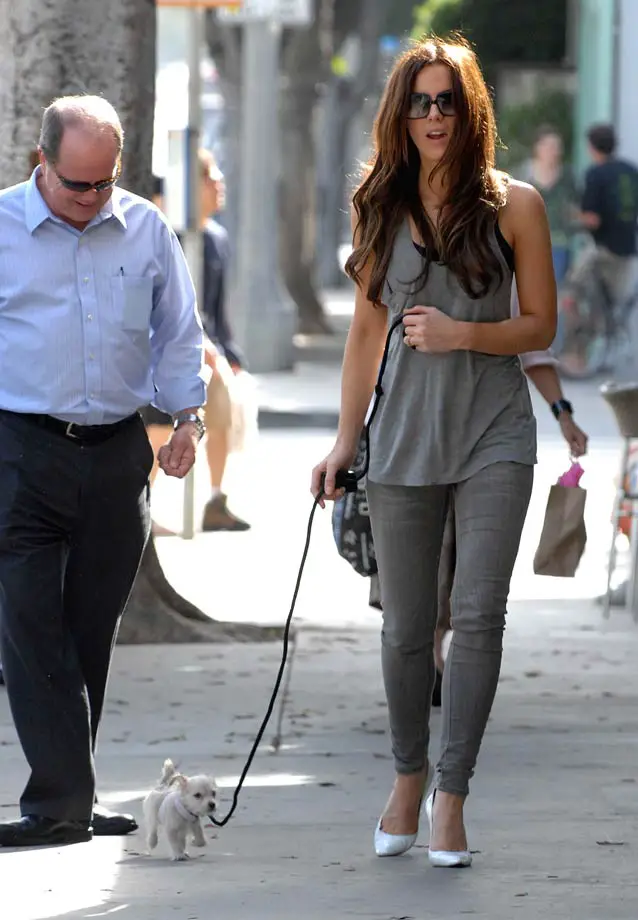 The British actress, who has separated from husband Len Wiseman, was spotted kissing her reported new 22-year-old boyfriend Matt Rife in West Hollywood earlier last year.
Entertainment Tonight broke the story that the Underworld actress was dating the comedian who has starred in Nick Cannon's MTV sketch show, Wild 'N Out. The pair were actually pictured kissing at the Villa Lounge in West Hollywood, California.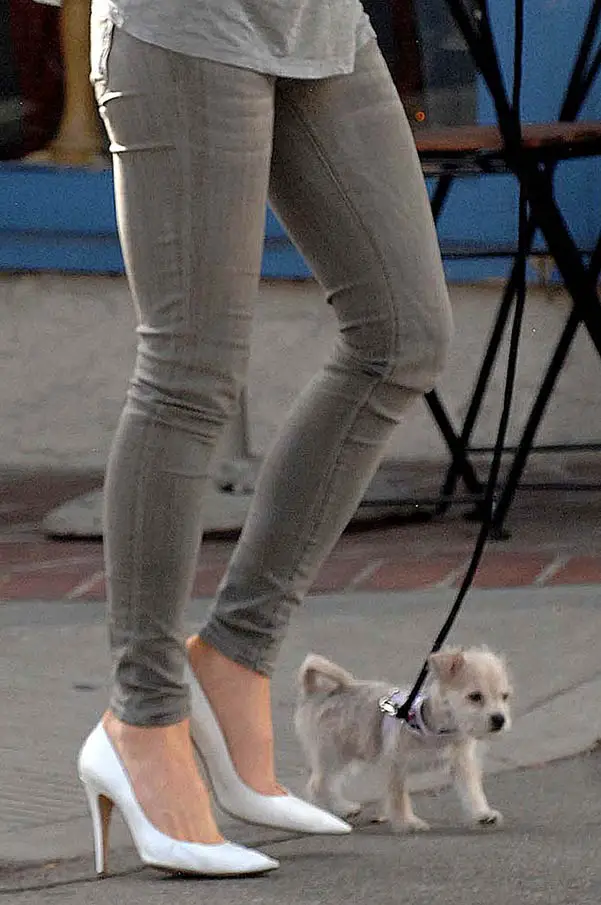 Watch the 'Doggy Date' video below of Kate walking with her furry friend Ingrid and another friend walking her dog!
VIDEO: Kate Beckinsale Puppy Walk in LA
Kate bumped into a friend who also had a dog and one male passerby had his eyes firmly locked on the adorable puppy as the stunning actress walked by.
Kate, who is well known for her re-reoccurring role as Selene in the Underworld films has been filming ITV's The Widow in Cape Town, South Africa.
Pictured with a prosthetic pregnant belly on set of the drama, Kate plays Georgia Wells, a woman who according to Deadline.com, "has cut herself off from her previous life and is no longer the woman she once was. After seeing her "late" husband on the news, she is pulled back to face the world and will stop at nothing until she gets the truth about her past."
Kate Beckinsale was also spotted at Sundance Film Festival in a beautiful alice + olivia white long draped shawl collar coat.
Kate Beckinsale is also set to star in the film adaption of Ashley Prentice Norton's novel The Chocolate Money. The book is set in 1980's New York and stars Beckinsale as a rock chick.
The Chocolate Money will be directed by Adam Shankman who is ALSO set to direct Disney's sequel of Enchanted! With  Amy Adams and Patrick Dempsey returning as Giselle and Robert Philip the highly anticipated film is titled Disenchanted! We can't wait!
Kate Beckinsale Trivia: Did you know Kate Beckinsale can read French and Russian? She studied the languages at Oxford University!