Reese Witherspoon showed off her toned legs as she stepped out in a very short summer skirt in Santa Monica, Los Angeles.
The Big Little Lies star matched her red, orange and white patterned skirt with a white blazer, white top, gold earrings and a canvas necklace.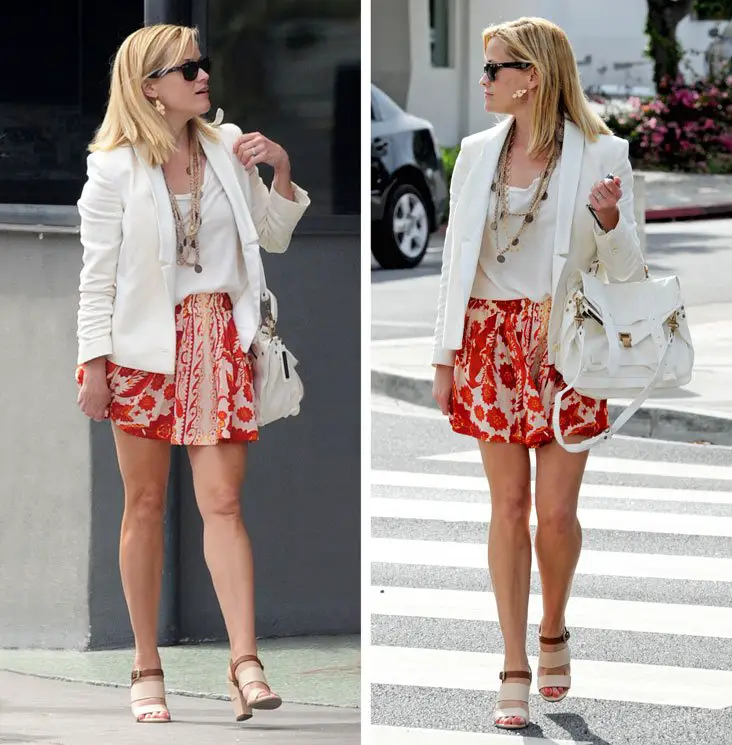 Reese has already started filming Big Little Lies 2 on location in Los Angeles. Reese Witherspoon was snapped with Zoe Kravitz with the pair playing Madeline and Bonnie.
Big Little Lies 2 was actually never meant to be made. The first season was based entirely on Liane Moriarty's bestselling novel of the same name.
So Season 2 is pretty much under wraps. However, there are rumors that Alexander Skarsgard's character that DIED in the first season might come back in some capacity!
VIDEO: Reese Witherspoon and Husband Jim Toth Co-ordinate Outfits in LA
Reese was also pictured in another short skirt, this time matching it with a turquoise shirt. See the pics here: Don't You Know Who I Am? Reese Witherspoon Has Name Written On Cup!
Reese is also set to star in the movie Tinker Bell which is about the famous Peter Pan character created by J.M. Barrie.
Reese Witherspoon Trivia: When Reese Witherspoon was in school at the Harpeth Hall School For Girls her nickname was "Little Miss Type A".