The Royal love birds have only just announced their engagement but one artist is already looking to their stag and hen parties.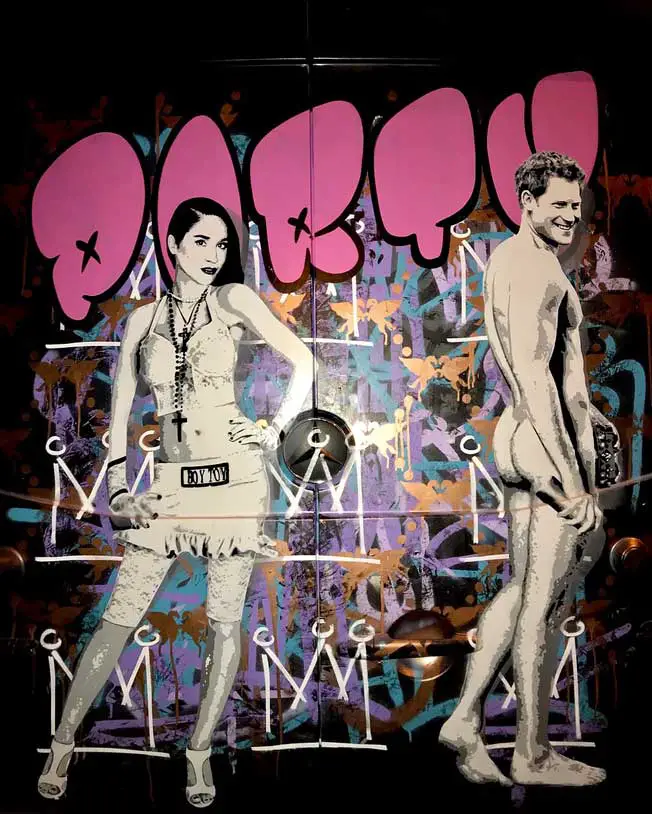 American born, but London based artist, Pegasus, has created an image of the Prince in the buff and his wife-to-be dressed up as a scantily-clad Madonna on their so-called last night of freedom.
The artist turned heads on the streets of the English capital after he plastered the image on the back of his black van.
While Meghan is wearing a 'Like a Virgin' outfit the cheeky Prince is completely in the buff with the exception of a crown he's holding to cover his privates!
Unfortunately for Pegasus though not everyone found his picture amusing. After parading it around roads near London landmarks such as Westminster Abbey and Trafalgar Square, police pulled him over and asked him to take his artwork elsewhere – spoilsports!
VIDEO: David and Victoria Beckham Depicted As Michelangelo's David And The Venus De Milo!
Pegasus Trivia: Pegasus has also depicted David Beckham and wife Victoria Beckham as Michelangelo's David And The Venus De Milo! Check out the video above.