A pregnant Amy Schumer was spotted shooting a commercial on streets of NYC. Stylist Leesa Evans joined who Amy is reportedly going to launch a clothing line with. We know the advert won't be a Super Bowl commercial. Schumer is standing with Colin Kaepernick and his take-a-knee protest against racism and police brutality.
The comedian/actor explained her stance on Instagram, challenging white NFL players to also kneel. Addressing them directly, she said: "Otherwise how are you not complicit?"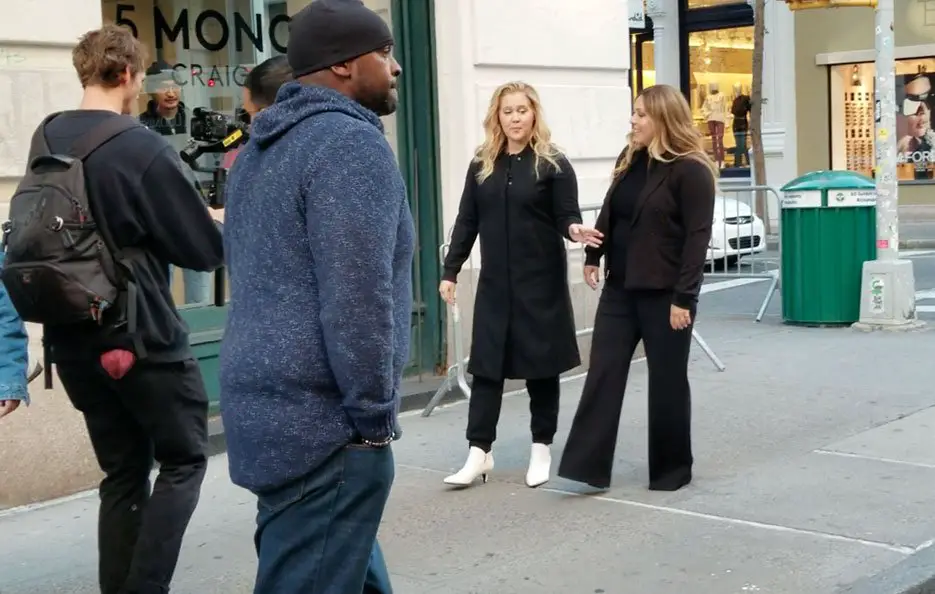 "I personally told my reps I wouldn't do a Super Bowl commercial this year," Schumer wrote. "I know it must sound like a privilege ass sacrifice but it's all I got." Amy Schumer also announced her pregnancy on Instagram by sneaking it into some of her recommendations for the November 6th elections.
Quentin Tarantino was also pictured filming his latest movie on the streets of Los Angeles. Check out the behind-the-scenes pics here: Quentin Tarantino Directs Brad Pitt for the Upcoming Once Upon A Time in Hollywood
Amy Schumer Trivia: Amy Schumer was voted "Class Clown" and "Teacher's Worst Nightmare" upon graduation in 1999 from the South Side High School in Rockville Centre, New York.