Arnold Schwarzenegger headed to a gym in Vancouver during a break in filming Why We're Killing Gunther and bumped into a fan with a t-shirt with himself on it!
The Terminator superstar was spotted wearing a "Brooklyn's Own Iron Mike Tyson" T-Shirt as he walked with a friend in Canada.
The fan looked delighted to shake hands with the former bodybuilding world champion. The tee even had a picture of Arnie in his bodybuilding days that read "Come With Me If You Want to Lift"!
You can actually buy the T-shirt from Arnie's official site. In fact, Arnie's movement "Come With Me If You Want To Lift" even has a festive Christmas sweater! Check it out below or click here to buy it from Represent: Arnold Schwarzenegger's Christmas Sweater Come With Me If You Want To Lift
VIDEO: Arnold Schwarzenegger filming Why We're Killing Gunthur by Taran Killam
Arnold looked happy to chat with the fan after finishing his own two-hour workout and happily posed for a picture outside the YMCA gym in Vancouver, Canada.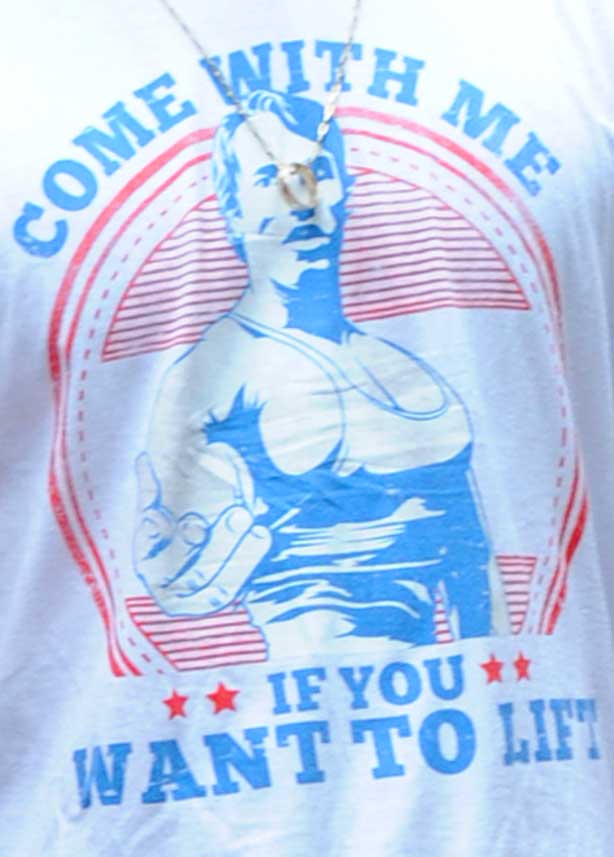 He spoke about the 'Come With Me If You Want To Lift' T-Shirt saying: "It starts with the T-shirt but it's much more than that. It's going to be a movement. A portion of proceeds from every shirt sold benefit After School All-Stars."
Arnold Schwarzenegger was in Vancouver, Canada filming his latest project Why We're Killing Gunther which is a documentary style film written and directed by SNL's Taran Killam in his directorial debut.
Arnold Schwarzenegger Trivia: In recognition of his achievements in bodybuilding and his lifelong devotion to physical fitness, Schwarzenegger was inducted into the National Fitness Hall of Fame in 2005, making him a Charter Member.