Sports Illustrated model Samantha Hoopes recently set Instagram alight with an inspiring message about "amazingly strong women" and a picture with the words "Do My Nipples Offend You" at the center of the post.
Samantha wrote: "Every year @si_swimsuit always amazes me & takes leaps in the industry! This year & this group of amazingly strong women who band together are seriously so inspiring!
She continued: "Doesn't matter your age weight height or anything no one deserves to be treated poorly touched or abused for the way the look or for what other people view you as! Always do you and know that there's options and people here to help you!"
Samantha then followed up this post with another Instagram post in a netted bikini joking with her fans "Damn guess I can't escape these bikini pics been fighting to post more diverse stuff but Ive been living in bikinis ? #sorrynotsorry"
The Guess model who grew up in Doylestown, Pennsylvania has now been pursuing her acting career landing the role of Kathy in the comedy Sandy Wexler alongside Adam Sandler and Oscar-winner Jennifer Hudson.
Sandy Wexler (2017) follows Adam Sandler, who plays Sandy Wexler, a talent agent who falls in love with his new client Courtney Clarke played by Jennifer Hudson.
Samantha was pictured on the set of a Chilean Beer commercial turning heads from some of the male crew members!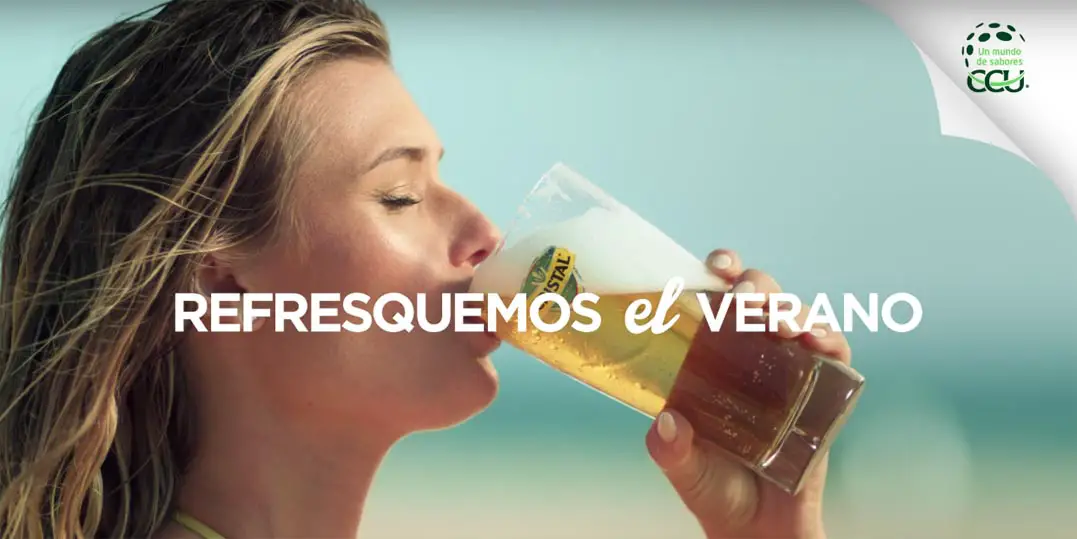 Wearing a yellow bikini the model looked to be having fun on the set of the commercial for Cristal Beer.
VIDEO: Comercial Cristal Refresquemos El Verano con Samantha Hoopes
At one point one of the assistants cooled Samantha's behind by spraying water on her bum on the public beach in Pacific Palisades right on the Pacific Coast Highway!
Samantha was pictured with a huge filming crew in Los Angeles shooting the fun ad and certainly turned the heads from quite a few of them!
Samantha has also starred in Nick Cannon's TV show Wild 'N Out and The Domenick Nati Show (2016).
Samantha Hoopes: Do My Nipples Offend You
Samantha Hoopes "Do My Nipples Offend You" tweet went Viral on Instagram with her also posting a video show in St Kitts & Nevis posting: "Caption This"
Samantha has recently been shooting for Sports Illustrated which promises "bring you the latest and sexiest swimsuit models in the most exotic locations around the world".
VIDEO: Samantha Hoopes Tries Something New In Curacao | Uncovered | Sports Illustrated Swimsuit
Samantha Hoopes has also lit up Twitter with the official Sports Illustrated Twitter account posting "Uh oh! @SamanthaHoopes experienced a wardrobe malfunction during her SI Swimsuit 2018 shoot". Check out the video below:
Samantha Hoopes shot to fame starring in a Carl's Jr. Commercial in a tiny stars and stripes bikini sitting in a stars and stripes pick up truck.
In the commercial, she is filmed driving with the Manhattan skyline behind her on an aircraft carrier eating a burger!
VIDEO: Carl's Jr. Commercial – Samantha Hoopes In Tiny Bikini
According to the PhillyStyleMag.com Samantha grew up with her own dirt car racing car saying " It was a really cool experience because I got to go in the pits, get all dirty and muddy, and scrape clay off the car. It was fun while it lasted."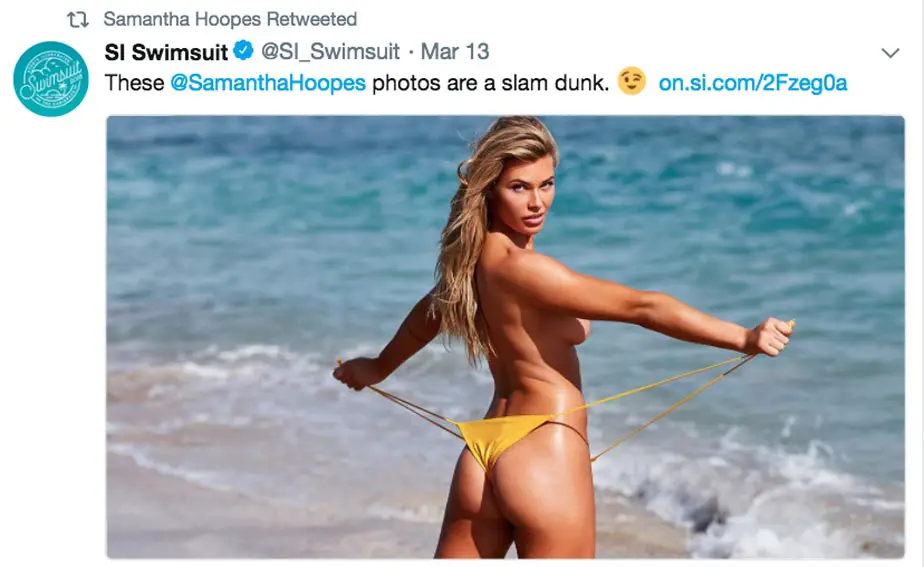 Samantha Hoopes Trivia: One of Samantha Hoopes' favorite things to do in Philly is to go to Steve's for a Philly cheesesteak, obviously 🙂