Louis Tomlinson's sister Lottie Tomlinson was spotted taking a dip at Mullins Beach, Barbados as she showed off three tattoos on her left arm.
The tattoos included a rose on upper arm, a heart on collarbone, and a lighting bolt on left wrist. They were all visible as she waded through the crystal clear water in her thong-bottomed swimsuit.
The Daily Mail's headline for these pics read "Louis Tomlinson's sister Lottie flaunts her pert derriere in thong swimsuit during sunkissed Barbados break"!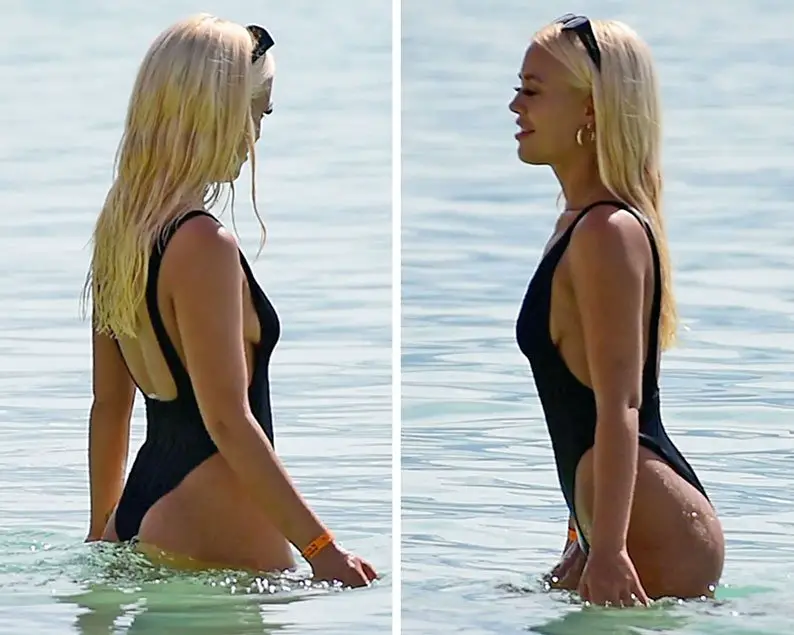 Lottie Tomlinson also had sunglasses on her head and showed off her figure as the high-cut garment cut into a thong bottom.
We're not sure where the black thong swimsuit is from but you can check out some similar ones on Amazon.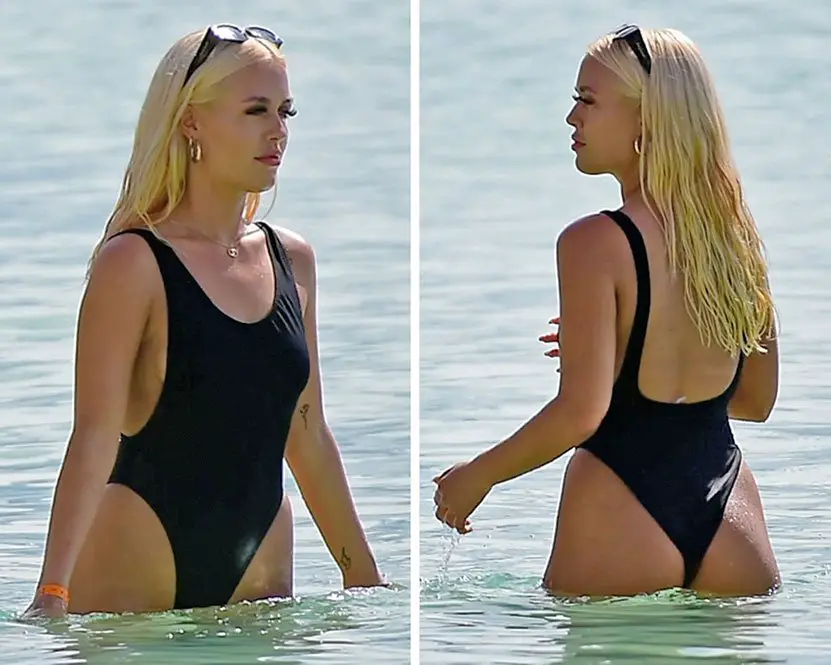 Who Is Louis Tomlinson's Sister, Lottie Tomlinson?
Charlotte Elizabeth "Lottie" Tomlinson is a make-up artist and Louis Tomlinson's half-sister. Louis and Lottie share the same mother, Johannah Deakin, but Louis actually took the name, Tomlinson, from his step father, Mark Tomlinson, Lotties real dad.
Their half-sister Félicité "Fizzy" Tomlinson died on 13 March 2019 aged 18 years old. She was found unresponsive by a friend in her west London flat.
Lottie Tomlinson co-founded brand Tanologist, a self-tanning product and company, with pal Lou Teasdale. She launched her range at a star-studded party at Sydney's seaside beach club, The Island. Love Island Australia hunk Dom Thomas was also present and there are now rumours the pair are together.
Lottie Tomlinson also tagged in the following Instagram accounts to her picture she posted online: @theuglysisters @easilockhair @hershesons and @normakamali
Lottie Tomlinson Trivia: Lottie Tomlinson became the stylist and makeup artist for One Direction in 2015, during their On The Road Again Tour.