After a hugely successful opening at Cannes, here is a look at all the Behind-The-Scenes footage we have of the movie so far. There are NO SPOILERS IN HOLLYWOOD here – just a few scenes and crew interaction that give nothing away.
Brad Pitt can be seen in his classic Cadillac chatting to Margaret Qualley who plays the role of 'Kitty Kat'. Margot Robbie plays Sharon Tate, Leonardo DiCaprio plays Rick Dalton, Brad Pitt is stunt man Cliff Booth, Dakota Fanning plays Squeaky Fromme, Al Pacino is Marvin Schwarzs and Damian Lewis is Steve McQueen. Kurt Russell, Timothy Olyphant, Margaret Qualley, Tim Roth and the late Luke Perry are also among cast.
Ahead of the screening in Cannes, Sony Pictures posted a letter from Quentin Tarantino on their Instagram page.
VIDEO: Once Upon A Time in Hollywood – The Footage We Have So Far
sonypictures
#NoSpoilersInHollywood
Cannes 2019
I love cinema. You love cinema. It's the journey of discovering a story for the first time.
I'm thrilled to be here in Cannes to share "Once Upon A Time… In Hollywood" with the festival audience. The cast and crew have worked so hard to create something original, and I only ask that everyone avoids revealing anything that would prevent later audiences from experiencing the film in the same way.
Thank you,
Quentin
The exact location for shooting was around 2405 W Burbank Blvd, Burbank, Los Angeles, California, USA. They reportedly filmed down the whole street which they closed off. Franks Coffee Shop (also in Pulp Fiction) and Chilli John's were included in the location shoots.
Check out more filming locations on our Celebrity HotSpot PAPMAP. The film will take place in the 1960s and 70s. It is based on the murders of Sharon Tate and six other people for which Charles Manson was convicted.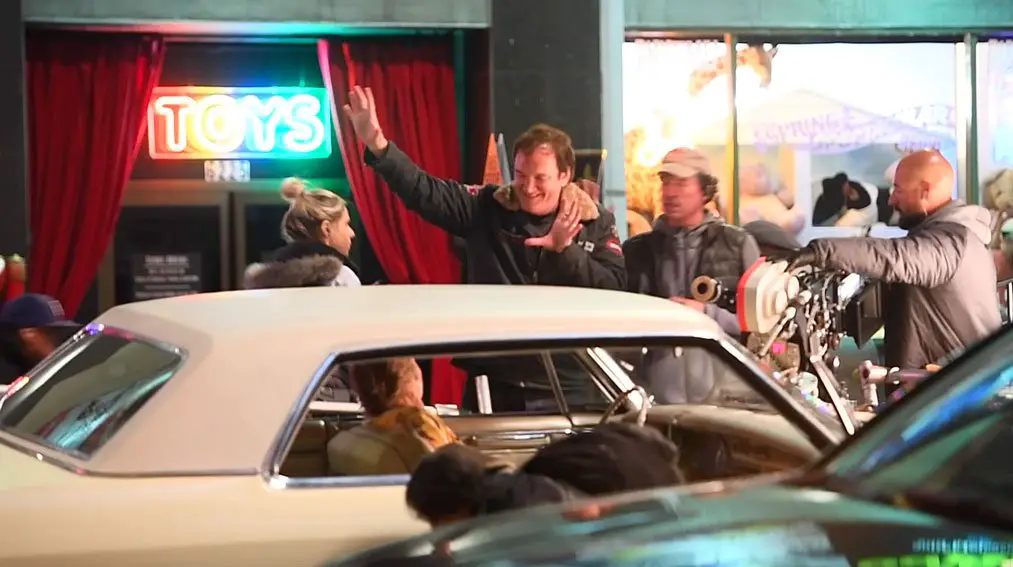 Brad Pitt Trivia: Brad Pitt's first name is actually William.