Celebrity WotNot brings you these behind-the-scenes pictures and videos from the highly acclaimed movie The Joker filming across New York.
With the clapper board at the ready the Joker used New York as its backrop, which is well known to be the "Real Gotham" rather than Chicago (Dark Knight Trilogy) or in New Jersey (DC Extended Universe).
Check out some dramatic scenes, stunts and details that you might have missed in the film that we have captured for you.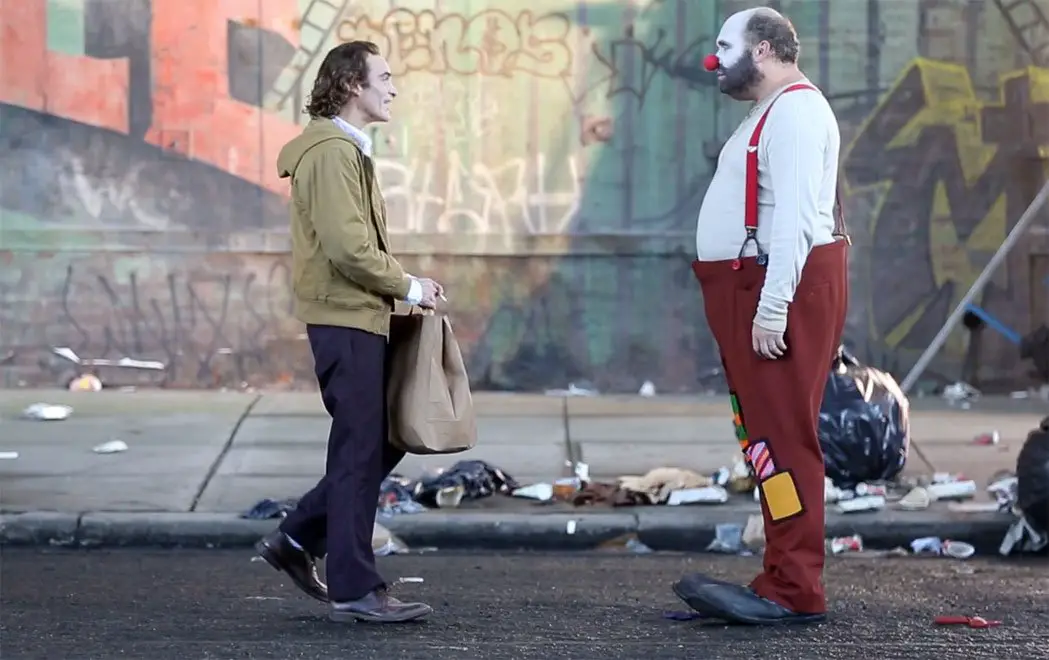 Director Todd Phillips and his film crew shot some incredible scenes with Joaquin Phoenix, Shea Whigham, Bill Camp and a stunt double.
There were also a few characters we didn't recognize, but maybe you can?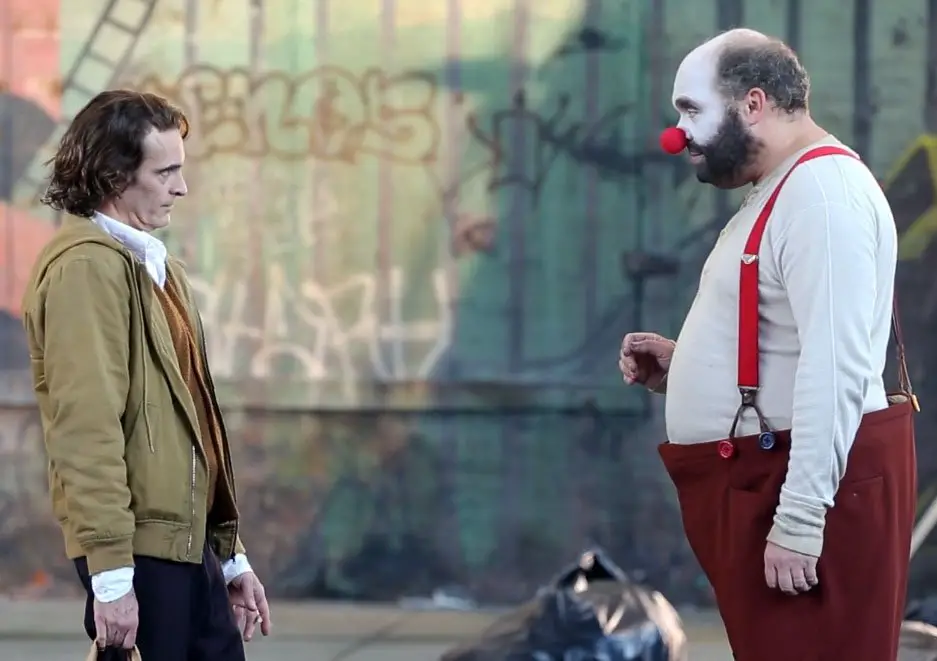 VIDEO: Joaquin Phoenix As The Joker/ Arthur Fleck Filming Confrontational Scene
To set the scene and according to IMDB:
In Gotham City, mentally troubled comedian Arthur Fleck is disregarded and mistreated by society. He then embarks on a downward spiral of revolution and bloody crime. This path brings him face-to-face with his alter-ego: the Joker.
This scene shows Arthur Fleck taunting another clown and taking his red nose of him © The MEGA Agency
In our first video, Arthur Fleck, walks up to a fellow clown carrying a paper shopping bag.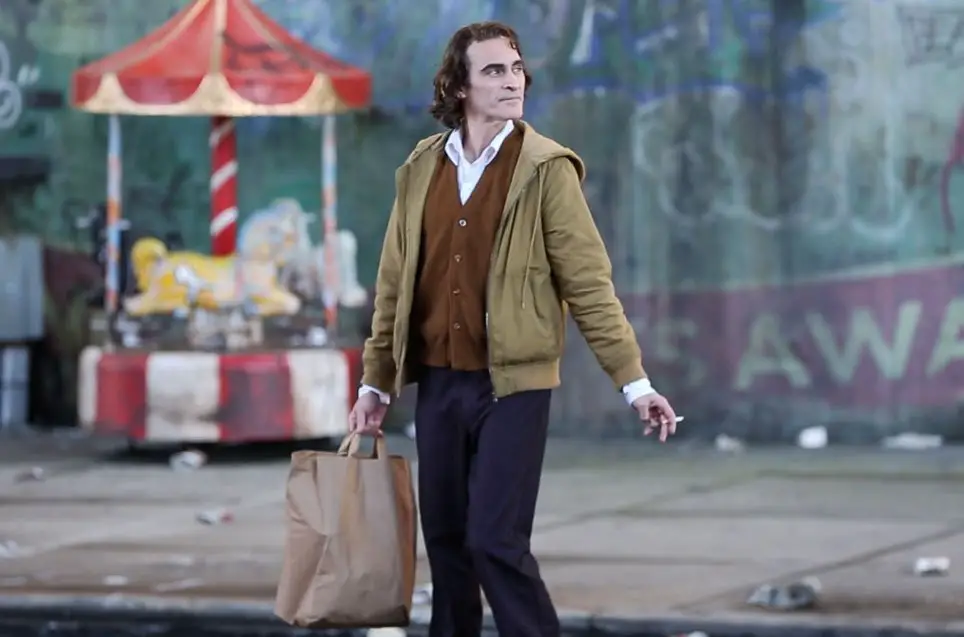 Played by Joaquin Phoenix, Arthur looked actually quite smart wearing blue trousers, a brown cardigan, white shirt, and a beige hooded jacket.
The scene was filmed at 2341 12th Ave, in New York, NY under the Henry Hudson Pwky. 
With a cigarette in his hand he confronted the larger clown and grabbed his red nose.
Arthur then picked it off his nose and threw it down the street.
Arthur Fleck could then be seen laughing at the clown as he walked away.
In our next video the outfit has changed. Now we can see Arthur Fleck as the Joker and running through 1425 Plaza Dr in The Bronx, New York.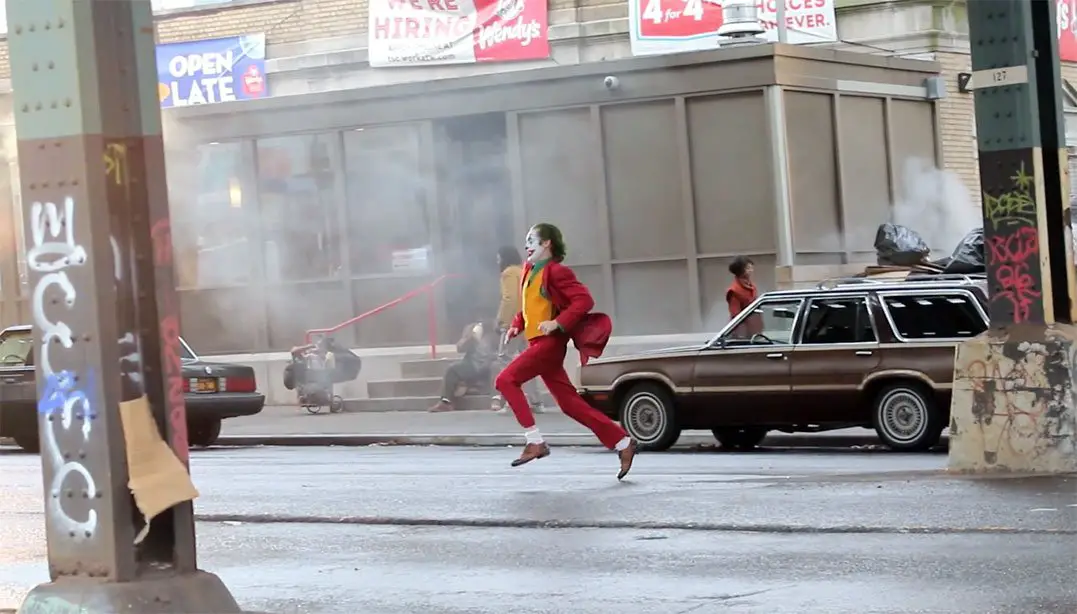 VIDEO: Joaquin Phoenix Films Dramatic Stunt Scenes as The Joker in NYC
At first you can see the Joker wearing a full bright red suit, a yellow waistcoat and a green shirt and tie.
With his dirty green hair The Joker is constantly looking behind as he runs past several bystanders.
As the shot develops he is hit by a yellow taxi. Then it is clear the Joker is being pursued by co-stars Shea Whigham and Bill Camp, who play Detective Burke and Detective Garrity respectively.
Filming under an elevated train station in The Bronx, New York camera crew can be spotted behind pillars and cars to get these great shots.
"Is It Just Me Or Is It Getting Crazier Out There" Poster": This artwork of The Joker by Tikee Art is particularly cool. You can own a print via Amazon by clicking the pic. 
At one point the Joker runs past a bystander wearing a flat cap who has his own clown mask on carrying a cardboard sign.
Then if you look closer, in the background there are three other bystanders wearing clown masks and holding signs.
According to The Joker Wiki Fandom page these are "protesters donning clown masks in the unidentified killer's image" after three "murders unintentionally start a protest movement against Gotham's rich".
Joaquin Phoenix's stuntman picked himself off the floor after getting hit by an iconic yellow New York taxi.
The Joker then stood up and looked up for the two Gotham detectives who were chasing him before getting on the run again.
It looked like the Joker was a bit faster than the two Gotham detectives played by Shea Whigham and Bill Camp.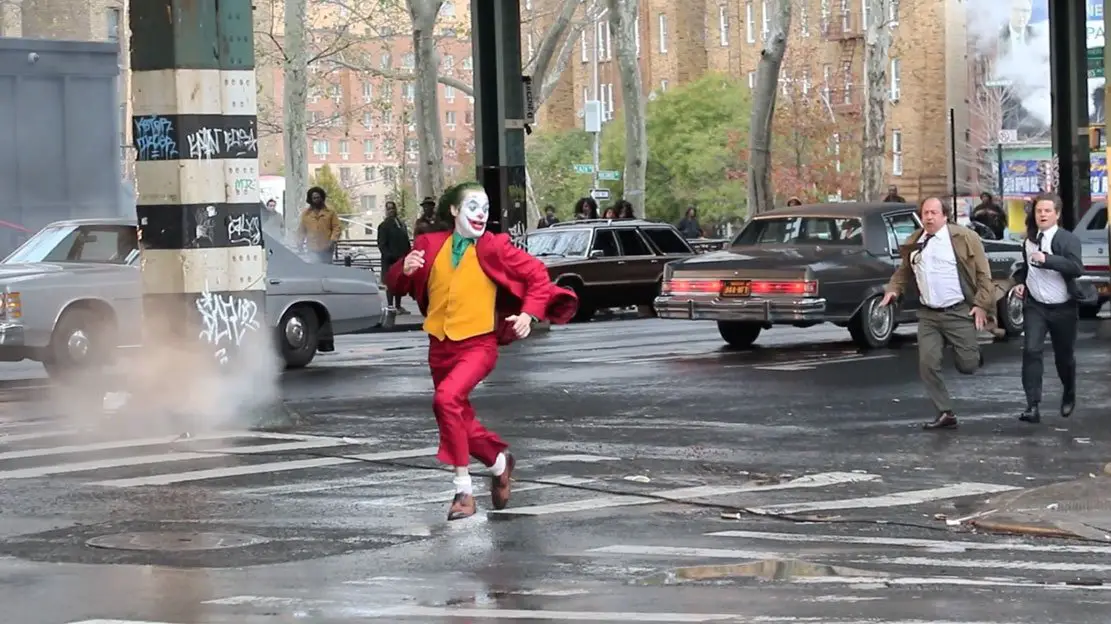 Obviously the Joker looked to have a big smile on his face as he fled the scene.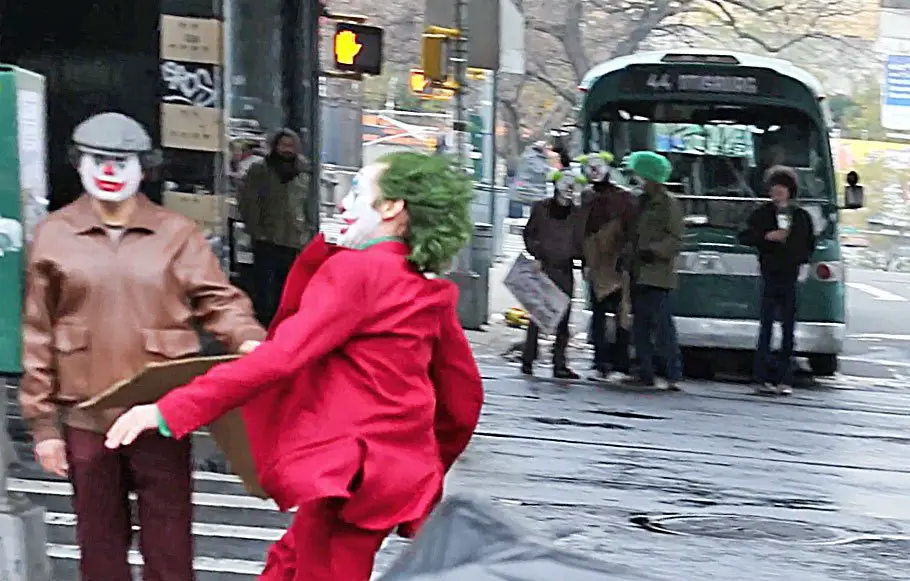 In the picture above there were actually five people wearing a clown face. They were protesting against Gotham's rich.
The Joker clearly had some support with bystanders wearing a clown mask as well.
The two Gotham detectives didn't seem to catch up with the Joker.
This shot above was filmed at 1425 Plaza Dr in The Bronx, New York.
In our final video, Arthur Fleck takes off his Joker mask while on a phone call in a Gotham City street booth at Pearl Street & Front Street in Brooklyn, New York.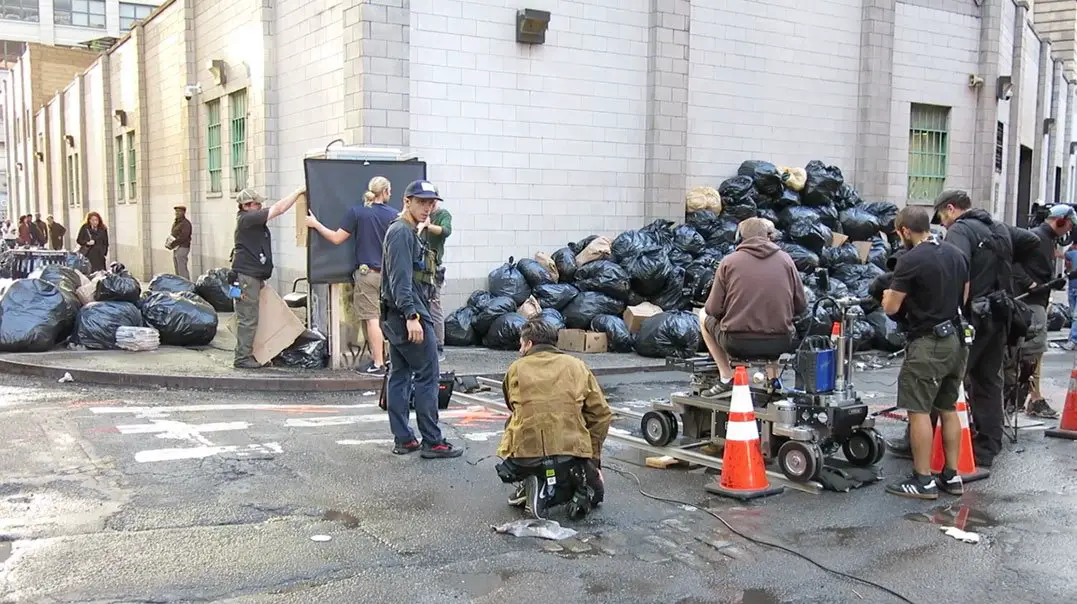 VIDEO: Joaquin Phoenix As Arthur Fleck Cries in The Joker Footage
The film crew can be seen in some shots as Joaquin Phoenix's character Arthur Fleck takes a phone call from the "Ha Ha Gotham Comedy Club".
Arthur bangs his head on the side of the phone booth before his clown wig falls off.
In between takes, Joaquin then had a black sheet to cover himself up.
This was shot at the time when not many images or footage had been released so the crew and actors were determined to cover up as much as possible.
"Put On A Happy Face" The Joker / Arthur Fleck Playing Card Poster: This poster shows both the Joker and Arthur Fleck as a cool playing card with the tagline "Put On A Happy Face" written on the edges. Check out the poster on Amazon by clicking the image.
A Joker sequel is in the works at Warner Bros. Studios. According to Collider.com Todd Phillips wanted to create a new DC Universe called "DC Black".
Joaquin Phoenix reportedly even had the on-set photographer help him mock up some The Joker 2 "what-if" posters! Check out the full story here.
In an interview with the Los Angeles Times Joaquin Phoenix said:
So I did a photo shoot with the on-set photographer and we made posters where I photoshopped Joker into 10 classic movies: Rosemary's Baby, Raging Bull, Yentl. If you see it, you're like, 'Yeah, I'd watch that movie.' Yentl with Joker? That would be amazing!
There have been twenty actors who have played the Joker including; Heath Ledger, Mark Hamill, Jack Nicholson, Cesar Romero, Cameron Monaghan, John DiMaggio, Zach Galifianakis, Troy Baker and Anthony Ingruber.
Michael Emerson, Larry Storch, Jason Spisak, Kevin Michael Richardson, Richard Epcar, Jared Leto, Christopher Corey Smith, Jeff Bergman, Jeff Bennett and Lennie Weinrib also played the Joker in various formats.
The Joker Trivia: The Joker storyline is from the graphic novel Batman: The Killing Joke following a failed stand-up comedian.