Camila Morrone turned heads in a stylish winter outfit as she was in Park City, Utah promoting her new movie Never Goin' Back (2018) and according to The Sun Newspaper Website Camila has recently dated Oscar-winning actor Leonardo DiCaprio!
Here are five things you might not know about the upcoming star:
1. According to Wikipedia Camila Morrone was born on 16 June 1997 in Buenos Aires, Argentina. However, according to IMDB, she was born on 16 June 1997 in Los Angeles, California.
2. She first started modeling and was on the front cover of Vogue in September 2016.
3. Her Dad is Maximo Morrone who is also an actor and has appeared in CSI: Miami (2002).
4. Her Mom is actress Lucila Solá who is an actress and is currently dating Al Pacino!
5. Camila Morrone made her film debut in James Franco's film Bukowski (2013).
Camila who is friends with Kendall Jenner looked stunning in a red and men's black leather jacket made by Sandro Paris Officiel which she matched with Petar Petrov shiny trousers.
Camila also fashioned a red chunky cropped knit and leather belt by the New York-based ORSEUNDIRIS, matching black winter boots with red laces and Jennifer Fisher jewelry.
VIDEO: Leonardo DiCaprio gets the Perfect Selfie in Venice Beach, Ca
Camila was joined by Maia Mitchell who stopped to sign autographs and were both promoting their new movie titled Never Goin' Back. According to Rotten Tomatoes the plot involves "Jessie and Angela, high school dropout BFFs, are taking a week off to chill at the beach. Too bad their house got robbed, rent's due, they're about to get fired and they're broke. Now they've gotta avoid eviction, stay out of jail and get to the beach, no matter what!".
Camila reportedly keeps fit by boxing three or four times a week as well as yoga.
Camila also has her own official YouTube Channel which looks to focus on makeup application and beauty. Check her channel out here: Camila Morrone YouTube Channel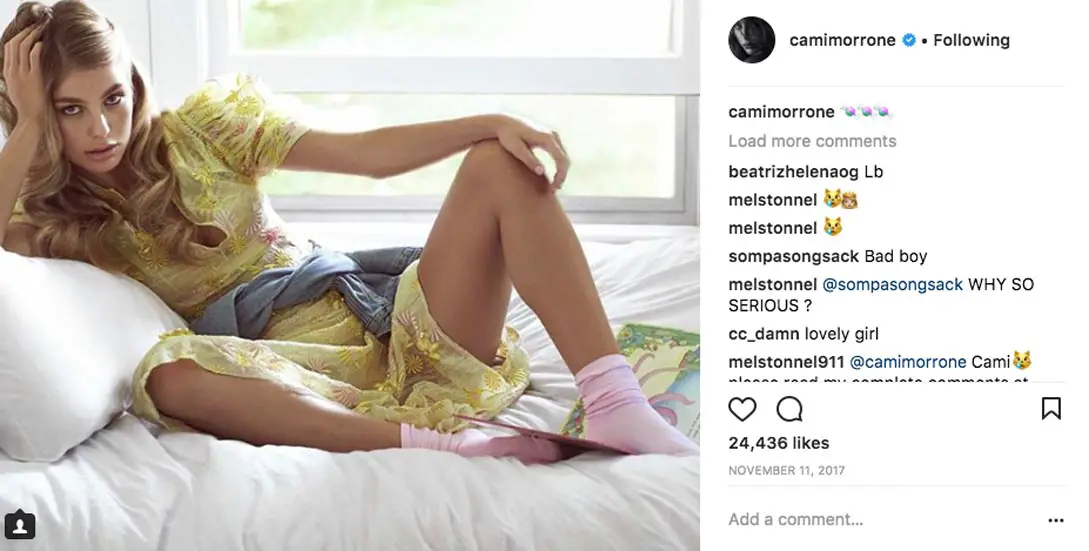 Her blog cami-morrone.com focuses on Beauty, Fashion, Foodies + Travel, Health + Fitness and Home + Design.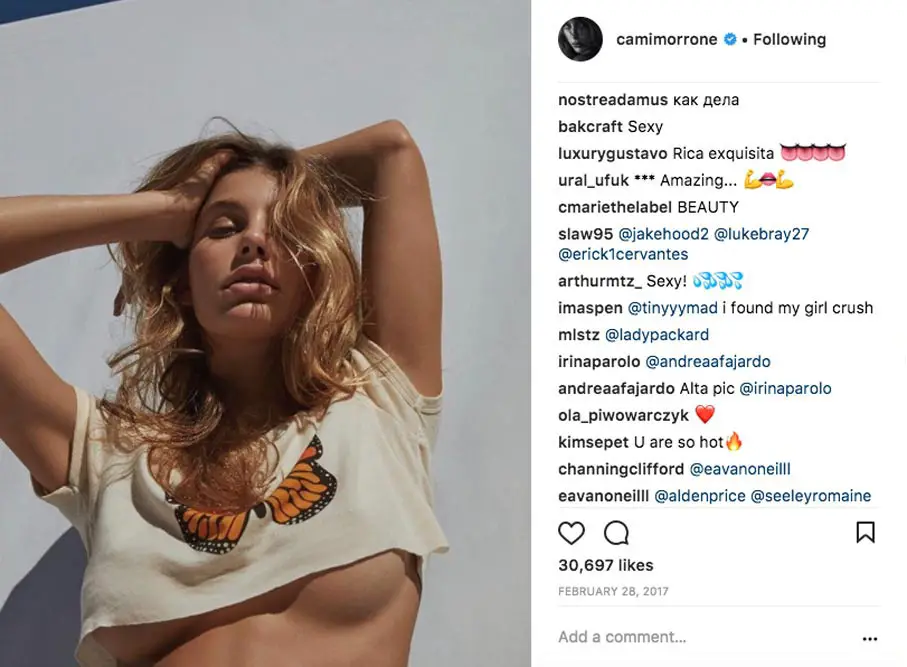 Camila Morrone Trivia: Camila Morrone also starred in Death Wish (2018) with Bruce Willis.