This is THE Notorious workout! Conor McGregor is pictured in these behind-the-scenes photos showing us his varied and intense workout regime that has put him on top of the MMA world and part of the richest boxing match in the history of the sport.
The workout includes Forward Rolls, Balance Beam exercises, Strength Control, Standing Jumps, Crow Pose, Core Strength, Handstands, Sparring with a coach and Reaction Training.
The workout includes forward rolls, balance beam exercises, strength control, standing jumps, crow pose, core strength, handstands, sparring with a coach and reaction training.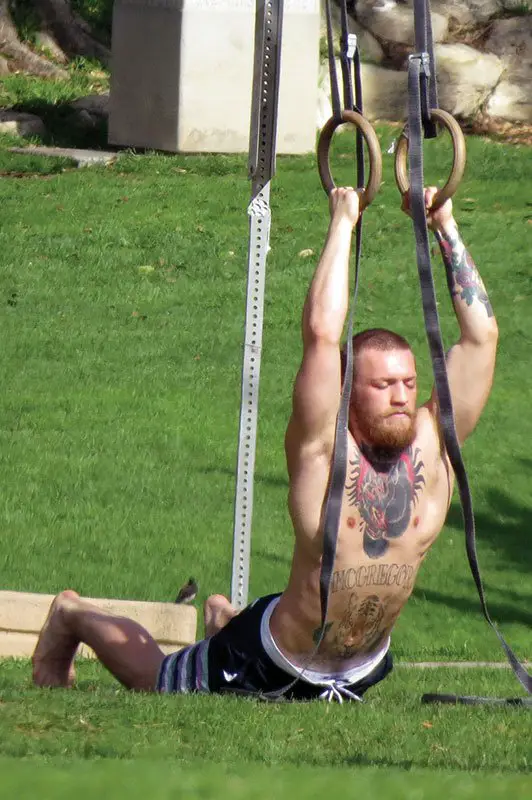 Conor doesn't forget to hydrate either and also take a break from training relaxing on his beach cruiser as he cycles around Venice Beach.
Watch our Exclusive and behind-the-scenes video below to see the moves in motion and learn from one of the most focused athletes the sport has ever seen:
VIDEO: Inside Conor McGregor Training Camp – The Notorious Workout
The Irish professional mixed martial artist and professional boxer will face the undefeated 40-year-old Mayweather Jr. The bout is to be contested at super welterweight (154 pounds) with  08 oz. gloves. See more pictures of his amazing Venice Beach workout below:
In 2015, at UFC 194, Conor McGregor defeated José Aldo for the UFC Featherweight Championship via knockout thirteen seconds into the first round. This was the fastest victory in UFC title fight history.
Conor McGregor Trivia: Conor McGregor reportedly started boxing at the Crumlin Boxing Club in Dublin Ireland age 12.