Who: Anna Kendrick
What: Starring as Noelle Kringle in her new movie Noelle.
Wearing: A very festive Christmas-inspired outfit!
Where: Vancouver, Canada
---
Check out our behind-the-scenes pics of Anna Kendrick's new Festive movie titled Noelle where she plays Santa Clause's daughter Noelle Kringle!
We don't give too give too much away in terms of the plot and all our images can be found on our FREE Celebrity Gallery pages here: Noelle (2019) Behind-The-Scenes Pics
It certainly looked as though Anna was having a great time filming the comedy which has it's official release on November 12th, 2019.
Kendrick At Christmas!🤶🏼
Anna Kendrick was pictured in lots of funny scenes as her character has to take over the family business!
The former Twilight actress was seen filming driving scenes with her co-star Kingsley Ben-Adir who applies sunscreen to Anna's face during the take.
In our EXCLUSIVE images Noelle Kringle carries a very furry and festive shopping bag but don't look happy with character Jake Hapman.
Anna Kendrick Wraps Up Warm on Set of Christmas Movie Noelle🎄
Anna Kendrick kept warm between takes on the set of the new Christmas comedy in a big colorful winter coat.
The Disney movie appeared to be set in Phoenix, Arizona but it was actually filmed in Vancouver.
The Disney movie also stars SNL's Bill Hader as Nicole's brother, Nick Kringle, and Shirley MacLaine who plays Nicole's nanny Elf Polly.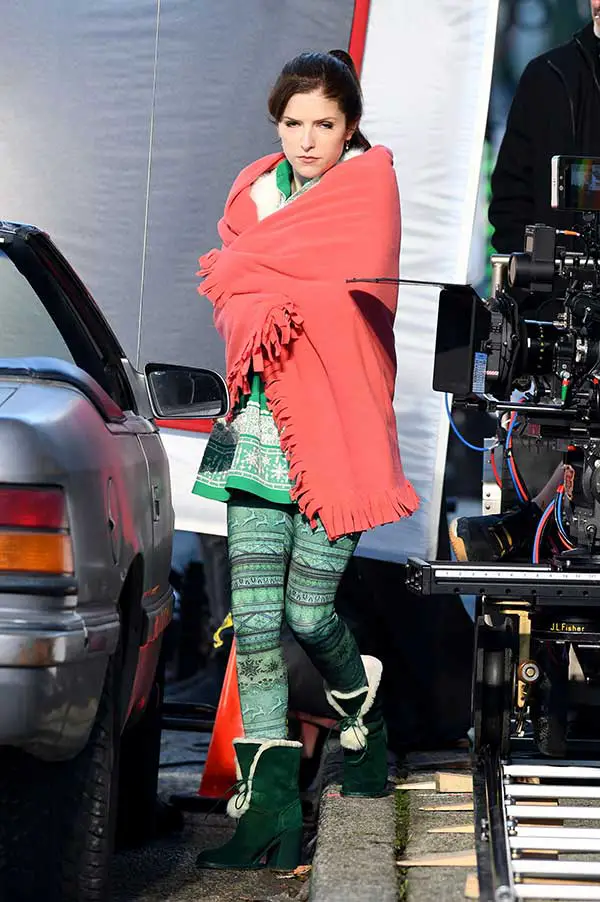 The plot revolves around Anna who plays Santa Claus' daughter Nicole, taking over the family business after her father retires.
Anna Kendrick Slipped on Ice Filming Christmas Comedy Noelle🤶🏻
Anna Kendrick also filmed scenes where she lay flat on an ice skating arena. Anna was seen picking herself up on an ice skating rink during the scene as skaters whizzed past her.
Anna was then pictured filming scenes with her co-star Kingsley Ben-Adir as she ran out of a building and caught up with him during Christmas scenes filmed in Gas Town, Vancouver.
Anna Kendrick Gets A Visit From Boyfriend Ben Richardson👫
Anna looked happy to see boyfriend Ben Richardson on set as she outstretched her arms before they held hands on the ice during a break between filming.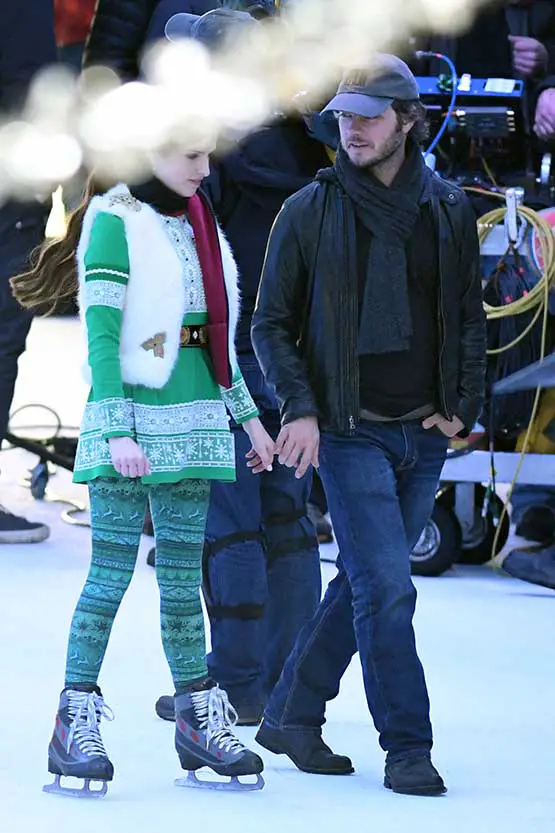 Anna has to take over the family business after her brother, Bill Hader, pulls out of his obligations. We can't wait to see the full movie this year.
Anna Kendrick Trivia: Anna Kendrick loves Taco Bell! In an interview with Conan O'Brien she admitted "It's a dirty thing that I love Taco Bell so much".