Casey Affleck fashioned a cool Fjällräven winter jacket as he took a walk in Park City, Utah. The rugged-looking was pictured trying to zip the jacket up which he matched the jacket with a blue T-shirt, black jeans, and black leather winter boots.
Fjällräven is a Swedish brand which was founded over 50 years ago. Casey is wearing the classic Greenland Winter Jacket.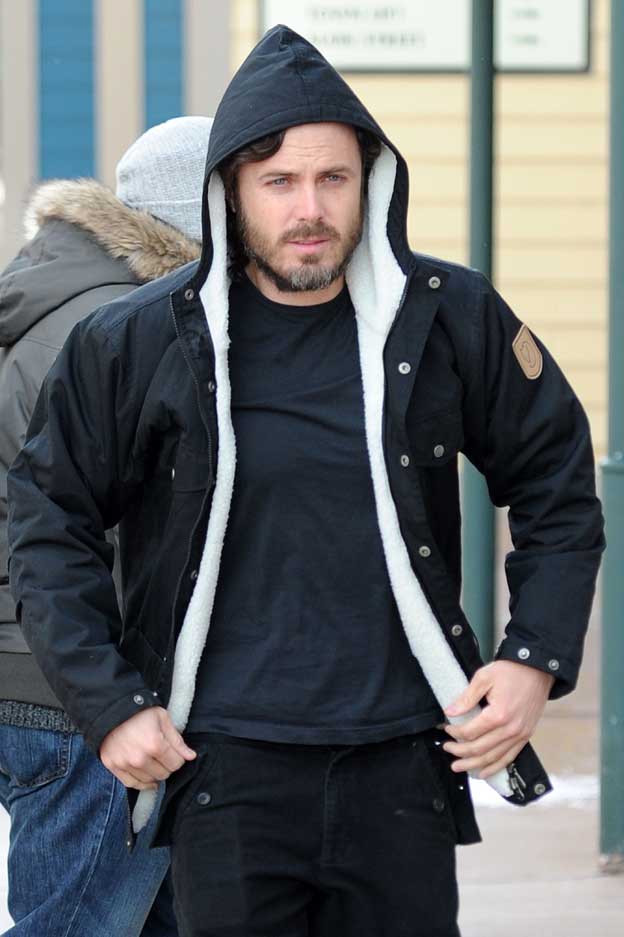 According to their website, it is "One of Fjällräven's big classics for winter use. Timeless model with pile fleece on the inside that will serve you for many years thanks to the durable G-1000®. Reinforced at the shoulders and yoke. 2-way zipper with buttons on the front and at the sleeve cuffs. Snugly fitting hood."
Showing off his salt and pepper beard, the Gone Baby Gone star recently endured a hilarious interview with talk show host Stephen Colbert. On The Late Show with Stephen Colbert, the presenter poked fun at his scruffy appearance.
Thanks for dressing up. I can't tell whether this choice is the least celebrity thing to do or the most celebrity thing to do because it's very casual.
You really look like a street corner Jesus. We should probably end up fighting at the end of this. Like bare knuckle boxing.
VIDEO: Casey Affleck & Stephen Enjoy A Spirited Conversation, Part 1
Casey, who is the younger brother of Ben Affleck, was pictured holding a drink with a fun blue koozie as he walked with a female colleague. The koozie is made by The Normal Brand.
VIDEO: Oscar Winner Casey Affleck Filming 'Light of My Life' in Vancouver
He was out and about at the Sundance Film Festival promoting FOUR films including Manchester by the Sea. The film got tremendous reviews with Rolling Stone Magazine calling it a "must-see hit": Manchester by the Sea – The Story behind Sundance 2016's best movie
Casey Affleck is currently starring in the crime drama Triple 9 and is also filming a TV Mini-Series called Lewis and Clark.
Casey Affleck Trivia: Casey Affleck's first name is actually Caleb.