Kendall Jenner showed off her cute Giraffe iPhone case as the model and reality TV star was pictured in Beverly Hills, Los Angeles.
Kendall rocked a white tank accented with gold studded shoulders and matched her outfit with black skintight leather leggings, a red fold-over clutch bag, and sky-high Christian Louboutin simple pumps.
The EXACT iPhone case is made by Apple but unfortunately, the case is sold out!
Did you see Kendall and her sister  Kylie Jenner waiting for their ride after the Golden Globe after-parties on a "Sister Date"? The Jenner sisters wore matching top knots with Kendall wearing a strapless Paule Ka gown with a ruched bodice and gathered skirt, matching snakeskin heels and layers upon layers of glittery chokers. Check out the video below: 
Kendall's nails were freshly polished with a shiny dark shade and she toned down her lips with a sheer pink shade while playing with her hair in the art gallery in Beverly Hills, California.
Kendall Jenner was then seen taking her $90,000 Range Rover for a spin through Beverly Hills after these pics and she was spotted with a fun Nike Air Jordan air freshener in her car!
See the pics here: Kendall Jenner Driving $90,000 Range Rover With Air Jordan Air Freshener!
Kendall also owns a seafoam green 1957 Corvette Stingray that reportedly cost around $100,000 and the model loves using it in her photoshoots.
Kendall is currently modeling for Calvin Klein. The E! Star was attending the Guy Hepner art gallery in Los Angeles, California where Kendall herself was starring in the Nomad Two Worlds exhibit by Russell James. The collaboration invites indigenous artists to include their work in the growing gallery, which originated in Australia.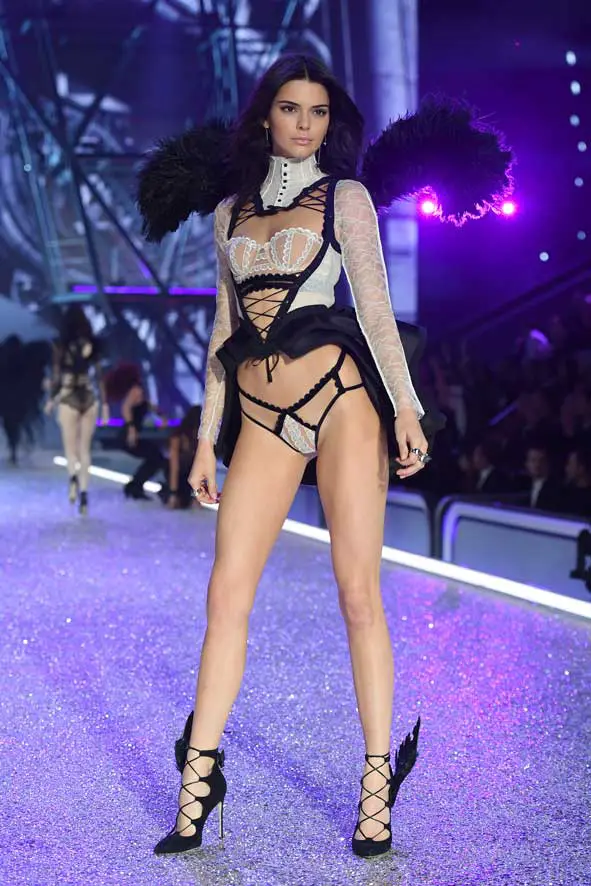 Kendall Jenner Trivia: Kendall Jenner's middle name "Nicole" is in honor of Nicole Brown Simpson.