Bella Thorne bikini bottomed jet ski ride was captured as she spent time with friends in Miami, Florida. The actress was recently the victim of leaked photo hack; instead of giving in, the Babysitter actress decided to release the naked photos all by herself.
She was pictured with her friends bombing around Sea Isle Marina located at 1635 N Bayshore Dr, Miami, FL 33132, USA. You can see more celeb spots on our PapMap.
You can also see Bella Thorne reading from her book of poems The Life of a Wannabe Mogul: Mental Disarray at the MCM event in Beverly Hills. Bella sat a top a glass counter to a crowd of adoring fans. At one point, she was asked to move over to a more sturdy part of the display case.
VIDEO: Bella Thorne Reads Excerpt from New Book at MCM Sitting
Bella Thorne also refused to sign an autograph hunter's strange pictures in LA recently. Bella was seen exiting from her limo sported a MCM logo print T-shirt, which she tied in with a pair of sporty hot pink shorts as she attended the MCM Gay Pride Benefit event, held in Los Angeles, California.
VIDEO: Bella Thorne Refuses to Sign Autograph Hunter's Strange Pictures, LA
The former child star caught the eye she boosted her frame in a pair of bright pointed heels and accessorized with a selection of bedazzled bracelets, watches, rings and necklaces, wearing a logo tee by the brand.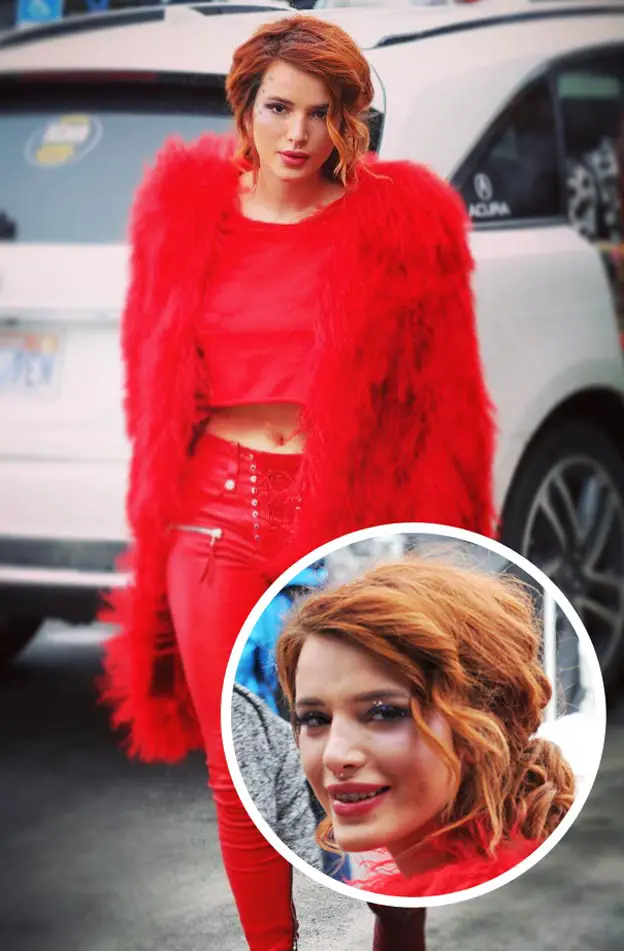 Teamed with pink satin shorts and matching heels, we love Bella's pretty in pink vibe! A logo tee is a must-have for any fashionista's wardrobe, and Bella's tee is crafted from lightweight cotton and has MCM's iconic monogram and wreath adorned in gold on the front.
Bella Thorne Trivia: Bella Thorne's real name is Annabella Avery Thorne. She was in a polyamorous relationship with both musician Mod Sun and internet personality Tana Mongeau from September 2017 to February 2019.