Justin Bieber recently showed off a new Laurel Leaf tattoo around his neck and it made us wonder how many tattoos does that make it now?
With some investigation and a look through our FREE Photo Archives of Beebs we discovered that there are at least SIXTY TWO! Now, if you think there are any others we've missed or we've made a mistake then let us know. We can't keep track!
Justin Bieber's Body Tattoos
"Purpose"
This is how to confirm the title of a new album…forever! The "Purpose" tattoo sits above his belly button! "Purpose" was Bieber's fourth studio album.
Roman Numerals
1975! This tattoo represents the year his mother was born which he had inked back in 2013. It sits below his right collarbone on the front part of his shoulder.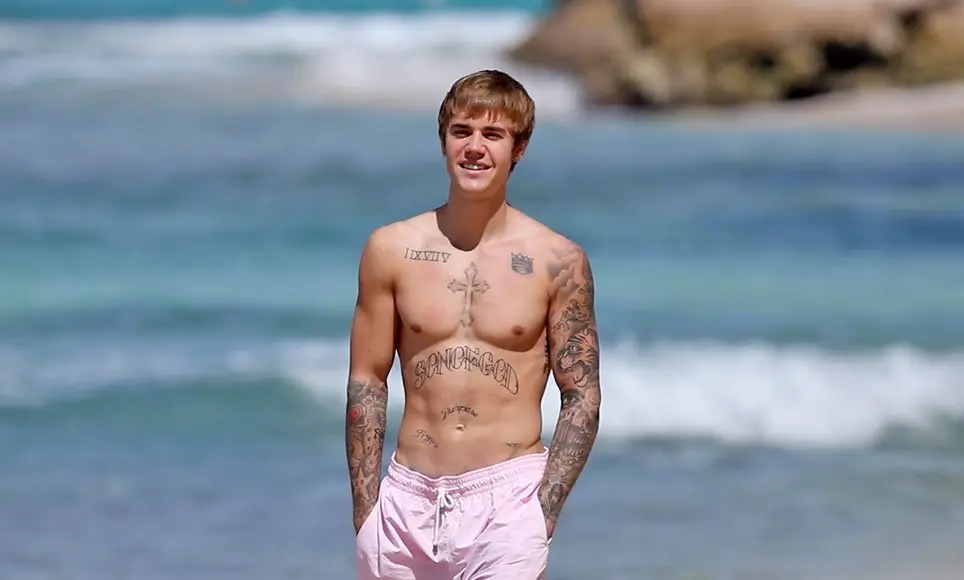 The Crown
Is this a tribute to the late King of Pop Michael Jackson? His fans seem to think so. Inked in 2012.
The Cross
You can't miss the Christian cross in the middle of his torso which Beebs had done back in 2014. It confirms Justin Bieber's faith in Christianity.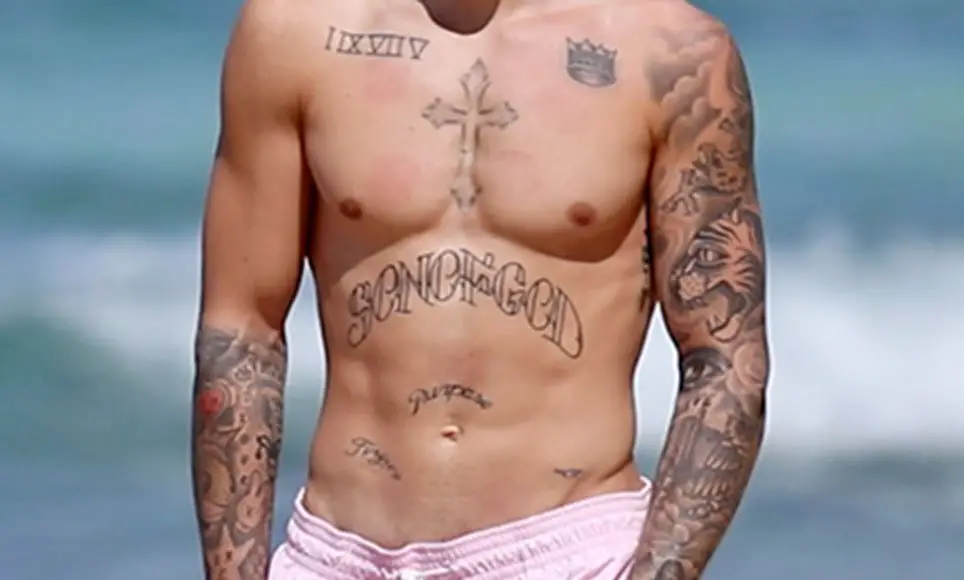 The Yeshua
Bieber's father, Jeremy, has the same tattoo! It's the Hebrew lettering for "Jesus". They got the design inked at the same time in Israel during Bieber's "My World" tour.
The Seagull
This was Justin Bieber's FIRST tattoo to mark his sixteenth birthday! Positioned on his left hip this was inked in his homeland Canada, more specifically, Toronto, back in March 2010. It was inspired by the writer Richard Bach and his novel "Jonathan Livingston Seagull".
"Forgive"
On his right waist the word "Forgive" designed in January 2014. Forgiveness is a major part of the Christian faith.
The Bear 
Now we're talking! This epic design is placed above his heart and symbolizes protecting his family. Debued in 2017.
American Eagle
Or now known as "The Moustache"!! At the same time as the Bear tattoo, Justin also has a large eagle in the centre of his stomach inked under his "SON OF GOD" tattoo.Tattoo artist Ban Bang revealed "He said he has a mustache on his belly, referring to the eagle, and it just needed more around it so it wasn't so isolated and floating in the middle of his stomach. I don't know why he thought it looked like a mustache. Maybe one of his friends told him that."
The Proud Lion
Around a week or so after the Eagle and the Bear, a Lion was added under his Crown tattoo which could represent strength and fearlessness.
The Angels Defeating Evil
Two Angeles were inked on both sides of his torso dominating the evil demon skeleton, trying to grasp his "Forgive" tattoo. Showing both the positive and negative, light and dark, good and evil, the skeleton represents the Resurrection of the Dead. A Church motif then tied it all together. and now Justin's chest was nearly covered in tattoos. Completed in October 2017.
"SON OF GOD"
This one is pretty noticeable. Positioned in the centre of his stomach this tattoo confirms his Christian faith.
Justin Bieber's Face Tattoos
The Cross
Tattoo artist JonBoy inked a small cross under Justin Bieber's left eye. It represents faith in Jesus and finding purpose in God.
"Grace"
Bieber's second face tattoo. At first it was going to be in big block letters. Hailey Bieber reportedly said "Get it classy," she said. "Get it small.", according to Tattoo artist JonBoy so it now sits nicely above his right eyebrow, almost hiding.
Justin Bieber's Back & Neck Tattoos
Wings
This pair of Angel Wings can usually be seen sticking out of his t-shirt or suit on the back of his neck. The wings inspire moving fast and flying high.
"Patience"
Located vertically on the right side of his neck in black Gothic-style calligraphy. Some fans think this was a link to his on/off relationship with Selena Gomez.
Psalm Verse
Psalm 119:105 reads Your word is a lamp for my feet, a light on my path". Positioned on his right back shoulder.
Treble Clef
Just behind his left ear a Treble Clef can be located. This music-themed symbol is pretty obvious considering Bieber's profession!
Stratford Cullitons
This is the team logo for the Stratford Cullitons, a junior ice hockey team he used to watch with his Grandfather in Stratford, Ontario, Canada.
"Forever" Bird
This design matches wife Hailey Bieber's smaller one that reads "Lover".
Laurel Wreath
Justin Bieber's Laurel Wreath tattoo can be seen round his neck. As we go to press this is his most recent tattoo. As for it's meaning then in ancient Greece and Rome, laurel leaves have been a symbol of victory. Warriors would often wear them as crowns…and Beebs already got a crown!
Justin Bieber's Left Arm & Wrist Tattoos
The Eagle
This huge tattoo is extremely intricate and shows a black and white Eagle in flight with its claws out. Flying through clouds it sits on Bieber's left arm and shoulder.
Graffiti Star
This tattoo was inspired by a star on a graffiti wall. The black and white star has crosses for its eyes and was done in 2014.
"X"
"X" is a Greek symbol for Christ and is next to his Owl tattoo. "X" is the symbol for the letter Chi. Chi (or X) is the first letter in the Greek word for Christ. He had it inked in London.
Wing
On his bicep this single Angel's wing sits next to his Tiger head and was completed in 2013.
Koi Fish
Justin's Koi fish tattoo is a symbol used to overcome obstacles.
The Tiger
In 2013 Justin had this epic Tiger tattoo completed on his left bicep. It could mean all sorts of things but surely it represents ferociousness and a bit of a wild side?!
The Eye
Like the roman numerals this tattoo is another tribute to his mom, Pattie Mallette. The eye is to let her watch over him.
"Believe"
Another album, another tattoo! Released in 2012 it marks the release of his album "Believe".
Knight / Prince
Is this a Knight or a Prince? Either way, the figure is pictured with a sword and may represent chivalry. It could also be  King Arthur pulling Excalibur from a rock. Either way it does…rock!
We love this Bieber Pop Funko Figure below but surely they need to update it with all his Tattoos?! You can buy this figure on Amazon Associates which we participate in by earning small fees to keep our free website running.
The Castle
To match the Knight or Prince, Bieber now has a Castle for his King! Added in 2013.
The Owl
Back in October 2012, this Owl tattoo was added and the image could also be seen throughout his "Believe" Tour. Owls are a symbol for knowledge, education, wisdom and intelligence.
Bleeding Globe On The Cross
The bleeding Globe lies within the cross. It is positioned on his left wrist and even shows the world being crucified on the cross wearing a crown of thorns…strong stuff!
The Selena Gomez Portrait 
Ah…the "Selena Gomez" tattoo inspired by an Elle magazine shoot…?! If you believe the rumors then we won't say any different.
"LL"
This means "Low Lift". Bieber had this completed in May 2015 and reminds people to lift your head when you're feeling low.
Justin Bieber's Right Arm & Wrist Tattoos
Black Spade
This small tattoo is on his right wrist. He's not known for his Vegas gambling so this one is still a mystery.
Diamond
Right at the bottom of his wrist this Diamond pops out. The same diamond is featured on the album artwork of the "Confident" colab with Chance The Rapper.
"Trust"
"Trust", "Love", "Forgive". All these tattoos point to Justin's devote Christianity.
Boombox
Turn up the volume! Keeping in with the music theme like the Treble Clef tattoo Beebs has a fun Boombox tattoo on his right arm.
The Music Character
We're not sure if this symbol is from Chinese or Japanese text, but this symbol means "Music" and was one of Bieber's first tattoos.
The Jester
Justin Bieber has to have a laugh too! And we know he loves the clown around with his friends, just check out some of our videos on our YouTube channel!
The Korean Mask
This tattoo depicts a traditional Korean Hahoe mask tattooed in black ink, with his name inscribed below in Korean, 비버.
The Fish Scales
Justin is a Pisces so the Fish scales make sense!
The Letter "G"
"G" is for Georgia Veach who suffers from Lissencephaly and the daughter of Seattle Megachurch Pastor Chad Veach and his wife Julia. She was born with a rare brain disorder and Justin has permanently inked her story into his journey. What a guy.
Super Mario Ghost
Do you like Super Mario Brothers enough to get one of the characters permanently inked on to you skin? Justin does…and here's the iconic ghost from the popular Nintendo game.
The Banksy
"Balloon Girl" by urban street artist Banksy. Now if Banksy actually inked this himself then Justin's arm might end up in a museum!
Lucky Eight Ball
This tattoo is usually for good luck. So good luck to Justin on all his future projects!
An Angel, Rose and Clock 
Is this three tattoos or just one? Well he had the design done all at once in 2018 of an angel holding a clock with a large rose motif underneath. It's even been noticed that there was a folder "S" for "Selena Gomez" into the petals of the rose but maybe we're just looking too hard!
A Single Leaf
This single leaf tattoo is inked on the inside of Bieber's right arm.
Two Hashtags
He is a millennial! In this modern world symbols from social media are now being inked on people's skin. But to be fair if one person should be allowed a Hashtag or two it is Bieber…i mean he does have 126.9 million followers! #hashtagtattoo
"Bieber" in Korean
Justin Bieber clearly likes his Korean verse. Here he's even found out what his name is in Korean.
Cherub Angel
This Cherub Angel is another design eminating from Bieber's faith. You'll have toi look closely though…it's hidden amongst other tattoo designs.
Red Heart
This red heart is one of the only tattoos that has been colored in. We wonder if he'll start adding color to more of his epic tattoo collection.
"Make 'Em Pay" Crossing Guns
Hold em up and Make them Pay! This gun-slinging six-shooter tattoo is lots of fun. Maybe he wants to star in a Western?!
Cartoon Fish
We think this looks more like Vault Boy but apparently it's a Cartoon Fish…go figure?!
Hand Throwing Peace Sign
Is this part of Vault Boy aka the Cartoon Fish tattoo? Either way Bieber wants to give you some Peace so accept it!
Compass
Justin Bieber's compass is positioned on the outside of his right bicep. Not much else is known about it but the compass does represent knowing what direction you are going in.
"LOVE"
In Gothic calligraphy the word "LOVE" on the inside of his right forearm. Like "Forgive", the word "Love" is a key part of Christianity.
Justin Bieber's Leg Tattoos
Praying Hands
After Jesus came the Praying Hands tattoo in March 2012 which symbolizes faith in God.
Rose
Much later Justin Bieber then had some roses added below the Praying Hands as he thought they were incomplete.
"Better at 70"
On the top of his left thigh is a "Better at 70" tattoo. Beiber himself explained this one; "I look back at a lot of things in my life, mistakes, insecurities, and although I have felt I've wasted a lot of time it also makes me want to be better faster! For me personally, I want to work every day to be Better at 70".
Jesus Christ
One of his first tattoos inked back in early 2012. This was the start of his religious tattoos that are now all over his body spreading the word.
So that's it…for now. Let us know if you can help us add to this ever growing list!! Refinery29 have even done a great visual guide of his tattoos even though they are missing quite a few!. Check it out here: Justin Bieber Interactive Tattoo Guide
Justin Bieber Trivia: In July 2017, the Chinese government banned Justin Bieber from performing in China. Their loss!