Somewhere off a highway in the mid-West, Kendall Jenner and Bella Hadid are a couple of western belles who check-in to a 60s motel room for an in-room party.
With their hair styled up the two models fashioned high heels and tight denim as they star in the new DSQUARED2 ad campaign for their new Fall Winter 2018 collection.
According to Dsquared2 the video is set in a retro motel room with 60s décor and colors. The video portrays Bella Hadid and Kendall Jenner, a pair of Western belles, who swear by big hair, high heels, and tight denim.
With the pair pictured as a duo of "bad girl honeys" they first check-in to a motel room with their high hair swinging over the collar of their check shirts.
VIDEO: Kendall & Kylie Stuck in Limo Line on After-Party Sister Date – Golden Globes!
Directed by Mert Alas and Marcus Piggott, Kendall fashioned a black laced bra and as the scenes unfold they mirrored the inspiration for the collection's pieces: yoked detail shirts, svelte denim and pants and embellished jackets.
Dazzling in an over-embellished signature Dsquared2 cuts, the Fall Winter 2018 collection adds another chapter to the nomad design story conceived by designers, Dean and Dan Caten.
That narrative is laced with brand heritage; red-and-black check tricked out denim and swathes of prints that cascade down dramatic silhouettes.
Shirts in checks, silk, denim, and stretch gabardine give a more structured feel, with elaborate yokes covered in a wash of sequins, applique with lace or leather flowers, or dotted with jeweled cachon studs.
A soft cotton design in a seamless patchwork of stripes, checks, and florals is emblematic of Dsquared2 style infused throughout the season's theme.
Starring Kendall Jenner, Bella Hadid, Thomas Hackett, Bram Valbracht, Andrea Quaranta and Oliver Sonne the video is directed by Mert Alas and Marcus Piggott.
These glam guys and gals have an elegant side too, tempering the sparkle with tailored jackets and pants featuring leather smile piping, and a dramatic Mongolian long haired brown and white coat.
Denim, tailored and leather pants have a new silhouette; a high waist, cropped with a flare that's subtly revealed from behind the ankle, to show the embroidered cowboy boots.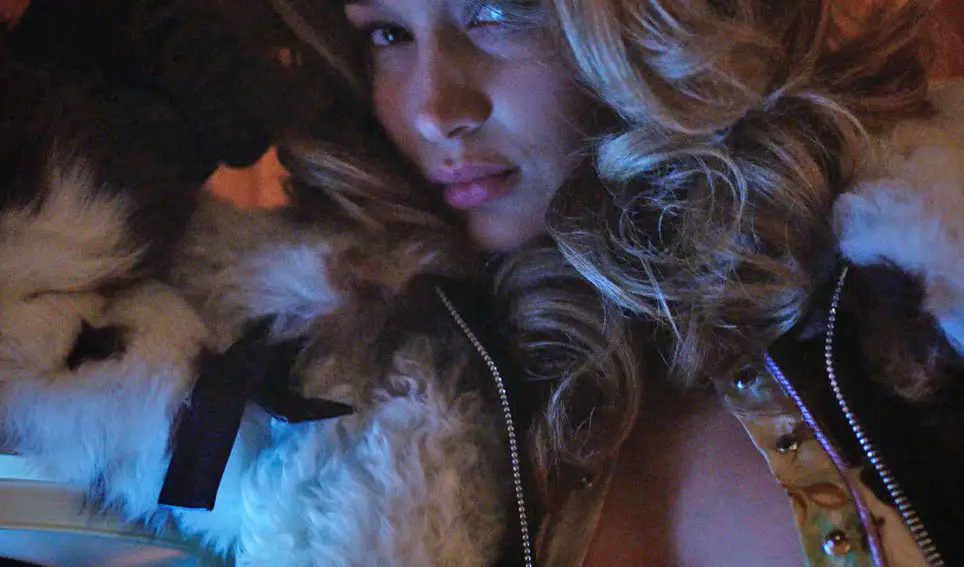 Diaphonous voile cotton and lace dresses are layered over full sequin bodysuits. The prairie nightgown style dresses are reworked for the guys, as an asymmetric long tunic shirt, its transparent romance contrasting against masculine tailoring.
Other long dresses are constructed from a series of silk scarves printed with flowers, inspired by vintage finds and embroidered with glimmering beads.
Their bohemian flow is given dimension with swinging suede fringe bags and sandals, crafted with plush fur and crystals.
Formal golden livery transpires as ornate bohemian decoration, appliqued onto parkas and peacoats. Shearlings come in traditional black and cream rugged styles.
Oversized knits feature Westin motif jacquards. They wear sequin neckties and socks in shades of mint and antique rose, black heavy shoes with engraved medallions on the top.
This season Dsquared2's guys and gals are leaving the rodeo to light up the city.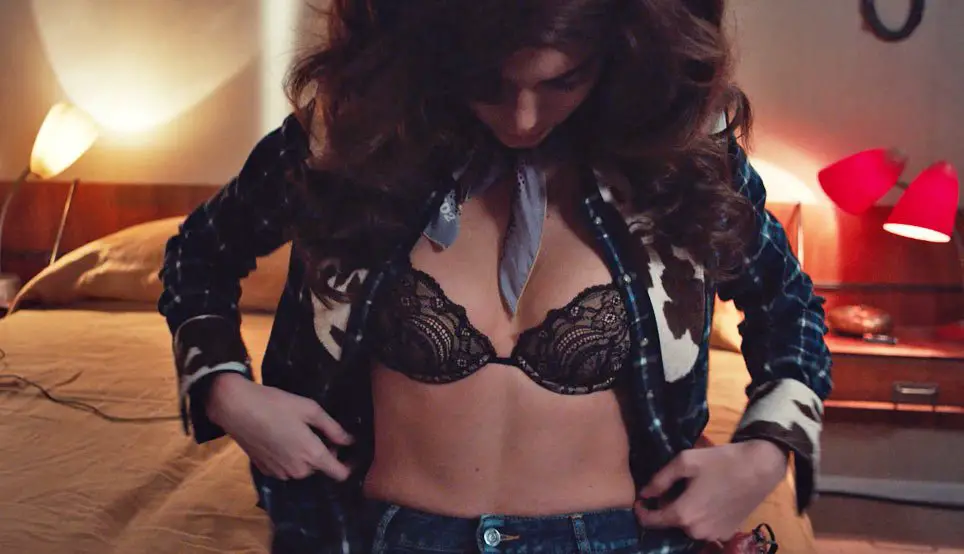 Kendall Jenner Trivia: Kendall Jenner has a cameo appearance in Ocean's 8.