The stars were out at Hakkasan Nightclub inside the MGM Grand Hotel & Casino as Wiz Khalifa, Louis Tomlinson, French Montana, Bebe Rexha and Juicy J came to the premier venue to catch Travis Scott's electrifying performance – who also found out he is set to become a dad with girlfriend Kylie Jenner!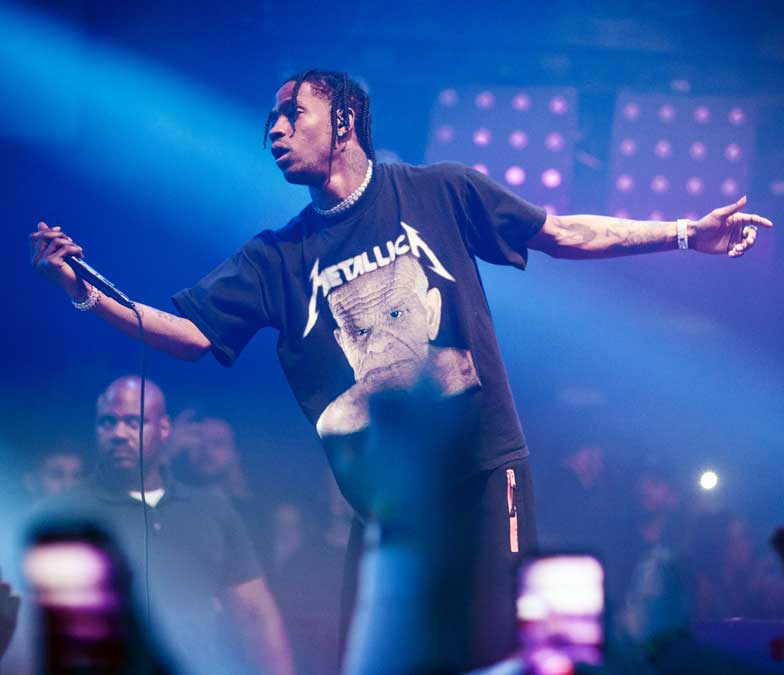 Louis Tomlinson, who arrived at 12:45 a.m. with an entourage of 18 guests, was fresh off his performance at the star-studded iHeartRadio Music Festival earlier in the night.
The "Back to You" singer, was seated at a VIP table where he enjoyed cocktails and mingled with his guests before leaving close to closing time.
Louis Tomlinson wore a Power Lies Corruption Chaos T-shirt by Kendra Blanca. It only costs between $14.70 and $18.70 depending on your size.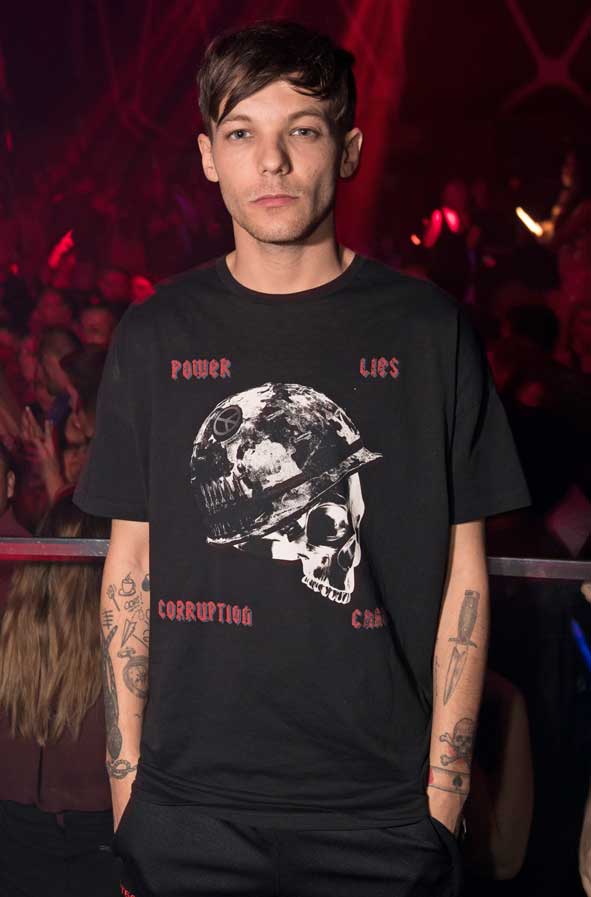 Chart-topping hip-hop artist French Montana entered the packed nighttime hot spot at approximately 2:30 a.m. with 10 guests, which included fellow rapper Juicy J.  The two moguls were reportedly in the venue to watch Travis Scott's performance. Khalifa clearly enjoyed Scott's high-energy performance as he was seen dancing and interacting with the crowd.
VIDEO: One Direction Jimmy Kimmel Arrival in Hollywood, LA!
The Internet has exploded with the news that Kylie Jenner is pregnant with Travis Scott's baby. But looking at her recent Instagram posts the Keeping Up With The Kardashians and Life of Kylie star looked as svelte and toned as ever! Check out the pics below:
Kylie Jenner recently posed in a ned provocative shoot for V Magazine which TMZ reported on and Kylie herself commented it was her "first super nude shoot. I always post sexy pictures, but have never really gone nude."
It has been reported on People.com that Kylie Jenner, who just turned 20 in August, is having a baby girl "multiple sources confirm". Other websites have suggested conspiracy theories that she is carrying the baby for her half-sister Kim Kardashian!
UPDATE: Kylie Jenner gave birth to a baby daughter on February 6th, 2018, and called her Stormi Webster! If you want a detailed and carefully-researched guide to caring for your baby, then Jen Reviews has written a comprehensive article Read here to become an expert at choosing baby products, all according to science: Everything You Need For Your Baby, According to Science
Louis Tomlinson Trivia: Happy Christmas! Louis Tomlinson was born on Christmas Eve in 1991!