Louis Tomlinson looked like he just stepped out in random a football shirt and sweatpants but the One Direction singer, and now solo artist was actually wearing a Russian designer outfit by Gosha Rubchinskiy and Adidas X!
The red football shirt read "ГОША РУБЧИНСКИЙ" which is the designer's name, Gosha Rubchinskiy, written in Russian and "футбол" which translates simply as "Football"!
Louis Tomlinson also showed off a collection of his tattoos on his arms including a stickman, a Globe, a cartoon bomb, a pint of beer, a paper airplane, the word oops, a camera, a skull and crossbones, birds flying and a rope around his wrist!
VIDEO: One Direction Jimmy Kimmel Arrival in Hollywood, LA!
Louis was pictured arriving at Key 103 in Manchester to promote his new single "Back To You" and recently posted on Instagram a picture about his new 'E' tattoo which fans speculate could be for his girlfriend Eleanor Calder.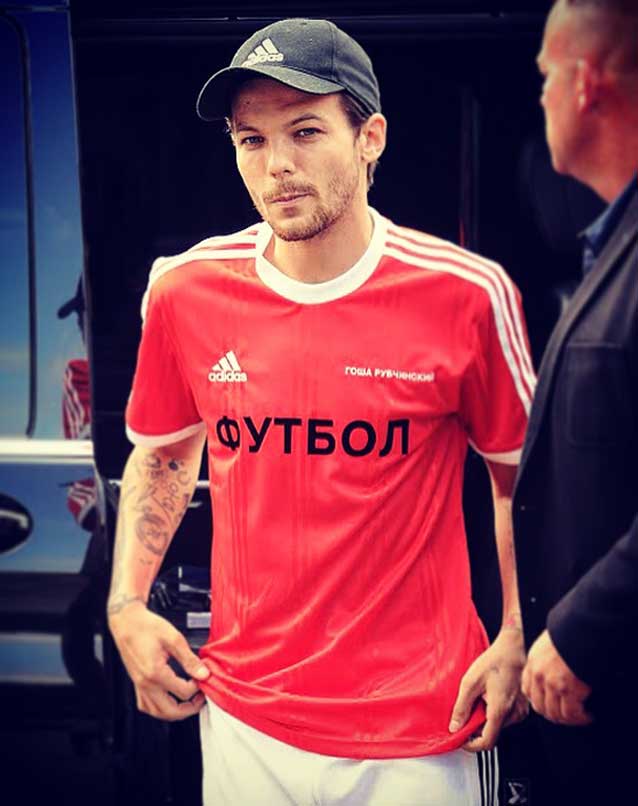 Check out the designer Adidas and collection on the Soccer Bible website below:
Gosha Rubchinskiy Trivia: According to Wikipedia "Gosha Rubchinskiy constantly takes inspiration from the fall of the Iron Curtain, Russian street, and youth culture, and his experiences to create his collections, pushing Russian iconography, both past, and present, onto the world stage through his runway shows and his imagery".