Celebrities turned out in force to support The Hand In Hand Hurricane Relief Telethon and raised $14 million in the first hour!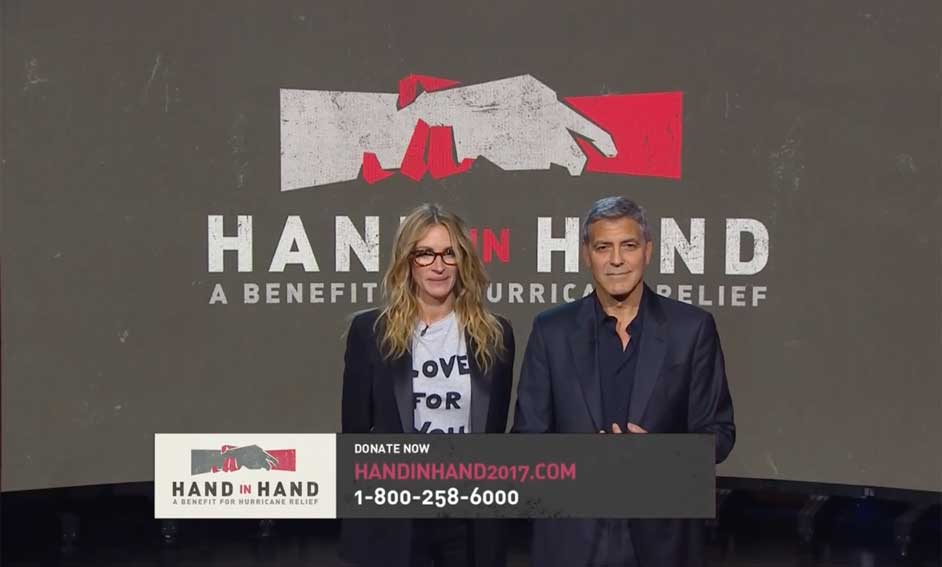 Everyone from Beyoncé to Bruce Willis to Stephen Colbert to Justin Bieber to Oprah Winfrey took calls, gave a speech or performed to ask America for donations to help those affected by the recent hurricanes in the Caribbean, Texas & Florida.
You can donate using this link below to support the Hurricane victims: DONATE "Hand In Hand" A Benefit for Hurricane Relief
Watch the full Telethon on MTV right here:
VIDEO: "Hand In Hand" A Benefit For Hurricane Relief | MTV
The list of celebs was huge! They included (deep breath): Malin Akerman, Jason Alexander, Lily Aldridge, Anthony Anderson, Beyoncé, The Black Eyed Peas…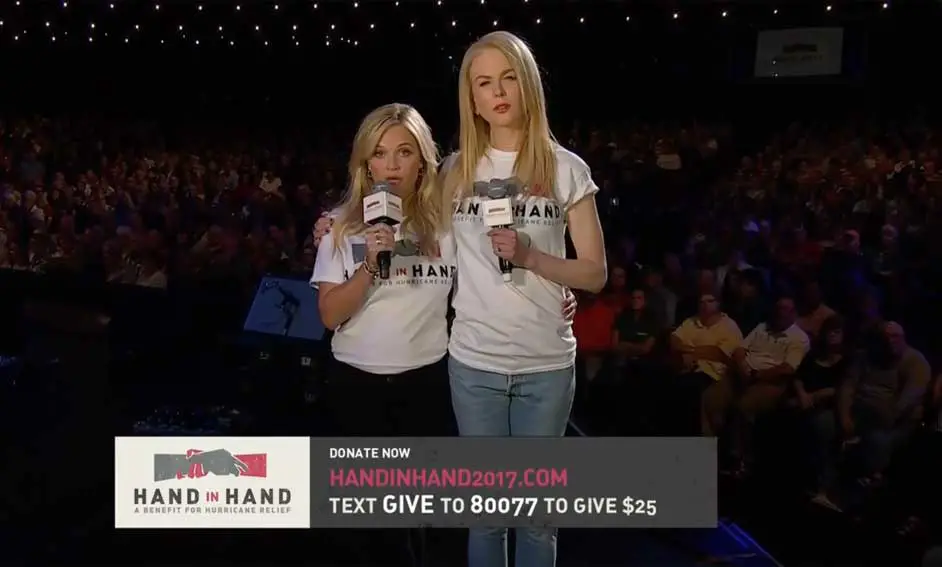 Bun B, J Balvin, Elizabeth Banks, Justin Bieber, Dierks Bentley, Bobby Bones, Julie Bowen, Wayne Brady, Connie Britton, Sterling K. Brown, Luke Bryan, Steve Buscemi, CASSIE, George Clooney, Andy Cohen, Stephen Colbert, Sean "Diddy" Combs, David Copperfield, Chace Crawford, Terry Crews, Billy Crystal, Lee Daniels, Robert De Niro, Leonardo DiCaprio…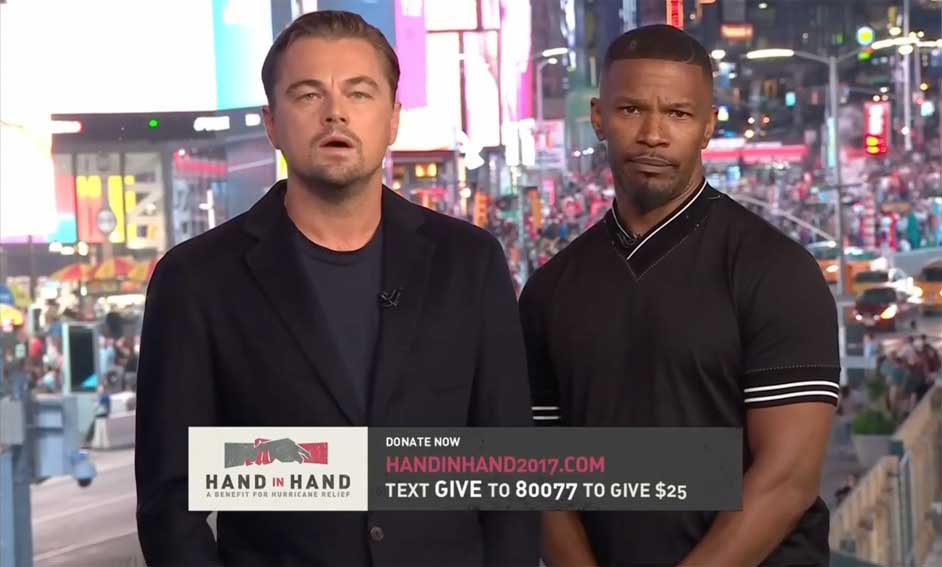 Old Dominion, Drake, Hilary Duff, Jeff Dunham, Jourdan Dunn, Brett Eldridge, Charles Esten, Sara Evans, Jimmy Fallon, Rascal Flatts, Luis Fonsi, Jamie Foxx, Josh Gad, Jennifer Garner, Richard Gere, Eddie George, Selena Gomez, Amy Grant, Pastor John Gray, Josh Groban, Savannah Guthrie, Tom Hanks, Marcia Gay Harden, Angie Harmon, Taraji P. Henson, Faith Hill, Julianne Hough, Kate Hudson, Dwayne Johnson…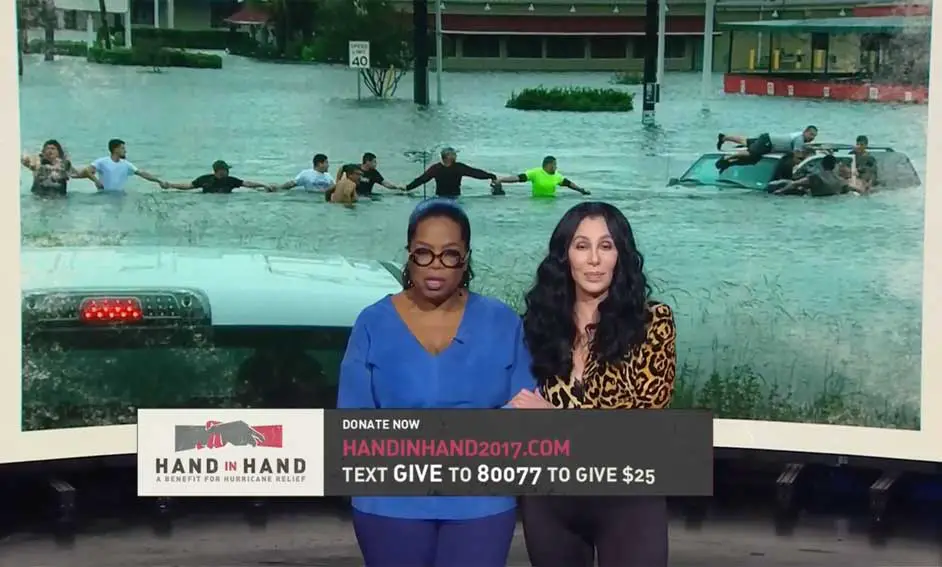 Joe Jonas, Catherine Zeta -Jones, Tori Kelly, DJ Khaled, Nicole Kidman, Gayle King, Karlie Kloss, Karolina Kurkova, Matt Lauer, Jay Leno, Kings of Leon, Jared Leto, Eva Longoria, Matthew McConaughey, Eric McCormack, Tim McGraw, Nicki Minaj, Kip Moore, Tracy Morgan, Lupita Nyong'o, Norah O'Donnell, Gerardo Ortiz, Brothers Osborne, Brad Paisley, Chris Paul, Jon Pardi, Tyler Perry, Dennis Quaid, Questlove, Jeremy Renner…
Julia Roberts, Robin Roberts, Craig Robinson, Ray Romano, Kelly Rowland, Darius Rucker, Adam Sandler, Travis Scott, Ryan Seacrest, Dan + Shay, Blake Shelton, Maria Shriver, Michael W. Smith, Will Smith, David Spade, Gwen Stefani, Michael Strahan, George Strait, Barbra Streisand, PK Subban, Cole Swindell, Wanda Sykes, Miles Teller, T.I., Timbaland…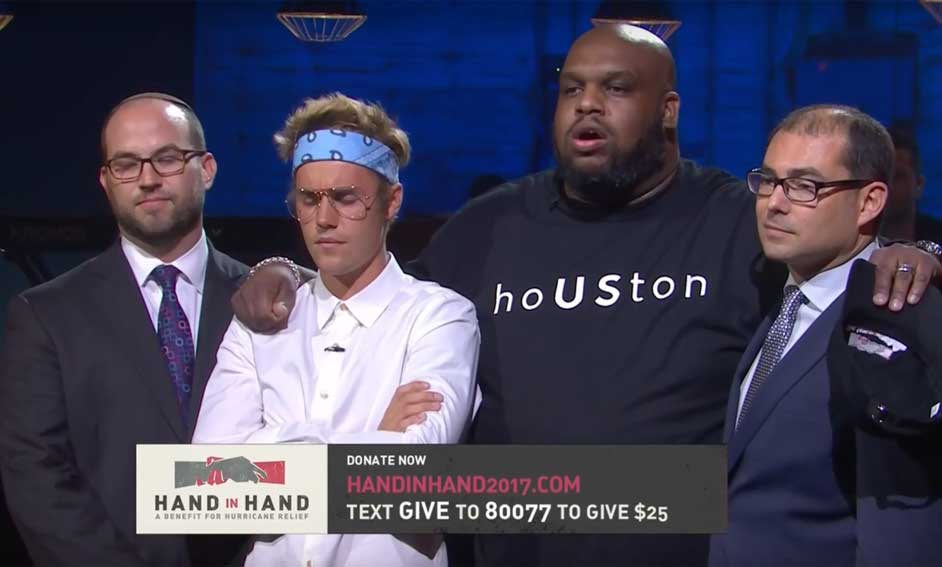 Justin Timberlake, Chris Tomlin, Meghan Trainor, Wilmer Valderrama, Sofia Vergara, Kerry Washington, Marlon Wayans, Bruce Willis, Chandra Wilson, Charlie Wilson, Oprah Winfrey, Cece Winans, Rita Wilson, Reese Witherspoon, Chris Young and Finally Zion!
VIDEO: Justin Bieber At Hand In Hand Event in Los Angeles
Singer Stevie Wonder opened the event and addressed the issue of climate change immediately.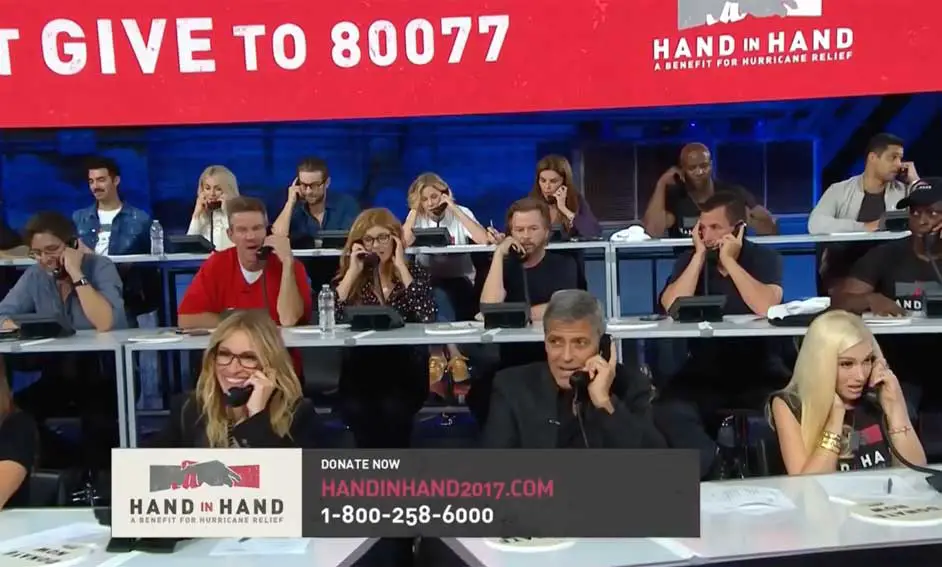 Proceeds from the event will be distributed to a range of charities aiding recovery efforts in Houston and areas affected by Hurricane Irma.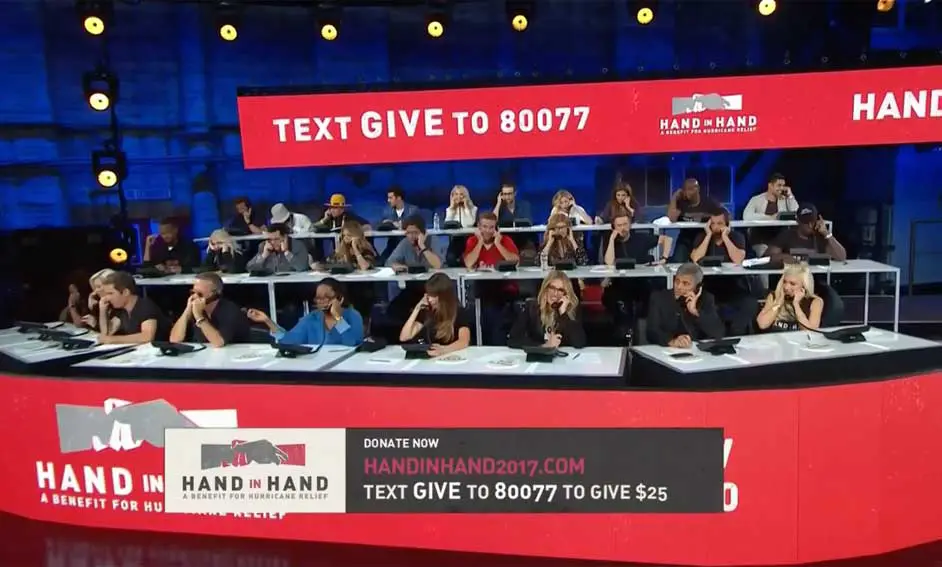 The organizations include the United Way of Greater Houston, Habitat for Humanity, Save the Children, Feeding Texas and the Mayor's Fund for Hurricane Harvey Relief #HandInHand
How to donate:
Call 1 (800) 258-6000 to donate using a credit card
Text GIVE to 80077 to give $25.