So we all know how the story went…Actor marries former model, country music star marries backup dancer, actor, and country music star film Lifetime movie together, rumors starting flying, everyone gets divorced and the country music star and actor live happily ever after.
LeAnn Rimes and husband Eddie Cibrian looked to be in great spirits on the TV show Extra
– More FREE Celebrity Images on www.CelebrityWotNot.photos
Or if you didn't already know the story, singer LeAnn Rimes met actor Eddie Cibrian on the film set of the Lifetime movie Northern Lights.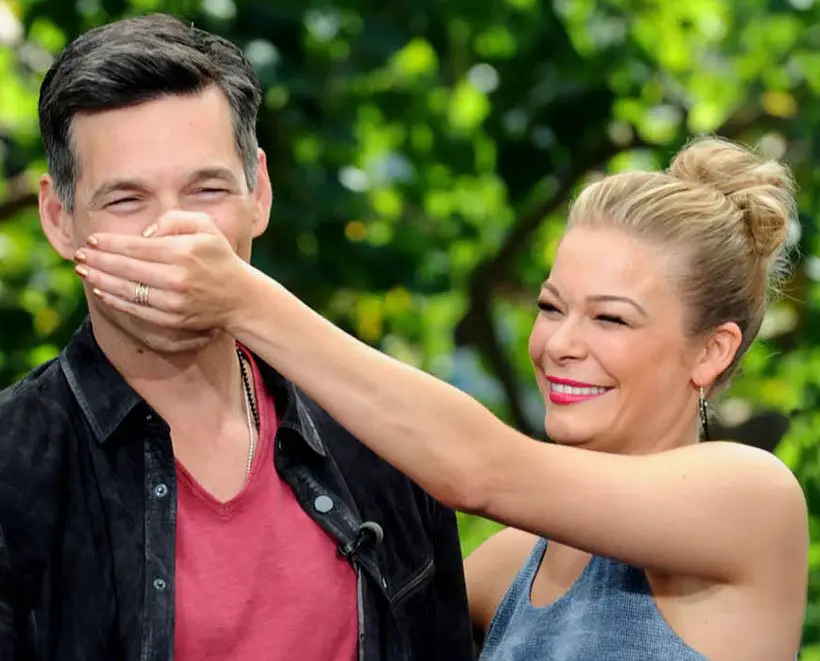 Rimes went on to divorce her backup dancer husband Dean Sheremet and Cibrian's split from wife Brandi Glanville created one of the most cheeky Real Housewives ever! Cibrian and Rimes then married in 2011.
Following her separation from Cibrian, Brandi Glanville told Us Weekly, "I want to do what is best for our children. Eddie and LeAnn deserve each other."
VIDEO: LeAnn Rimes & Brandi Glanville Feud is Over… Or Is It? Who Is This Troll?
In the same year, Cibrian alleged that Brandi had slashed the tires on his motorcycle—which, she assured us, she most certainly had done!
Glanville told E! News: "He broke my heart, so I broke his Harleys. It was right after I found out about girl No. 2, and I had that Carrie Underwood song in my head, and I just went for it!"
If you've forgotten the line, it goes: "Carved my name into his leather seats… I took a Louisville slugger to both headlights, Slashed a hole in all four tires… Maybe next time he'll think before he cheats."
According to Glanville, Cibrian was already a major cheat. In her 2013 book Drinking & Tweeting and Other Brandi Blunders, Glanville wrote: "I would like to thank my ex-husband, Edward Cibrian, for giving me all the material I could ever need to write this book and for helping me discover the strong independent woman inside of me".
The shade continued…
Glanville explained to E! News she believes Cibrian and Rimes wouldn't be together all that much longer, saying "In the state of California, after 10 years, you are entitled to half of everything that the other person has and that's it. I really believe he is putting in his 10 years."  In a Battle of Celebrity All-Stars segment, Jay Leno asked Glanville "who is a little tramp" to which she replied "Leann Rimes".
The shade continued, on March 19th this year, Brandi tweeted: "Eddie ain't cheat-n Lean never leaves his side not for a hot second she's on set with him every day all day."
But then on April 17th, she Tweeted that the feud had finally come to an end: "At #dailypop the three of us sat and talked for hours hashed everything out and the feud with @leannrimes Eddie and I is over! They will not be getting rid of me on any holidays #modernfamily"
Well, the feud isn't over for someone and someone on the Twittersphere is out to get Leann… daily! If you head over to Twitter there is an account by the name of Harryetcraig with the bio stating: "Everything I post is Alleged. We're all here to laugh and have a good time until Leann's pink wig moment.????"
We have no idea what the motive is behind the account but at least Brandi has finally buried the hatchet with LeAnn Rimes.
LeAnn Rimes Trivia: When she was only 9 years-old LeAnn Rimes sang "The Star Spangled Banner" at the opening of a Dallas Cowboys football game!