Leann Rimes was spotted taking her rescue dog, Eveie, for a walk in Vancouver, Canada wearing sporty grey leggings and sneakers.
The 35-year-old singer and actress matched her leggings with a grey cut off hooded sweater under a rain jacket.
With LeAnn's hair tied back, she went largely unnoticed and had a smile on her face as she walked in a city park. She has been in the Canadian city shooting her new Christmas movie.
She was also seen on EXTRA TV with Mario Lopez and husband Eddie Cibrian with the couple looking very much in love in the video below:
LovE Is LovE Is LovE: LeAnn Rimes & Eddie Cibrian in Couple Showdown!
Wearing blue denim shorts and a sexy sheer beige flowing top, LeAnn showed off her wedding ring.
Cibrian even tried to fix something in Rimes' teeth at one point before she walked off set!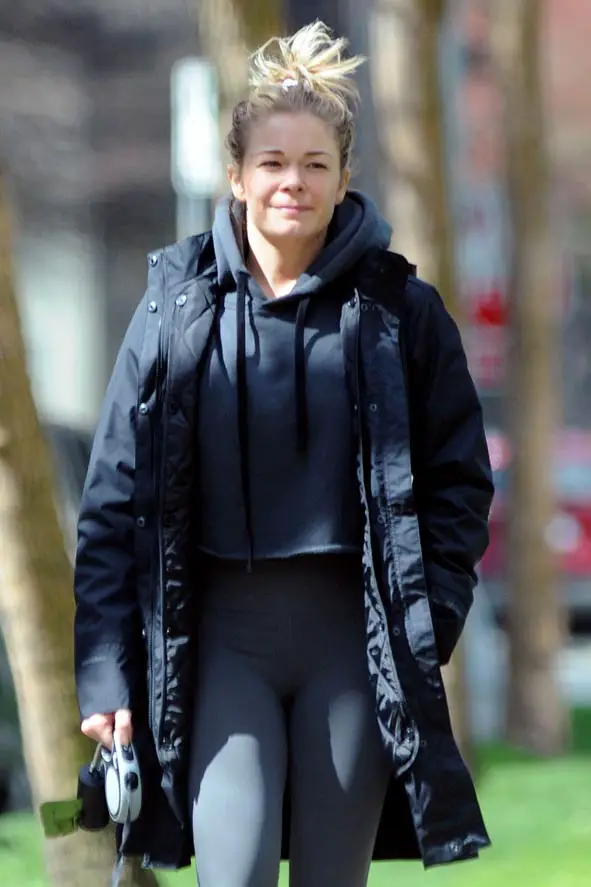 LeAnn was spotted recently on the film set of her new movie and looked thrilled to be back filming despite it being a festive project.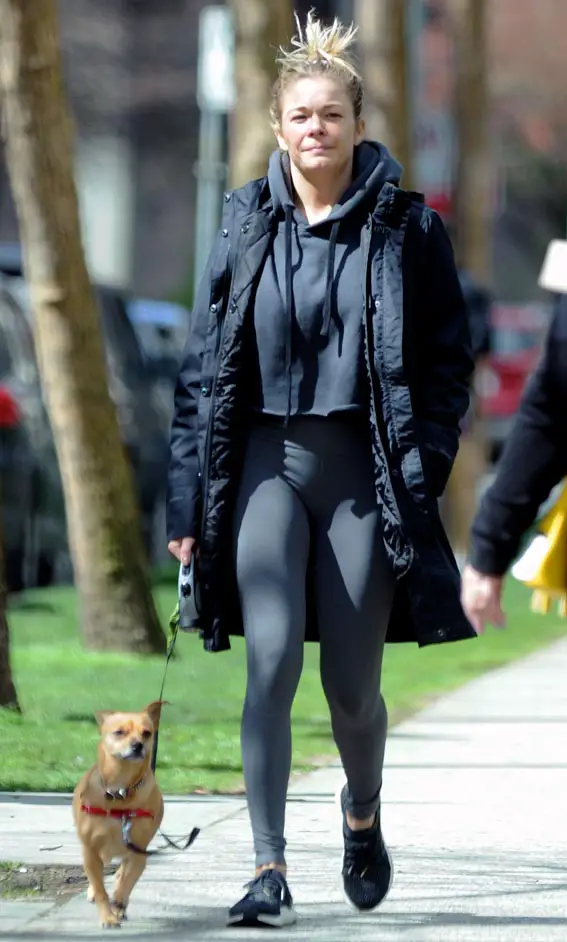 The star was pictured shooting a Christmas flick currently titled Christmas, Eve where the singer will play the lead role 'Eve'.
LeAnn – whose husband Eddie Cibrian is also filming a TV show alongside Rachel Bilson in the Canadian city – looked like she was having a great time working in front of the cameras.
Her new single "LovE Is LovE Is LovE" can be heard in the film Logan Lucky, which stars Channing Tatum, Adam Driver, Daniel Craig, Katie Holmes, Riley Keogh, and Seth MacFarlane.
LeAnn Rimes Trivia: LeAnn Rimes was one of the youngest country music stars ever after she covered Bill MAck's single "Blue" aged 13-years-old.