American model Ashley Graham was spotted modeling on the beach in a black bikini showing off a rarely seen hip tattoo which is thought to be the star sign for her star sign, Scorpio!
The Nebraska born star then changed into a white bikini and had her hair styled by an assistant as she splashed around in the Atlantic Ocean.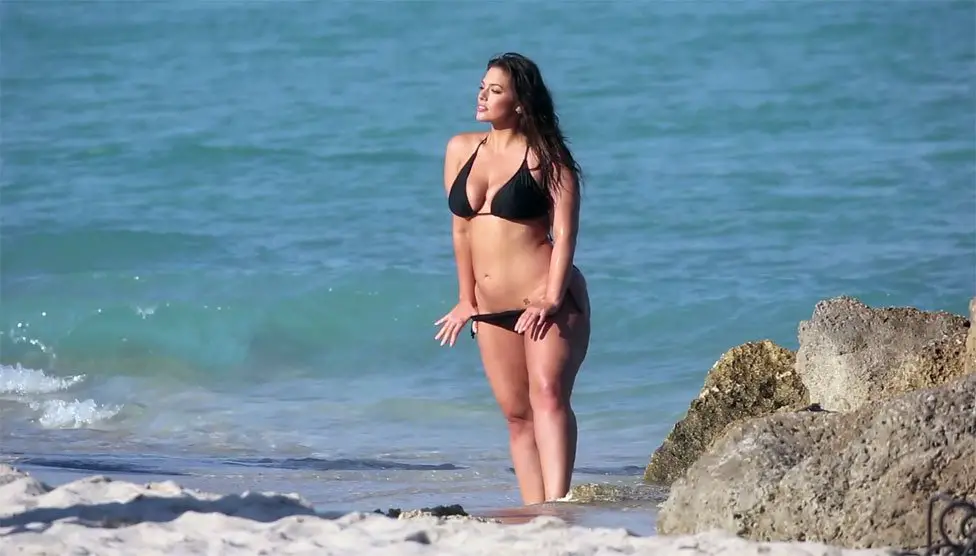 The model was posing for a magazine shoot in Miami, Florida and was seen laughing with the crew as she stood in the ocean before moving locations to some nearby rocks. Ashley recently was featured in the Sports Illustrated 2018 Swimsuit Edition.
With her feet in the sea Ashley pulled down her bikini bottoms for a cheeky peek at her ink. We also spotted her in New York City getting put through an epic workout. She was joined by husband Justin Ervin working out on the NYC streets!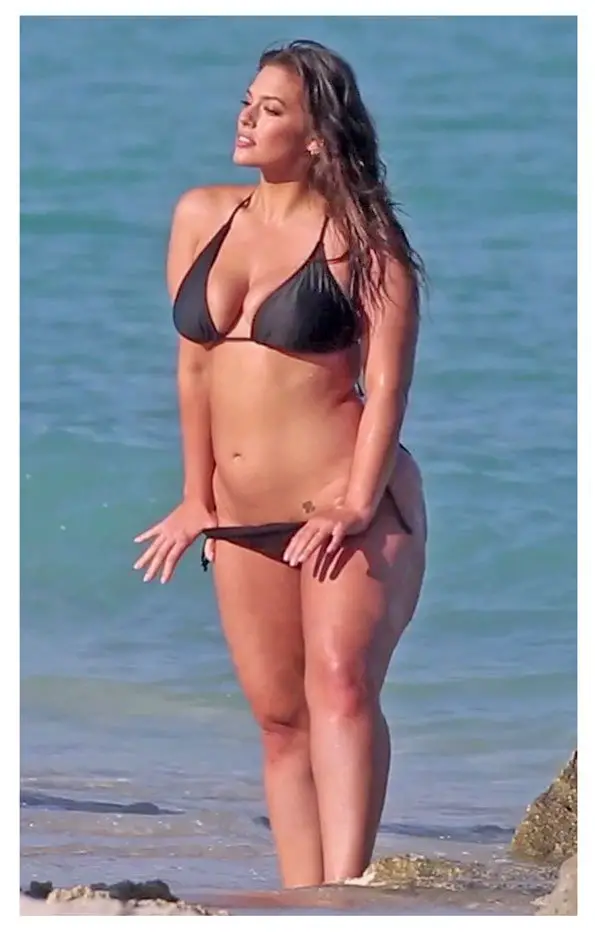 Justin opted to go shirtless as the famous couple worked out doing squats together! Ashley Graham and her buff husband, Justin Ervin, showed off their fitness skills at the Dogpound gym in NYC. Check out our video on our YouTube channel here: Ashley Graham Workout in NYC
Born in 1987, Ashley Graham was spotted in 2000 by the I & I agency while shopping at Oak View Mall in Omaha, Nebraska, according to Wikipedia.
Ashley Graham became popular after she appeared on a banned Lane Bryant commercial. Wearing several different lingerie outfits, the curvy model looked at her phone which said "Meet Dan for Lunch, before she picked out a red bra and matching red panties as she put on a black jacket over the lingerie. She then picked up her keys and headed for the door.
We didn't think it was that bad to get banned buy you can check out the video below with the caption reading: "The Cacique lingerie ad that ABC and FOX did not want their viewers to see."
VIDEO: Lane Bryant Ad: Not What Mom Would Wear
Ashley Graham Trivia: Ashley Graham spoke at a Ted Talk about why one shouldn't refer to her as a "Plus -Sized" Model as it separates her from other models. Check out the story: Ashley Graham Plus Size Model Problem