Melissa Benoist took to Instagram to announce her return to the hit CW show Supergirl and used a Celebrity WotNot picture to do so!
Looking shocked in the picture, the image was taken in Vancouver, Canada while she filmed Season 3. But Melissa hinted that she will b filming Season 4 writing on the post: "? do I put on a cape now? yessssiree @supergirlcw I'm heading for ya ? and I can't wait to see all my friendsss"
The full picture can be seen above showing that the surprised look was caused by an assistant adjusting her famous red cape!
The 'Girl of Steel' was also spotted filming on the Vancouver film set in our Exclusive Supergirl video below:
VIDEO: Melissa Benoist Returns to Film Supergirl in Vancouver, Canada
Season 4 will also see several new characters added to the Supergirl cast with Brent Spiner playing Vice President Baker.
According to Newsarama Batwoman will join the Arrowverse in the new season. Melissa chatted with the website at the Comic-Con International: San Diego back in July. Season 4 of Supergirl was commissioned by The CW and will run from 2018–19 season.
The fourth season of Supergirl will debut on Sunday, October 14th, at 8/7c on The CW.
Supergirl is usually fighting crime on the streets of National City but it her costume was fighting the elements as the windy weather gave onlookers a flash under the Supergirl costume. Check out the pics here: Melissa Benoist Suffers A Supergirl Costume Malfunction Fighting The Elements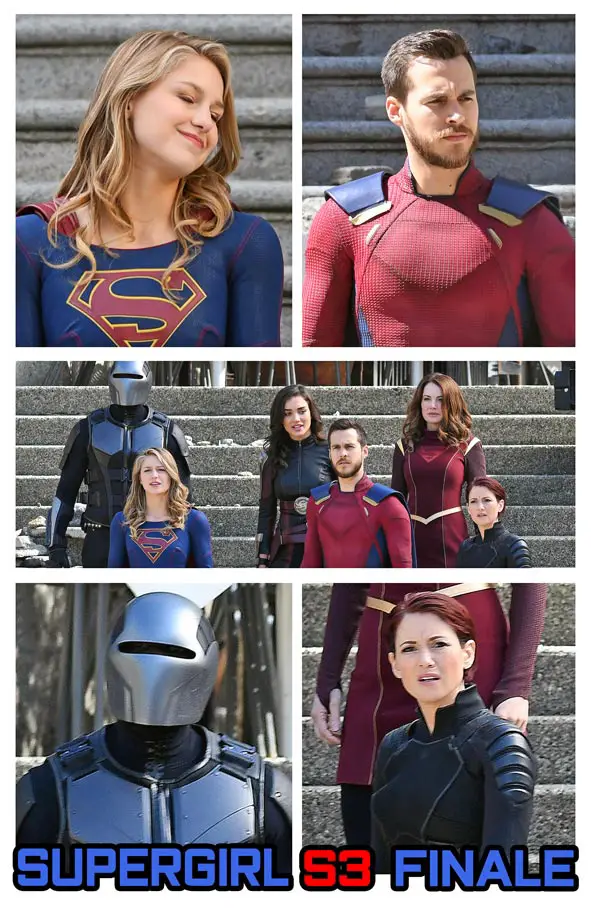 Melissa was pictured filming the season finale of Supergirl Season 3. Several other main characters were pictured on set including Mehcad Brooks as James Olsen/Guardian, Chyler Leigh as Alex Danvers, Chris Wood as Mon-El and Erica Durance as Alura Zor-El.
But back to season 4. Rhona Mitra is set to play villainess Mercy Graves, Grey's Anatomy star Robert Baker will play her brother and Nicole Maines has been confirmed to play the show's first transgender superhero, Dreamer.
Melissa has been busy starring as Carol King in the Broadway show Beautiful: The Carol King Musical and says her stint on the stage will help her return to Supergirl with a new, empowering approach to her character.
Melissa Benoist Trivia: Melissa Benoist will also be seen in the new Waco miniseries playing Rachel Koresh.