Olivia Munn is one busy actress. With her new show, SIX about to hit our screens on May 28th, the actress has been hitting the red carpets during the award season and more importantly promoting a 'zero-tolerance policy' for sexual assault, and not just in the movie industry.
Olivia Munn Boyfriend Rumors
However, the Newsroom actress was forced to hit back at rumors she was dating her best friend's ex-husband, with her best friend being Jennifer Aniston and the ex, Justin Theroux.
Olivia took to her Instagram 'Stories' account to post her publicist's text message to her and then her response to InTouch Magazine who ran the headline: Justin Theroux Is "Leaning On" Olivia Munn Following Jennifer Aniston Split (EXCLUSIVE)
Olivia's publicist messaged:
"See Below. Ignore.
In Touch is preparing a story about Olivia Munn and Justin Theroux.
Sources tell In Touch Olivia and Justin are growing close together and they are heading towards a romance.
Any comment must reach me by 10 am EST on Monday (March 12)."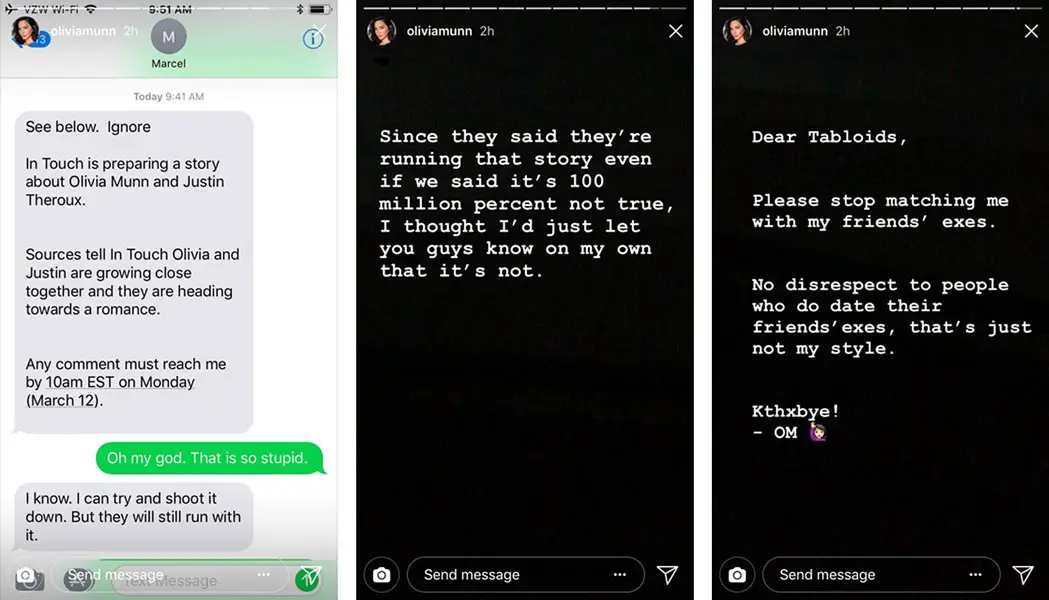 Luckily, Olivia used the power of social media to respond and shoot down these rumors posting on Instagram:
"Since they said they're running that story even if we said it's 100 million percent not true, I thought I'd just let you guys know on my own that it's not."
"Dear Tabloids,
Please stop matching me with my friends' exes.
No disrespect to people who do date their friends' exes, that's just not my style.
Kthxbye!
– OM ??‍"
"I just thought I'd just let you guys know on my own that it's not."
Olivia Munn and Jennifer Aniston are very close friends and they starred together in the festive comedy Office Christmas Party. She even posted a recent picture of the two of them together on her Instagram page with the caption "#fbf #girlfriends ?‍♀️"
Olivia and Jen's ex, Justin Theroux, both voiced characters in The Lego Ninjago Movie and were pictured together promoting the film, which seems to be the pictured used to illustrate the InTouch story.
But Olivia has been concentrating on more important matters relating to the sexual assault reports surrounding Harvey Weinstein and other prominent players in Hollywood. She published an essay on Entertainment Weekly stating:
In our world today — and it's not just Hollywood, it's the same for girls and women all over the world who have survived sexual abuse and/or harassment — abusers don't usually get in trouble unless the victim is broken first, because the violating act alone is not damaging enough to spark society's outrage. It's a marathon towards self-destruction in order to gain credibility and a vicious circle of victim-blaming.
Olivia continued:
We can use this moment to create a lasting shift. We should create a zero-tolerance policy with actionable consequences for sexual assault and any other forms of abuse. Heads of studios, bosses, and CEOs should enforce equal pay because continuing to pay us less perpetuates a bias that women are inferior.
You can read the full article here on E! With the Iron Man actress finishing "Together, our voices are mighty, powerful, and earth-shaking. We're strong. We're not afraid to call each other out—and we're not afraid to call you out anymore either."
Olivia Munn Trivia: Olivia Munn can speak fluent Japanese! She grew up at Yokota Air Base in Tokyo, Japan where her stepfather was stationed.