Amy Poehler wore an adorable pair of Hedgehog winter mittens as the Parks & Recreation actress matched the mitts with a hooded body warmer, a grey scarf, and a colorful winter sweater.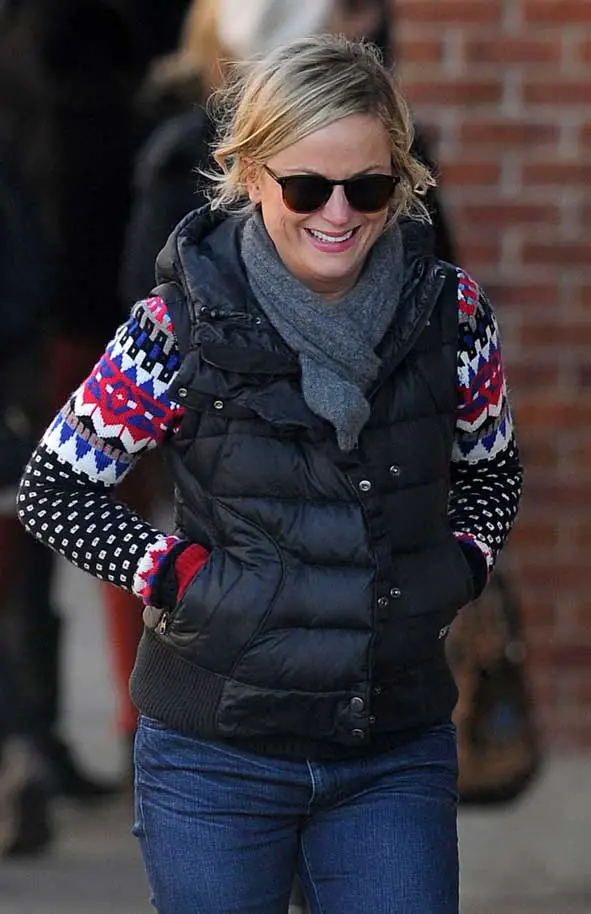 Wearing sunglasses with a big smile on her face, Amy had her mitts in her pockets as she walked across the road in some killer snow boots.
The SNL actress was all smiles as she walked around Park City, Utah stopping with a friend and looking around the ski town. Speaking to the Guardian Newspaper in the UK she talked about "strong women, bad parenting – and not caring who likes her".
Amy's new boyfriend Benjamin Graf is an NYC-based attorney at Merchant & Gould specializes in trademarks and patents. According to his company bio. "When he is not trying to be an inventor himself, Ben enjoys Ultimate Frisbee, tennis, cooking and exploring new cities and countries."
Check out more fun coverage from Park City, Utah as Zoey Deutch was spotted trying to catch snowflakes with her mouth!
VIDEO: Zoey Deutch Tries To Catch Snowflakes At Sundance 2017
Amy stepped out in a bikini with her new lawyer boyfriend Benjamin Graf.
Amy Poehler Trivia: Amy Poehler's middle name is Meredith and she was married to SNL co-star Will Arnett for 13 years.