If you weren't aware that Deadpool actor Ryan Reynolds has another job as the owner of a gin company then you should shoot him an email!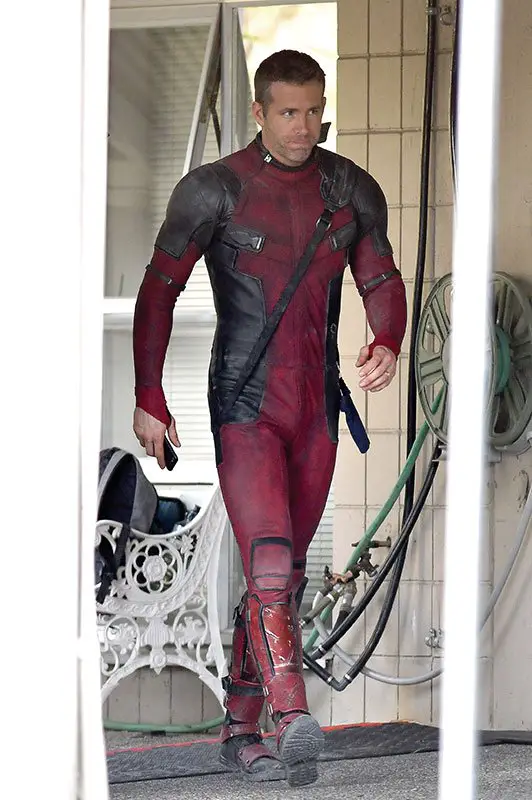 The Canadian born star Aviation American Gin has set up an Out of Office "Mission Statement" reply on his company email address and his responses are hilarious. So we decided to email Ryan and check out what he had to say!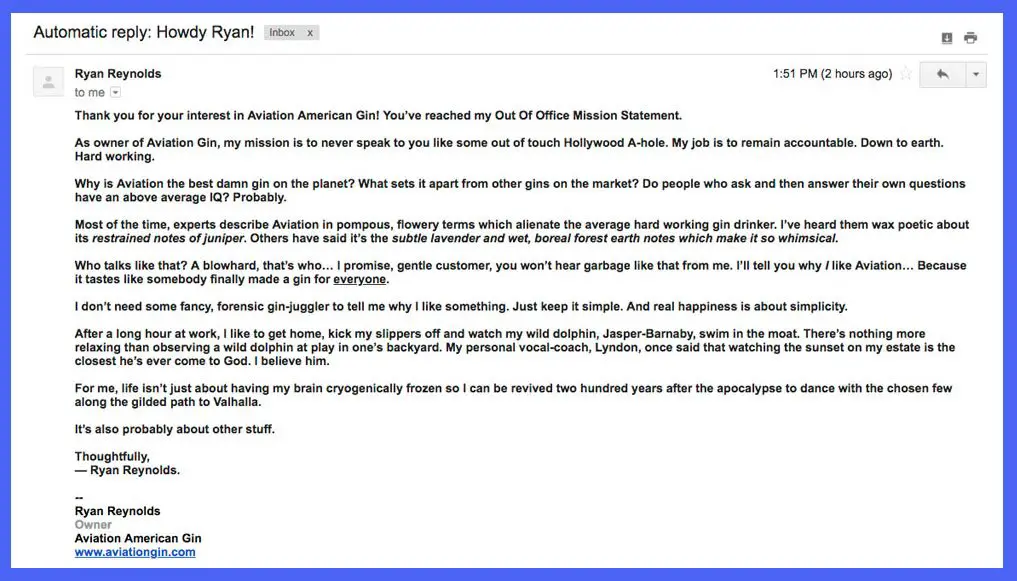 From: Ryan Reynolds <Ryan@aviationgin.com>
Date: Sat, Aug 18, 2018 at 1:51 PM
Subject: Automatic reply: Howdy Ryan!
To: Celebrity WotNot <howdy@celebritywotnot.com>
Thank you for your interest in Aviation American Gin! You've reached my Out Of Office Mission Statement.
As owner of Aviation Gin, my mission is to never speak to you like some out of touch Hollywood A-hole. My job is to remain accountable. Down to earth. Hard working.
Why is Aviation the best damn gin on the planet? What sets it apart from other gins on the market? Do people who ask and then answer their own questions have an above average IQ? Probably.
Most of the time, experts describe Aviation in pompous, flowery terms which alienate the average hard working gin drinker. I've heard them wax poetic about its restrained notes of juniper. Others have said it's the subtle lavender and wet, boreal forest earth notes which make it so whimsical.
Who talks like that? A blowhard, that's who… I promise, gentle customer, you won't hear garbage like that from me. I'll tell you why I like Aviation… Because it tastes like somebody finally made a gin for everyone.
I don't need some fancy, forensic gin-juggler to tell me why I like something. Just keep it simple. And real happiness is about simplicity.
After a long hour at work, I like to get home, kick my slippers off and watch my wild dolphin, Jasper-Barnaby, swim in the moat. There's nothing more relaxing than observing a wild dolphin at play in one's backyard. My personal vocal-coach, Lyndon, once said that watching the sunset on my estate is the closest he's ever come to God. I believe him.
For me, life isn't just about having my brain cryogenically frozen so I can be revived two hundred years after the apocalypse to dance with the chosen few along the gilded path to Valhalla.  
It's also probably about other stuff.
Thoughtfully,
— Ryan Reynolds.
—
Ryan Reynolds
Owner
Aviation American Gin
www.aviationgin.com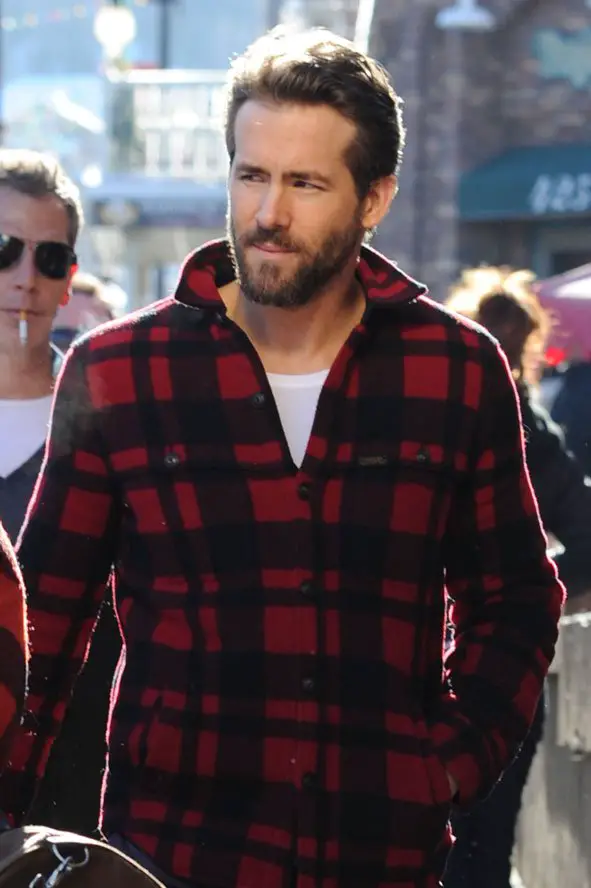 But this isn't the only one he's done. Here's the first out of office he set up in February 2018:
From: Ryan Reynolds <Ryan@aviationgin.com>
Thank you for your email and interest in Aviation American Gin! I'm away from my desk at the moment but will respond the moment they give me a desk.
About a year ago, I tried Aviation for the first time. Since that day, I've spent my time finding some way to infiltrate the company. I did this for one simple reason:  It's the best damn gin on the planet. Period.
My responsibilities here at the company are vast. I'll spend my days being photographed intermittently clinching my jaw muscles while pointing at things and nodding. I'll drink Aviation Gin. I'll sit in board meetings, imagining my very own Red Wedding.
I don't know whose idea it was to allow me into the gin business, but I can assure you, there are smarter, more reasonable people in charge.
Thank you again for your email… If the matter is urgent, please contact my secretary, Bruce, who'll respond the moment I get a secretary named, Bruce.
Ryan then changed his email reply for Father's Day in June 2018:

From: Ryan Reynolds <Ryan@aviationgin.com>
Thanks for your email. As the owner of Aviation American Gin, I take all emails seriously. Especially ones with pictures.
This is only my 2nd OUT OF OFFICE REPLY. From what I'm told, it should be short, sweet and NEVER overly personal or emotional.
Owning a gin company has been one of the great privileges of my life. And while it won't quite make up for the nonexistent relationship I had with my father, it always warms my heart to see others celebrating paternal relationships which have been built on trust, warmth, and totally natural amounts of eye contact. That's why this Father's Day is the perfect time to give your dad the best: Aviation American Gin.
While my own father may be long gone, the unspoken tension we shared is alive and well. But let me tell ya… if I could turn back time, I wouldn't be pouring Aviation Gin over his grave in the middle of the night. No sir… I'd be sittin' across from him, clinking glasses and having an effervescent giggle about the fact I now own the finest Gin company on planet earth. He might say stuff like, "Hey, this Gin is pretty damn good" and "Boy howdy, that's a gorgeous looking bottle" or, "I've never mentioned this before, but… you're enough."
This Father's Day, you may not be able to give Dad a second chance, but you CAN get him a bottle Aviation American Gin. Or, if he died before either of you could even begin to comprehend the importance of closure, just get yourself a bottle.
Happy Father's Day,
Ryan Reynolds
Ryan has just released Deadpool 2 and we had exclusive coverage from behind-the-scenes which you can check out below:
VIDEO: Deadpool 2 Filming with Ryan Reynolds, Josh Brolin & Zazie Beetz
In July Ryan then changed his Out of Office again. Read the hilarious response below:
From: Ryan Reynolds <Ryan@aviationgin.com>
I will be out of the office celebrating Canada Day (July 1), World UFO Day (July 2nd), Tom Cruise's Birthday (July 3rd) and July 4th (July 4th.) It's also National Picnic Month so let's just reconnect in August, shall we?
Between now and then, I recommend escaping the summer heat with a delicious Aviation & Tonic. Here's my recipe:
2 oz Aviation American Gin
4 oz Tonic Water
1 Lemon Wedge
1 Lime Wedge
1 Teaspoon of Green Lantern Tears (optional)
Also, a lot of you have asked where you can find Aviation Gin, so I had the whizzes in our website department whip up this locator www.aviationgin.com/locator
Ryan then created another comedy response before he went on the Jimmy Fallon show in New York in August 2018: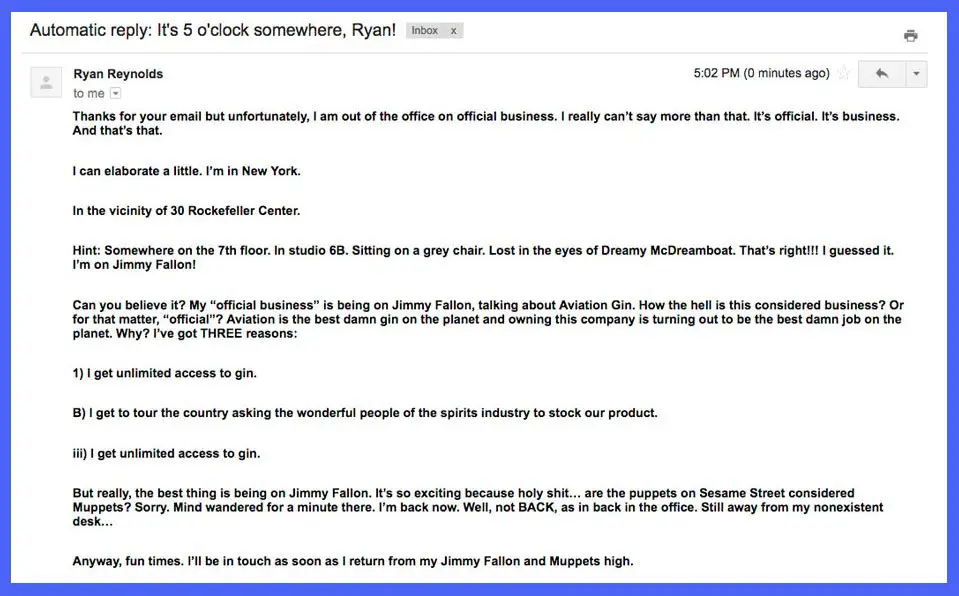 From: Ryan Reynolds <Ryan@aviationgin.com>
Thanks for your email but unfortunately, I am out of the office on official business. I really can't say more than that. It's official. It's business. And that's that.
I can elaborate a little. I'm in New York.
In the vicinity of 30 Rockefeller Center.
Hint: Somewhere on the 7th floor. In studio 6B. Sitting on a grey chair. Lost in the eyes of Dreamy McDreamboat. That's right!!! I guessed it. I'm on Jimmy Fallon!
Can you believe it? My "official business" is being on Jimmy Fallon, talking about Aviation Gin. How the hell is this considered business? Or for that matter, "official"? Aviation is the best damn gin on the planet and owning this company is turning out to be the best damn job on the planet. Why? I've got THREE reasons:
1) I get unlimited access to gin.
B) I get to tour the country asking the wonderful people of the spirits industry to stock our product.
iii) I get unlimited access to gin.
But really, the best thing is being on Jimmy Fallon. It's so exciting because holy shit… are the puppets on Sesame Street considered Muppets? Sorry. Mind wandered for a minute there. I'm back now. Well, not BACK, as in back in the office. Still away from my nonexistent desk…
Anyway, fun times. I'll be in touch as soon as I return from my Jimmy Fallon and Muppets high.
Ryan Reynold has been signed up to star in Clue, a comedy, crime and mystery movie that is based on the Hasbro game where, according to IMDB.com, "A band of strangers frantically try to figure out who is the murderer among them."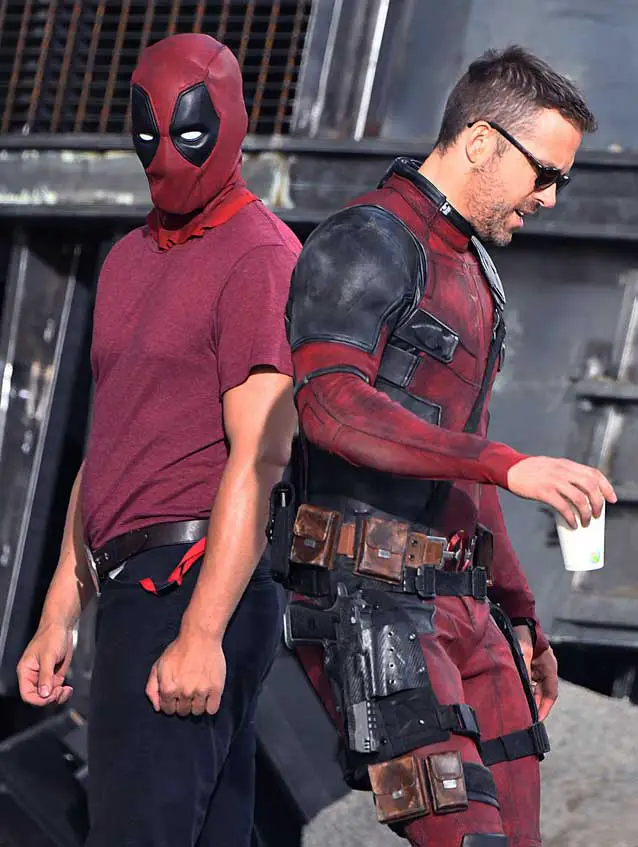 Ryan Reynolds Trivia: Ryan Reynolds starred in season three of The X-Files in an episode titled "Syzygy" in 1996.