What a gentleman! Marcus Mumford was left with the luggage pulling it through the streets of Park City, Utah as wife Carey Mulligan carried a coffee!
The married couple braved the snow at The Sundance Film Festival where Carey is promoting her upcoming movie Wildlife (2018) with Ed Oxenbould, Paul Dano, Zoe Kazan and Zoe Margaret Colletti.
The Great Gatsby  (2013) actress looked stylish in a black winter coat with gold buttons while Marcus also wore a matching black winter coat with his collar turned up.
Marcus Mumford, lead singer of Mumford & Sons, is currently working on their fourth album. We hope he gets some time in between pushing the luggage around!
VIDEO: Nicolas Cage Looks Stylish Promoting New Film 'Mandy' at Sundance 2018
Carey and Marcus were reportedly pen pals when they were kids! Then as adults, they reconnected when Carey went to a  Mumford & Sons gig in Nashville with Jake Gyllenhaal . They married in Somerset, England in 2012 and have two children.
Carey was pictured enjoying the snow with co-star Zoe Kazan with both of them looking stylish in their winter coats.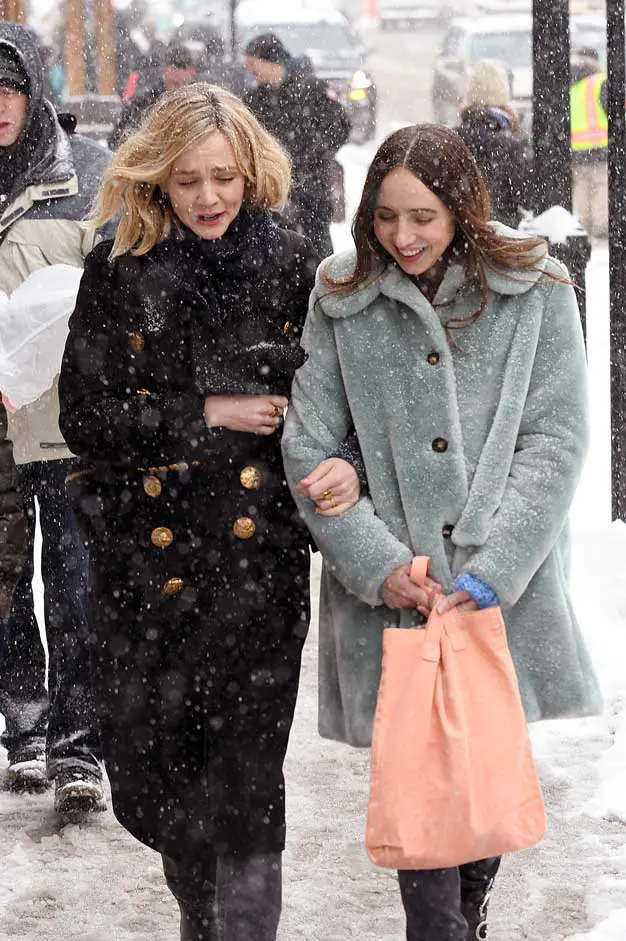 Carey Mulligan Trivia: Colin Firth, Jake Gyllenhaal, and Sienna Miller all attended Carey and Marcus' wedding.