Looks like lockdown suits Brie Larson and her boyfriend, Elijah Allan-Blitz, who were both looking seriously ripped when they stepped out in Los Angeles together.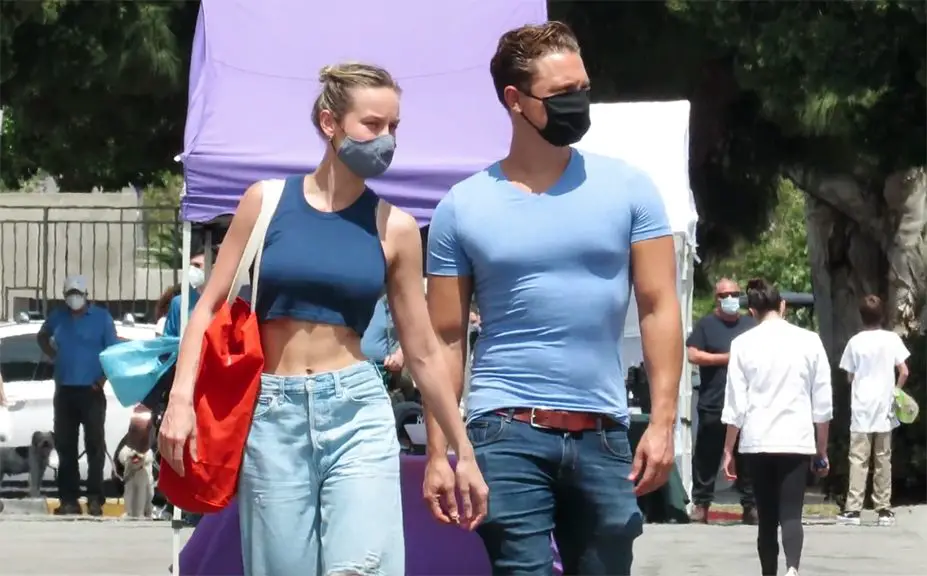 The Captain Marvel bombshell who split from her fiancé Alex Greenwald in 2019, appears to have been dedicating a lot of time to her workouts while holing up during the Coronavirus pandemic, and she was eager to reveal the results when she ventured out to the healthy food market near her home.
While Brie covered up her nose and mouth with a face mask, she showed off her ripped midriff with a tight, crop top, which accentuated her tiny waistline. Her BF's t-shirt was equally as snug, making it clear he'd not been skipping the gym either.
Sure enough, a quick flick through Brie's Instagram account shows she's extremely dedicated to her workouts, which she initially launched herself into for her role as Captain Marvel. Despite initially admitting she wasn't exactly a fan of the gym, that's all changed now!
VIDEO: Brie Larson And Boyfriend Elijah Allan-Blitz In "His And Her" Abs!
So how does Brie Larson stay in shape?
She regularly updates her fans with snapshots from her workouts, which have included videos of her shifting a 5000lb Jeep, rock climbing, endless pull-ups, and weighted pushups – just to name a few of her muscle inducing moves.
Brie couples her hardcore gym sessions with a spot of hiking too. It looks like her new partner in training might just be her bloke, Elijah Allan-Blitz.
Who is Brie Larson's boyfriend, Elijah Allan-Blitz?
The muscly man behind the mask is Elijah Allan-Blitz; an American actor and director, who is also a virtual reality director for mindfulness teaching! Whatever that means?
Brie has been dating Elijah for 12 months, after calling off her engagement to Alex Greenwald, her beau of three years.
Brie Larson Trivia: Brie Larson's real name is Brianne Sidonie Desaulniers.