David and Victoria Beckham were spotted leaving SoulCycle in Brentwood after a tough work out on a hot day in Los Angeles!
David was seen wearing a backward baseball cap with wayfarer style sunglasses and a sleeveless top showing off his array of tattoos.
Victoria Beckham was then seen walking behind Becks leaving the cycling workout class which has quickly become a celebrity hotspot in Brentwood, LA.
Other Hollywood stars such as Gordon Ramsay, Bradley Cooper, and even Minnie Driver have also been spotted working out at the same celeb hot spot.
David proved he was the perfect gentleman by then opening the car door and helping wife Victoria into their Range Rover after the sweaty work out in LA.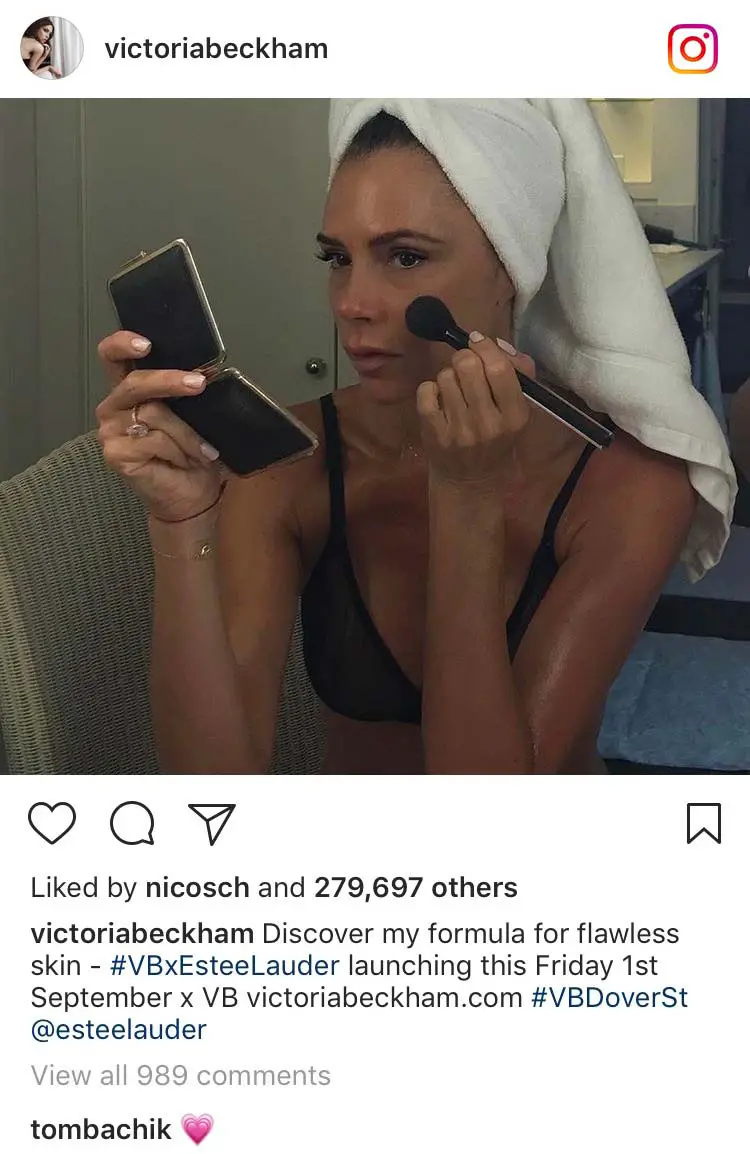 Victoria Beckham shared her Make-Upsecrets on Instagram – Photo Courtesy of @victoriabeckham / Instagram
Wearing official SoulCycle pants and a matching grey hooded sweater, "Posh Spice" kept her baseball cap low while carrying a bag of clothes and the rest of her work out gear to the car.
VIDEO: David and Victoria Beckham Depicted As Michelangelo's David And The Venus De Milo!
The Manchester United and Real Madrid footballer fashioned a cool Brixton T-shirt and wristband to the workout class.
David and Victoria drove to a nearby health juice store to pick up blended juice drink after their high-intensity workout.
Want to know how David Beckham keeps in shape? Read about his workout regime & diet plan on Healthy Celeb here: David Beckham's Workout and Fitness Routine Diet Plan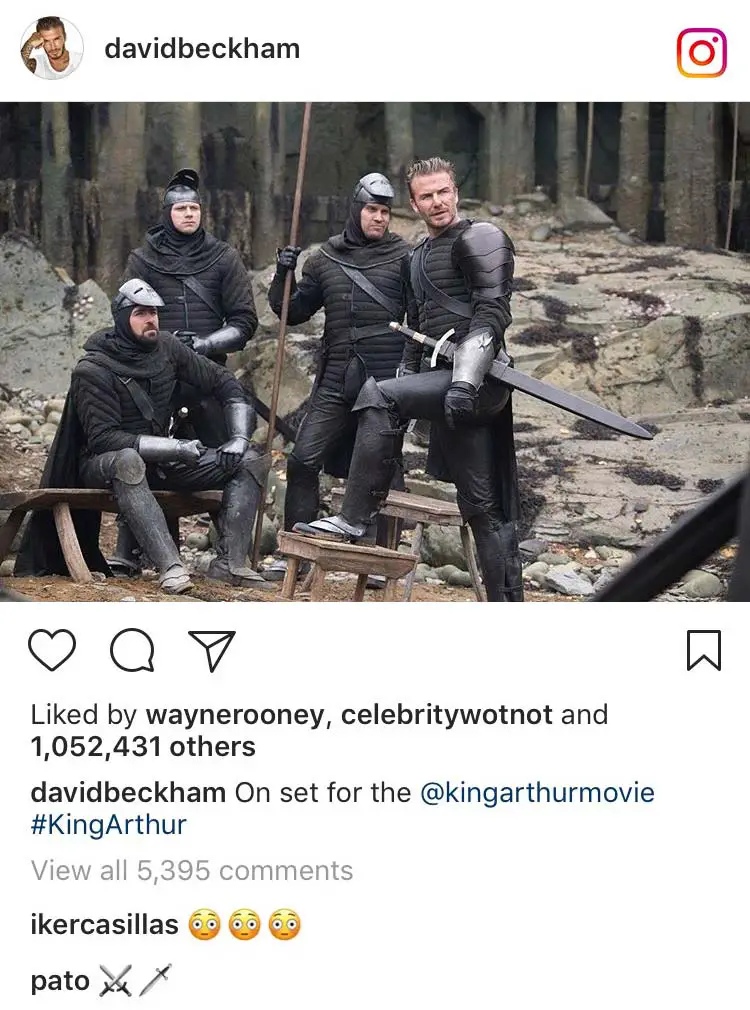 David Beckham shared a picture of himself on set of the King Aurthur Movie in England where he has a cameo. Photo Courtesy of @davidbeckham / Instagram
The former soccer superstar is now a fashion icon and he was interviewed by GQ Magazine talking about "his new fragrance, kit bag essentials and why he won't go back to the mohawk." Read the article here: GQ Style News David Beckham Interview Homme Fragrance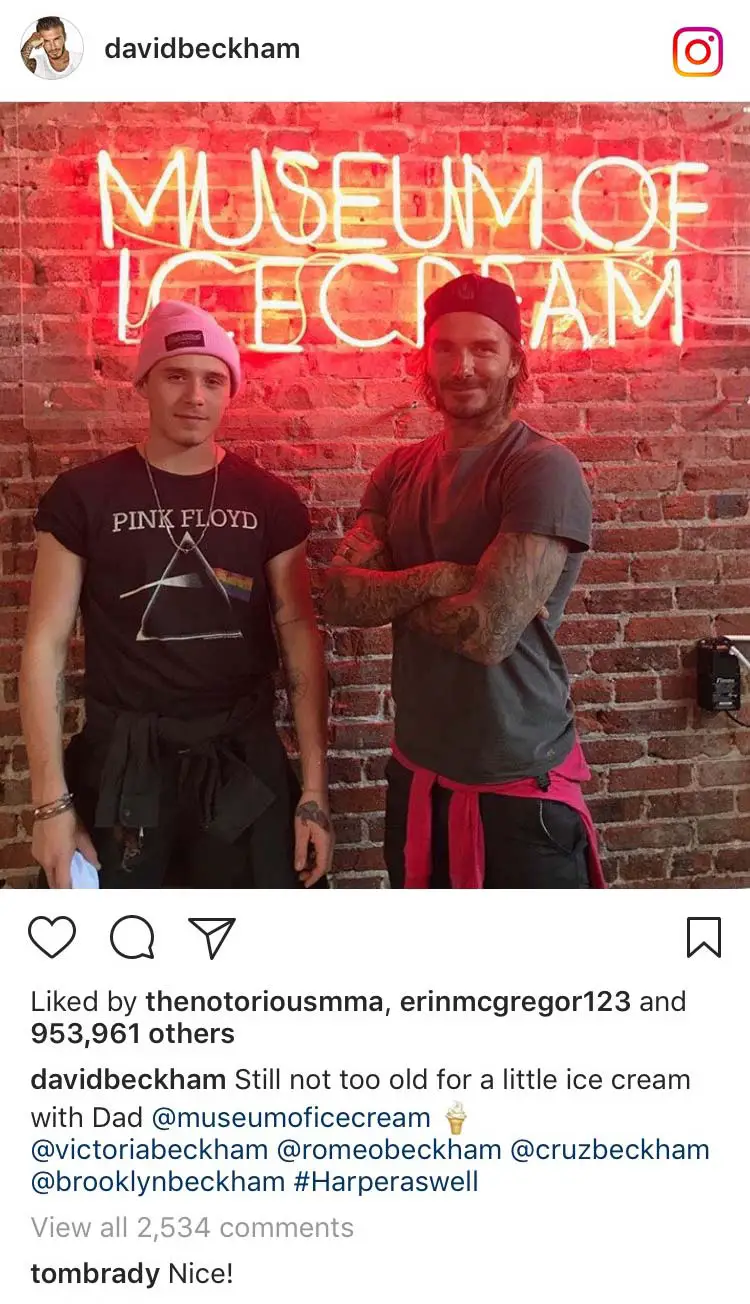 David Beckham posed with son Brooklyn Beckham outside the Museum of Ice Cream, which NFL footballer Tom Brady commented on! Photo Courtesy of @davidbeckham / Instagram
VIDEO: Easy Rider David Beckham Cruises Around LA On A Vintage Motorbike
David Beckham Trivia: David Beckham reportedly used to steal his Grandad's Calvin Klein Obsession after shave!