Disney's new live-action comedy Patrick saw lead actress Beattie Edmondson and her real-life mom, Jennifer Saunders, pose up with the pugnacious pug and her own Italian greyhound called Olive at the fun premiere in London.
Written by Paul de Vos, Vanessa Davies and Mandie Fletcher for Walt Disney Studios, the canine caper sees a spoilt Pug called 'Patrick' become the new furry friend of school teacher Sarah Francis played by Beattie Edmondson.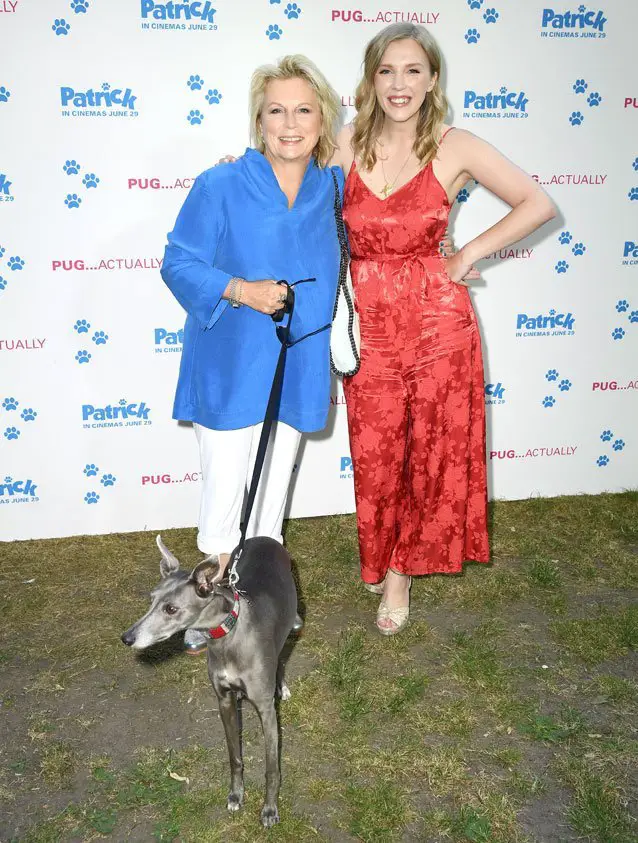 Beattie Edmondson, daughter of Jennifer Saunders and Adrian Edmondson, is also known for her role in the BBC comedy Josh and delivers the laughs as she tries to take responsibility of the cheeky pug, played by Harley the Pug.
This easy-watch movie also manages to give the audience a few lessons on responsible pet ownership as Sarah Francis learns the hard way to control her new pedigree chum!
VIDEO: The Official Disney PATRICK Trailer
Other celebs at the premiere included Gok Wan, Montana Brown showing off her legs, Olivia Cox and Emily Atack in a bright yellow blazer.
Directed by Mandie Fletcher, who also is behind Absolutely Fabulous, Blackadder and Only Fools and Horses, the film has the tagline "PUG..ACTUALLY", a play on the Richard Curtis romantic comedy Love Actually!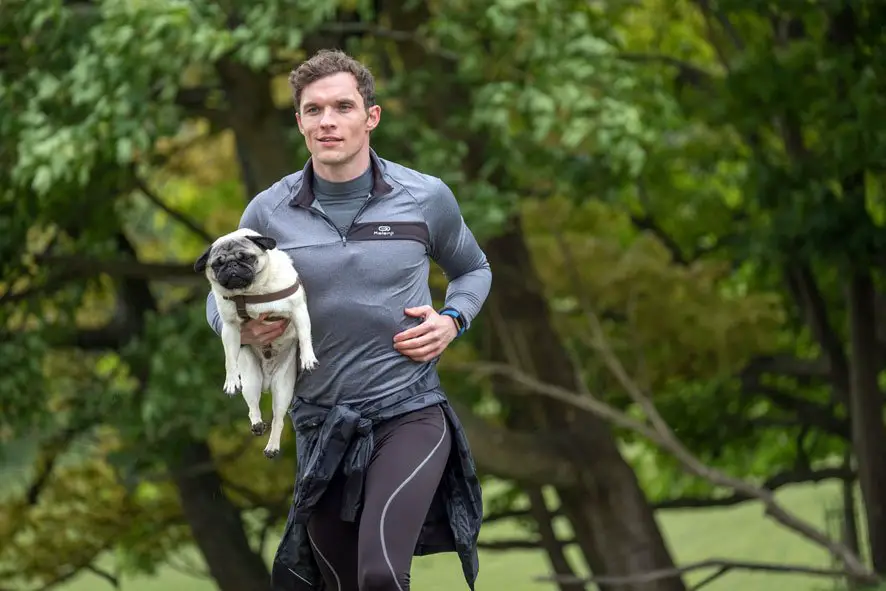 Game of Thrones star Ed Skrein who also played Ajax in Deadpool, stars as the Vet to Patrick with Olivia Buckland starring as Ed's receptionist in the Pugtastic movie.
Writer Paul de Vos, who also produced Patrick, is heading up several future projects and talked about his ultimate UK horror franchise titled Bloody London on Radio Dacorum. Listen to it HERE!
"Pug at First Sight!" Patrick was almost exclusively filmed in the picturesque South West London, with notable areas including: Richmond Park, Richmond Bridge, Richmond Riverbank and Turners View on Richmond Hill – the only view in the UK protected by an act of Parliament!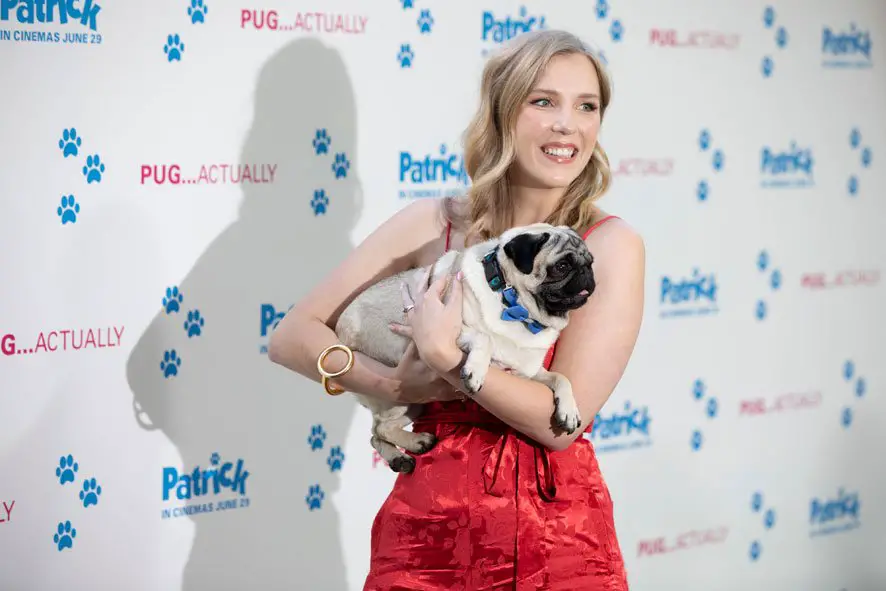 Other beautiful locations in and around London include: Knightsbridge, Hyde Park, Windsor, The Getty Estate, Hampton Court and Marlow.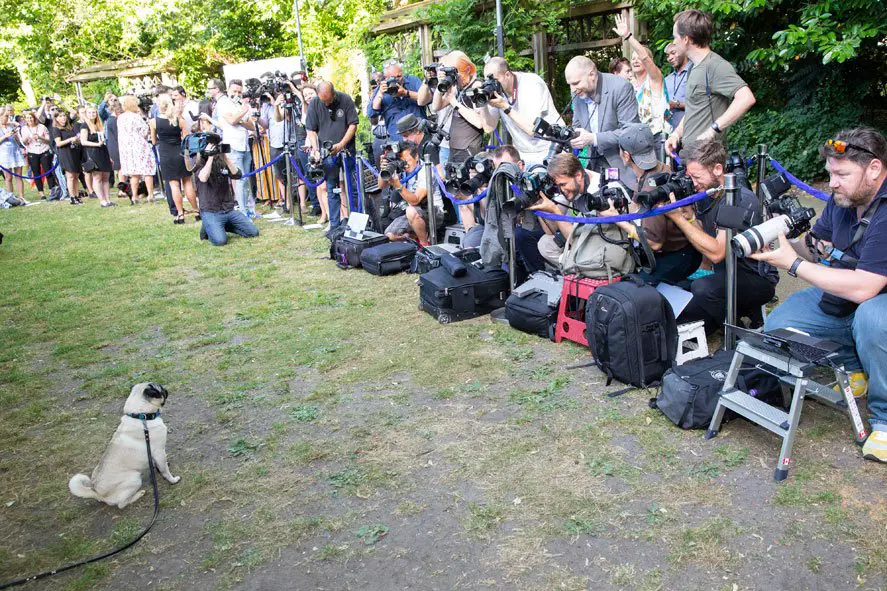 Ed Skrein was blown away filming in Richmond saying: "It is amazing being out in this beautiful part of London. I'm from East London and grew up in North London. I haven't spent much time in West London."
He continued, "But coming over here is just gorgeous. Instead of being interrupted by 10-ton lorries, we are being interrupted by geese.It's gotten to the point now where I am thinking of doing my summer holidays here in Richmond."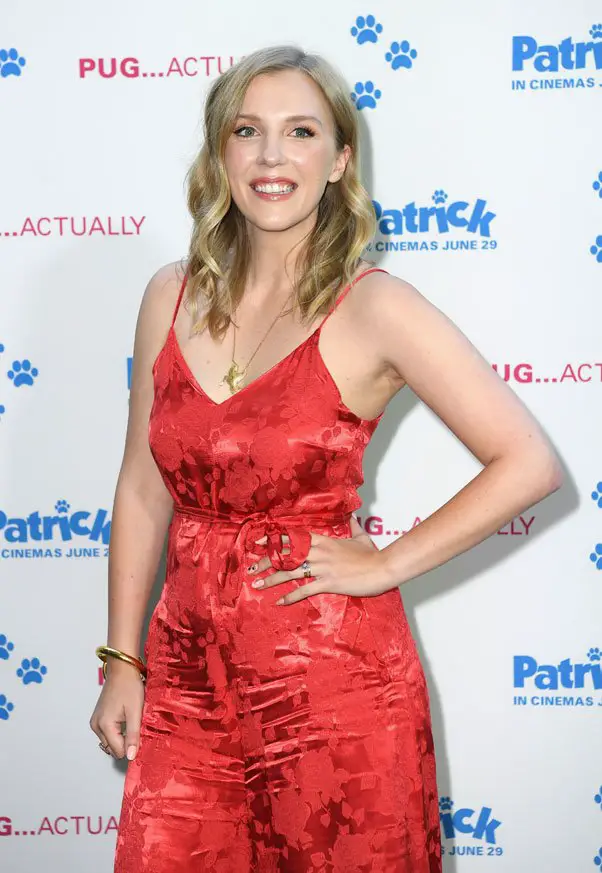 Actress Cherie Lunghi who plays Rosemary in the film has also enjoyed showcasing some of Britain's beauty: "I am going to wave the British flag. The really lovely thing about this movie is that it is a very British movie. It is lovely to have a film that shows off the sort of places that we are filming. We shot the other day in a lovely little church on the river near Windsor. It was so picturesque, so British, it is what people want to see."
Patrick Trivia: Ed Skrein wanted to be playground famous instead of being just remembered for dark roles. He said: "Most of my movies are for an older audience and so it's great to do a film that is kid-friendly, a project that my son can come and see with me. That will be a new experience. I watch all of the kid movies when they come out in the cinema and always think how great it would be to be in one, to be playground famous."