Orlando Bloom has cleared up our exclusive Celebrity WotNot picture of him with his eyes closed on a park bench in Vancouver, Canada explaining he was meditating!
Orlando Bloom wrote on the post:
#Tbt to last week…that's me #meditating not to be confused with #napping ? just prior to filming #needleinatimestack dropped into #vancouver to shoot for a week…ok…I may have also dropped off momentarily in this moment gotta love #jetlag look for the drool that's a sure sign I'm asleep…if you haven't tried it…I see #meditation as a kinda yoga for the mind not a spiritual practice exactly…it irons out the wrinkles in my mind and gives me band width to tackle my day…I actually like a meditate #nmrk kombo…on this occasion my day was a 6 page dialogue sc with the wonderful @leslieodomjr congrats on wrapping the movie you're gonna be fantastic in the film ????✌?
So it looks like we kind of got it right as he does admit "ok…I may have also dropped off momentarily in this moment"!
Katy Perry even commented on the picture posting "meme-able" to his account! In fact, the former couple looked like they are still close friends with the pair spotted paddleboarding in Santa Barbara last year… another Celebrity WotNot exclusive!
Exclusive: Katy Perry Orlando Bloom Paddle Boarding Couple Are Back Together! PICS
Orlando is clearly into his meditation and referenced #nmrk in his post. This stands for Namu Myōhō Renge Kyō, a central mantra in Nichiren and Tendai Buddhism which aims to eradicate negative karma and according to Wikipedia "attain perfect and complete awakening."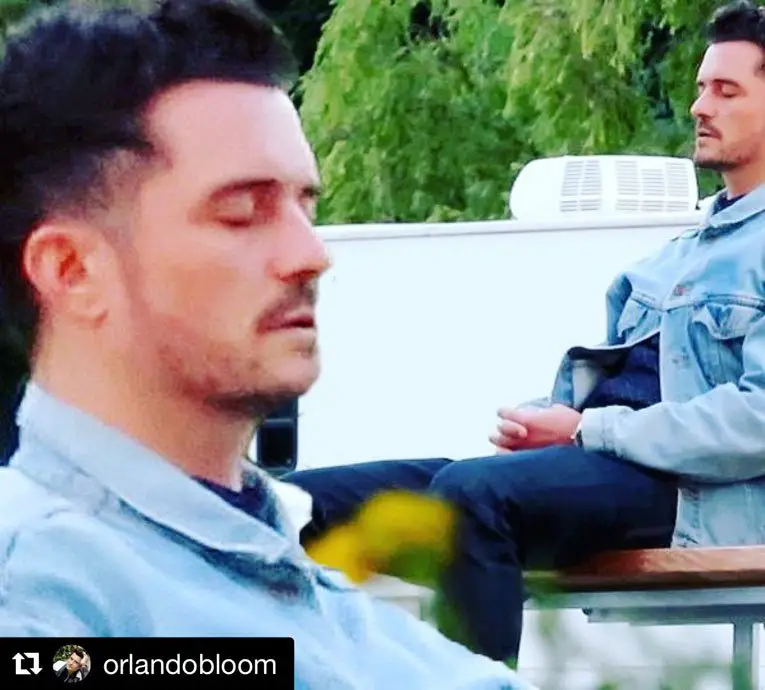 Orlando was taking a break in between takes on the film set of his new movie Needle In A Timestack where he filmed several scenes on a beach wearing a double-denim outfit.
Needle In A Timestack is a time-travel drama movie and also stars Slumdog Millionaire actress Freida Pinto.
Freida was snapped kissing and being consoled by Leslie Odom Jr. on the same film set of the new movie on a night shoot.
IMDb's synopsis of Needle In A Timestack is: "A husband whose marriage is destroyed by a time-travel rival and will do whatever it takes to get his wife back."
Needle In A Timestack is based on Robert Silverberg's book written in 1966 and is from a collection of short stories.
Orlando Bloom Trivia: When he was younger Orlando Bloom was discovered to be dyslexic and his Mom encouraged him to take drama classes. The rest is history!