The iconic Rosebud Motel where TV show Schitt's Creek is set has hit the market for $1.6million. The property — which is really called the Hockley Motel — is the backdrop for the Canadian sitcom and is located in the town of Mono, northwest of Toronto.
The current owner Jesse Tipping bought the property for $820,000 in 2012. The exterior of the motel was used for the Rose family's home in the show, which started in 2014 and stars Eugene Levy, son Dan Levy, Catherine O'Hara and Annie Murphy. Tipping said he would love to see the new would-be owners transform the place into a Schitt's Creek tribute motel in a nod to the Emmy-winning comedy series.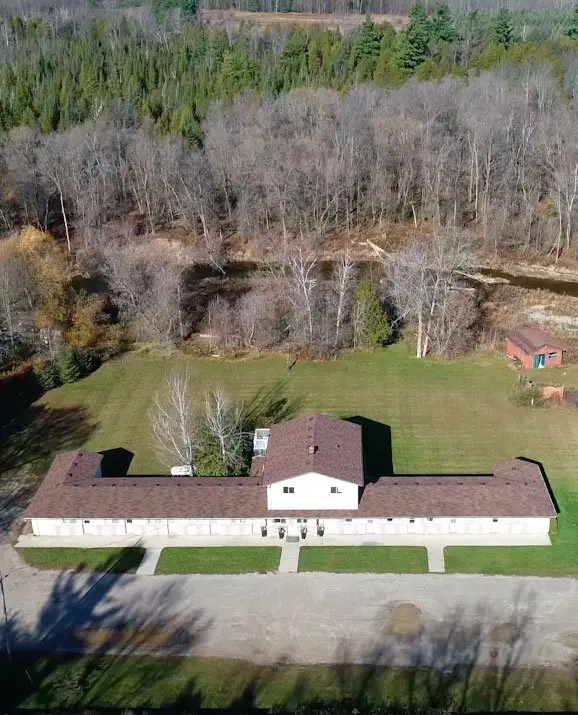 The motel sits on 6.7 acres along the banks of the Nottawasaga River. While on the show the motel is described as having nine rooms, in reality it is made up of six units complete with a bedroom and bathroom, set over 4,300-square-foot. There is also a two-story manager's suite that has three bedrooms and one bathroom.
The grounds are also home to a 700-square-foot detached guest cottage and barn with space for three horses. The exterior of the motel appeared in every single episode of the show, but the interiors were not used for filming; the interior scenes were filmed on a set that was built at various studios around the Toronto area. 'The building itself really matched what was in the mind's eye of the creative team. It was just a location that worked perfectly for us,' executive producer Andrew Barnsley told the Orangeville website.
You can also visit our Celebrity WotNot website for more great celebrity fun and FREE Celebrity pics for your blog, publication, social media account, or website: CelebritySessed