Kristen Stewart was pictured caught in a snowstorm in Park City, Utah but instead of wearing her winter jacket she opted to walk out in the snow in a leather biker jacket!
Wearing just a white blouse under her black biker jacket, Kristen wore her favorite Jillian Dempsey Punk Lock Necklace which costs a mere $1,750.00!
Kristen was pictured last year wearing the same necklace at the 2016 Sundance Film Festival wearing a Silence + Noise Long Quilted Bomber Jacket.
The Twilight actress talked to Deadline.com about her new short film Come Swim which follows "a young man's emotional pain as he is oversaturated and then parched by water" played by Josh Kaye.
VIDEO: Women's March Kristen Stewart, Zoey Deutch, Joshua Jackson March Through Park City, Utah
Kristen matched her leather biker jacket with black trousers with her grey socks tucked into her vintage Adidas sneakers with orange laces.
Kristen also wore oval sunglasses and had an orange beanie tucked into her jacket pocket as she carried a bottle of water with her to keep hydrated.
Kristen Stewart also fashioned a throwback retro tennis headband in the colors of the American flag – red, white and blue. Stepping out in the snow the actress turned director matched the headband with a black sports jacket and a sweater tied around her waist. See the pics here:
Last year Kristen Stewart starred on Saturday Night Live dropping the  F-bomb, calling out President Donald Trump and calling herself "So Gay"!
She even addressed her relationship with Robert Pattinson: "I'm a little nervous to be hosting because I know that the president's probably watching, and I don't think he likes me that much. Here's how I know. Four years ago, I was dating this guy named Rob — Robert — and we broke up and then we got back together and for some reason it made Donald Trump go insane."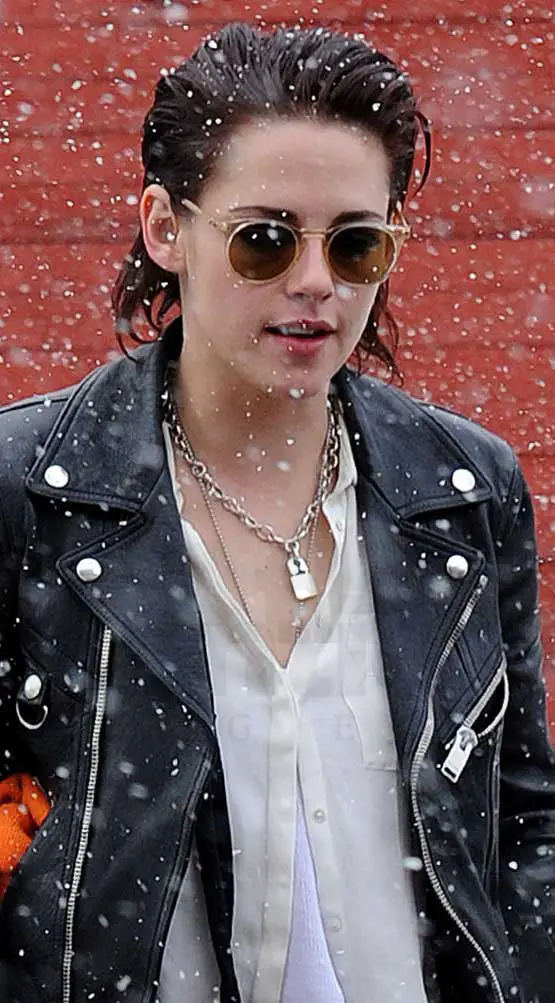 Kristen Stewart Trivia: According to IMDB.com her short film 'Come Swim' "was inspired by a painting in Stewart's garage which she painted".