Like Michael Jackson before him with his chimp, Bubbles, the Biebster once owned a primate. Mally, AKA OG Mally, is a small endangered capuchin monkey who was gifted to Bieber as a 19th birthday present by someone called Mally, all this according to the singer himself.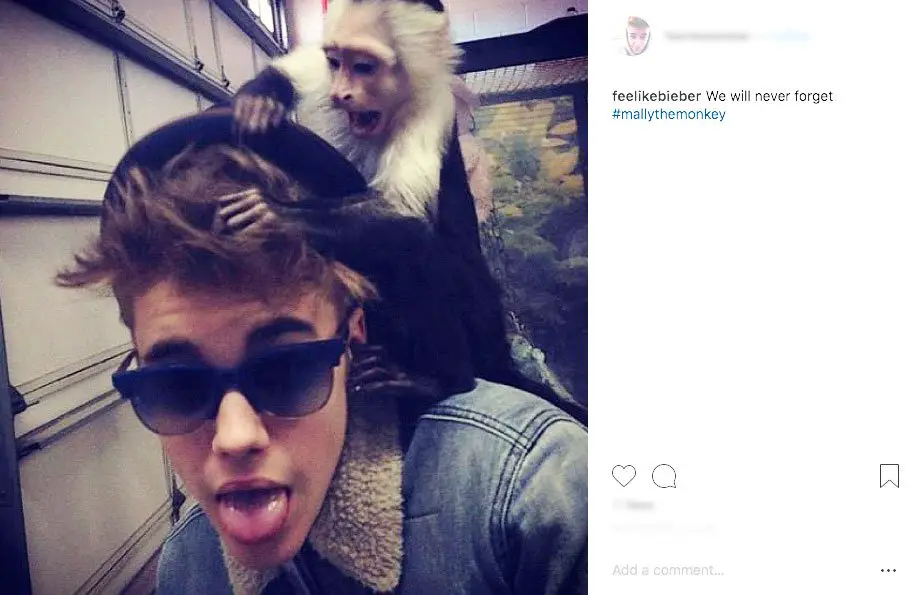 Less than two months into their relationship and against the better judgment of friends and family, Bieber took the monkey to Germany during his Believe Tour. Unfortunately, Germany has laws about monkeys, and Mally was confiscated at customs due to a lack of vaccination records or proof that the animal was purchased legally. Mally was then taken into quarantine until June 2013 when he was rehomed at the Serengeti Wildlife Park because no one came to get him.
The wildlife park was chosen because it is the only place in Germany with a group of capuchin monkeys that Mally would join. Mally's new home consists of a tree-covered island — dubbed "Mally-bu" — surrounded by a moat and equipped with a house for its seven resident capuchins. According to CNN, the German government billed Bieber $8,000 for the monkey's vaccinations and continuing care, but officials have said, he never paid up. The staff at Mally's new home believe he was probably purchased illegally on the black market. FACT: it is illegal to own a monkey in the state of California!
When asked about possible future monkey ownership by Caity Weaver who wrote the GQ article: "Yeah, one day. Just gotta make sure I got a house and it stays in the f****** house. I'm not gonna bring him to Germany or travel with it anymore. People are always like, 'Why did you get a monkey?' If you could get a monkey, well, you would get a f****** monkey, too! Monkeys are awesome."
VIDEO: What Happened To Justin Bieber's Monkey? A Scotsman Explains!
Mally is "healthy and seems to be quite happy," a representative for Serengeti Wildlife Park told babe.net, but he struggles to communicate with other monkeys. "He still has issues speaking the capuchin language. […] he was taken away from his mother and natural family way too early. He did not learn to be a monkey."

Karl Heinz Joachim of the animal shelter told CNN in April 2013 that Mally was about 14 weeks old when he was brought to the shelter and would have been only about 9 weeks old when he was reportedly given to Bieber. The shelter said in a statement that the 14-week-old animal shouldn't have been taken away from its mother until it was at least one year old.
There have been other pets too: Karma the bulldog. Bieber bought Karma as a puppy but he and his father allegedly left the dog with a trainer and never went back. The trainer told TMZ that Bieber's father, Jeremy Bieber, threw Karma off a balcony after the dog bit Justin's younger brother. The dog landed in a snowbank and survived. What happens when you throw a dog called Karma off a second-floor balcony? We will wait and find out!
In 2016, Bieber gave up another pet, a chow chow named Todd. The singer gave the dog to his dancer CJ Salvador. CJ then discovered the chow chow needed an $8,000 surgery as Todd had hip dysplasia, an abnormal formation of the hip socket that can eventually lead to serious issues. The dancer set up a GoFundMe page to raise money for the surgery, asking followers to donate instead of giving him a birthday present: CJ claimed the only other option was to put the dog down. He raised more than $8,500, thanks mainly to three large donations totaling $6,000 from a 'Jayden Smith'. We have not seen Justin's name on the contribution list, nor have we heard anything about a contribution to CJ directly.
Oh no! And then there was Pac The Hamster who lived in Justin's front pocket before being handed to an adoring fan in the front row at the Atlanta Jingle Ball show in 2013. The hamster passed away three months later and superfan Tori McClure told TMZ the cute Russian dwarf hamster began losing its hair and a visit to the vet could not save him. Writing on her Twitter page, Tori revealed Pac has gone to "little hamster heaven", adding: "He was OUR baby & @justinbieber I still can't thank u enough."
Does anyone have an update on Tuts? The scowling orange cat? Tuts has not tweeted since October 2014! #prayfortuts. And what about Esther? In 2015, the tiny puppy entered Bieber's life. We have requested an update on Instagram from @estherthecutie but we think Esther smells a rat.