Well…there it is! Jeff Goldblum has been turned into a gigantic statue on the riverbank of the Thames in London and it's becoming the selfie capital of the city.
Based on Jeff Goldblum's character, Dr. Ian Malcolm from Jurassic Park, the British TV channel NOWTV is behind the hilarious stunt.
They posted the first picture of a giant statue of Dr. Ian Malcolm lying injured on the dinosaur-populated Island on their Instagram account with the caption "Life…finds a way ??", one of the famous quotes from the iconic movie!
That's one big pile of…Jeff Goldblum! The statue was made for the 25th anniversary of Steven Spielberg's film and the city is flocking to get a pic with the wacky installation!
VIDEO: Ladies and gentlemen, we give you…#JurassicJeff ???
In another hilarious Jurassic Park spoof, some genius mixed together the scenes of Dr. Alan Grant, played by Sam Neill, resting on Ian Malcolm's chest!
In the original scene, he's lying on a sick Triceratops below:
NOWTV have really created a fun piece of movie history with Jeff himself posting on his Instagram "10/10 GOLDBLUMS! ⭐️⭐️⭐️⭐️⭐️⭐️⭐️⭐️⭐️⭐️ #JurassicJeff"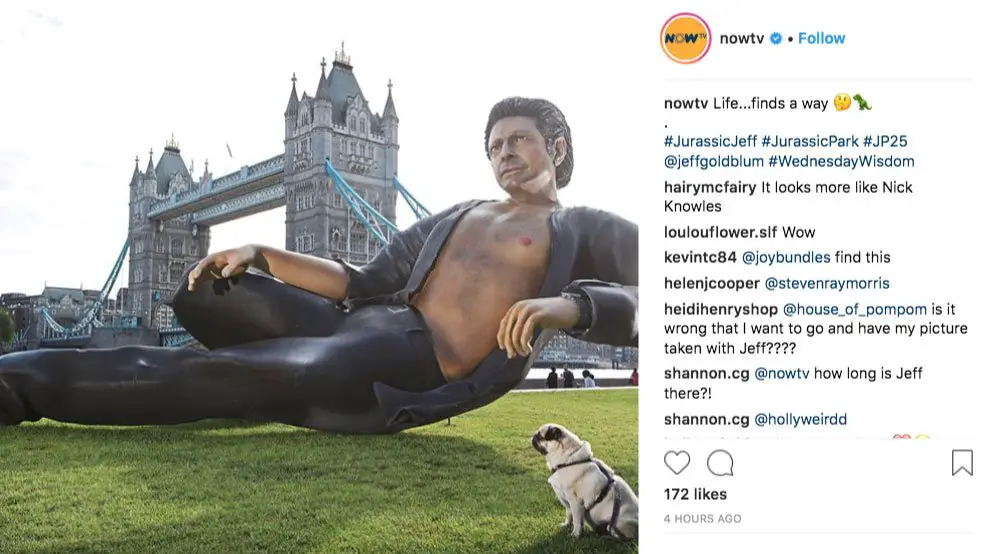 Jeff has recently been starring in the NEW Jurassic Park sequel titled Jurassic World: Fallen Kingdom. He's also got his hands full with two young sons after his wife Emilie Livingston gave birth in 2015 to Charlie Ocean and in 2017 to River Joe.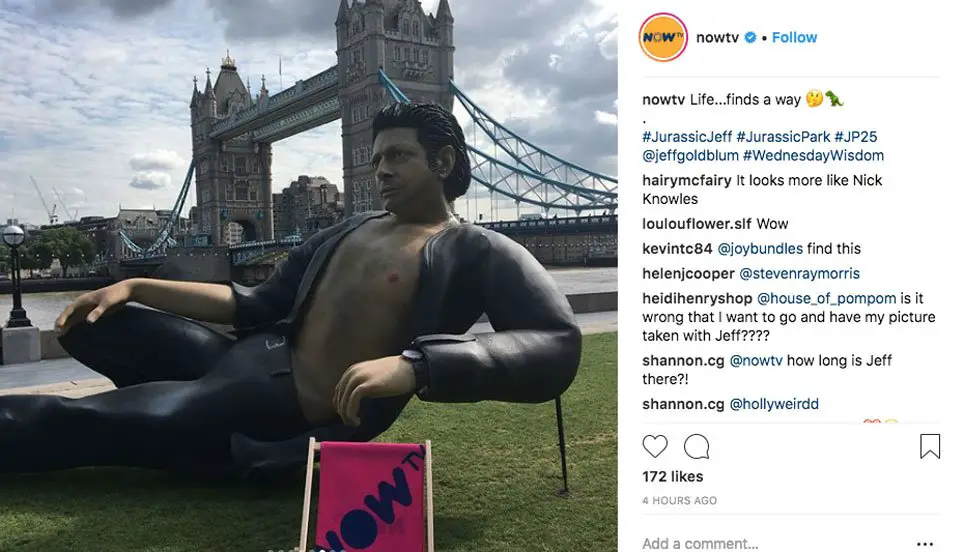 Not a lot is known about his wife but according to Wikipedia "Emilie Livingston was born on January 4, 1983, and is a Canadian dancer, aerialist, and contortionist, and retired Olympic rhythmic gymnast".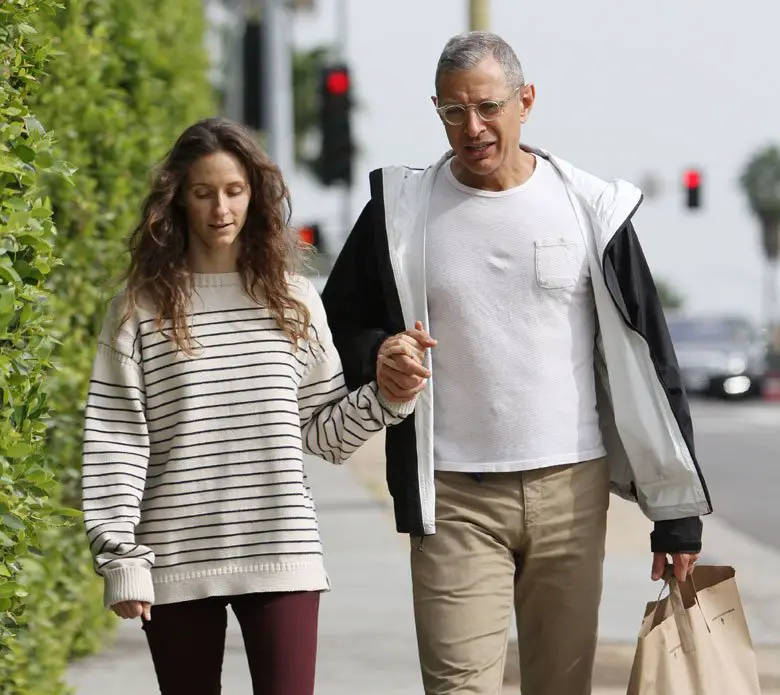 Emilie was also a body double for Emma Stone in La La Land. The Sydney Olympics contender helped Emma with aerial work on the Oscar-winning movie!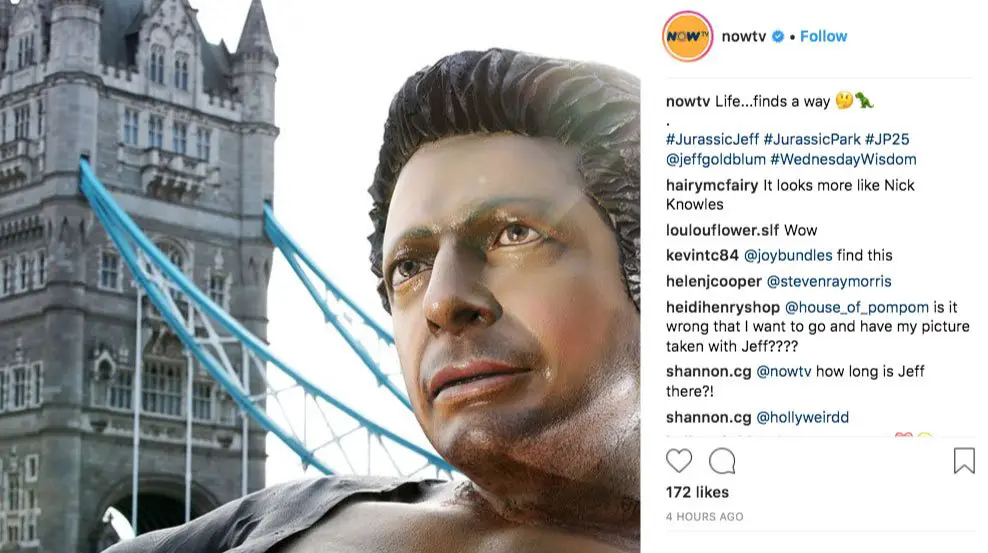 Pictured holding hands in Los Angeles, the couple married at the famous Chateau Marmont on the Sunset Strip in Hollywood on November 8th, 2014.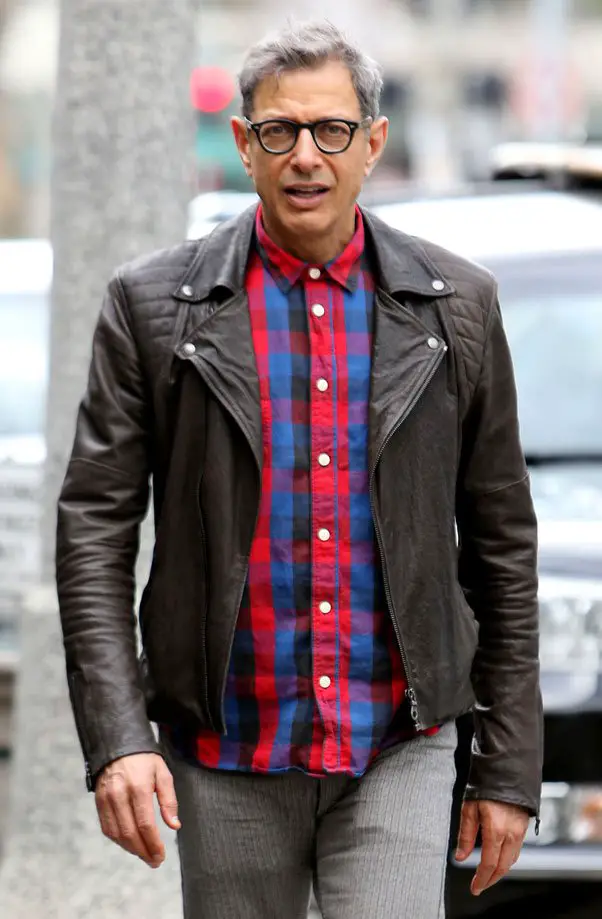 Known for his colorful, loud and patterned shirts, Jeff was spotted in Santa Monica wearing a trademark piece. He wore the red and blue striped shirt under a brown leather jacket after lunch in LA.
Jurassic Park Trivia: Jim Carey was considered for the role of Dr. Ian Malcolm! Johnny Depp, Ted Danson, Steve Guttenberg, and Michael J. Fox also auditioned!