A pregnant Katy Perry was spotted hugging a pillow over her bump as she departed Sydney International Airport.
The pop star looked cozy in a tight all black tracksuit with a hood and also fashioned white headphones and sunglasses.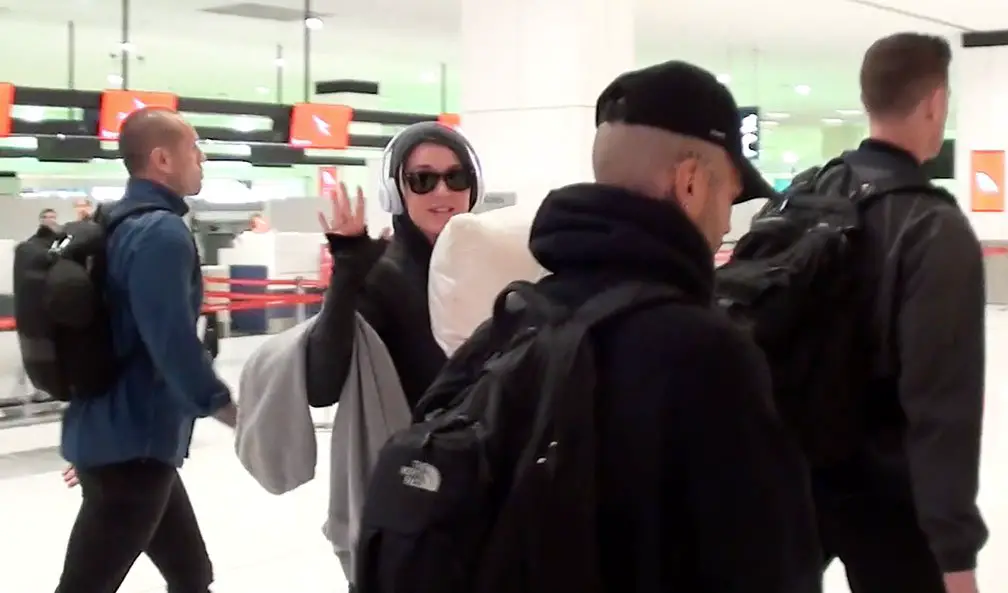 Katy also held another gray hoodie as she was joined by her entourage and security teams. Fans waiting to catch a glimpse of Katy Perry then wished her all the best saying, "Have a safe flight Katie", "Love you girl" and "Good luck to the baby". Katy waved at the fans and could be heard saying "Thanks guys love you."
VIDEO: Pregnant Katy Perry Hugs Pillow Over Bump As She Departs Sydney
Katy Perry was in Australia but cancelled her bushfire benefit shows after  the Coronavirus pandemic has hit the entire world.
In fact, she had to put herself into complete isolation after it was learnt that Tom Hanks and Rita Wilson were in the exact same Park Hyatt Hotel as her! They were there three days before Katy was! Tom and Rita confirmed they had tested positive for COVID-19 in Oz.
It is expected on her return to America, Katy will join partner Orlando Bloom after he was flown back from carnival Row in the Czech Republic, also because of the Coronavirus fears.
Did you know that Celebrity WotNot brok the story that Katy Perry and Orlando Bloom were back together as a couple after they split up? We spotted them paddle boarding together in 2017. Shortly after it was announced they were getting back together and now they are having a baby…congrats!
You can also check out our dedicated Katy Perry Gallery for FREE images of the singer to use on your website, blog, publication or social media account! See the pics here: Katy Perry Free Pics
Katy PerryTrivia: According to Wikipedia growing up, Perry and her siblings were not allowed to eat the cereal Lucky Charms as the word "luck" reminded their mother of Lucifer.