Miley Cyrus joked with her fans to buy her now retro Hannah Montana Hand Sanitizer posting a picture of the product on her Twitter account with the caption: "The only hand sanitizer that will defeat the Coronavirus" ?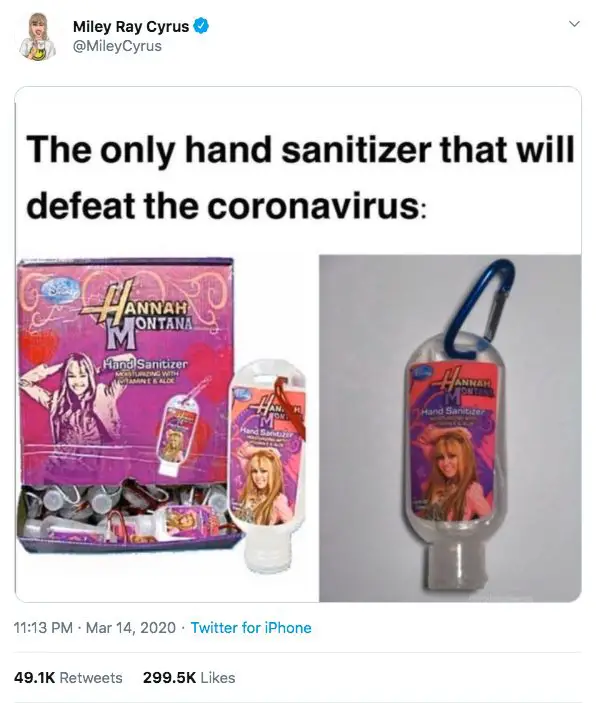 We've had a look if it's still available to buy and it looks like it was on Dollardays.com selling them wholesale for $475.20!! However you do get 360 units. Unfortunately it's no longer available to buy so some lucky person is smelling pretty nice at the mo.
Hannah Montana Hand Sanitizer: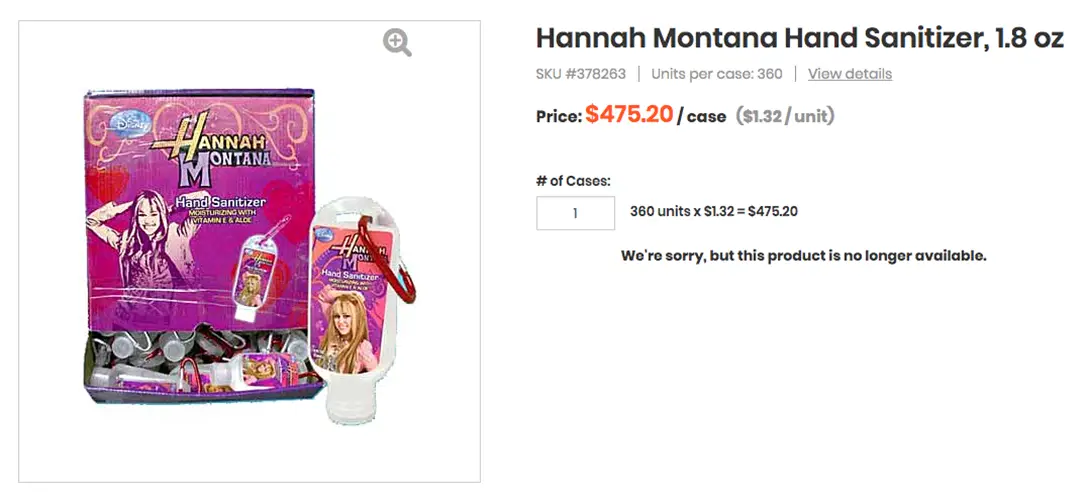 Starting with the comment "Mindfulness ✨ + music ? + puppies ? = pure joy ?" Miley is also hosting a regular IGTV slot titled "Miley Cyrus' Mindful Moments??" where "With the help of her furry friends, Miley is here to spread a little ☀️ while you #TakeABreak with our new series that will inspire you to slow down for a few minutes."
Mindfulness ✨ + music 🎶 + puppies 🐶= pure joy 🌈#TakeABreak with singer @MileyCyrus, right now on our IGTV. https://t.co/u9W0XMDJbS pic.twitter.com/YoEPm0KEMN

— Instagram (@instagram) March 26, 2020
She also posted about the hoarding situation during this Coronavirus Pandemic:
"Be thoughtful. Respectful. Compassionate. HUMAN. while preparing for social distancing…. NO ONE needs every soup in the store, The more we hoard the more expensive and sparse necessities will become, leaving many without essentials. This is a great time to practice restraint…"
Miley added:
"it's incredibly difficult to make smart decisions while panicking , but think twice before following the fear and being inconsiderate. There is enough to go around if we take care of one another. This is a beautiful time to LEAD!"
Check out more pics of Miley Cyrus on our FREE Celebrity Picture Galleries where you can use ANY of the images for FREE on your website, blog, publication or social media account:

Bored at home? Running out of TV shows to watch? Check out the "1001 Things To Do In Quarantine" Website Below!

Miley Cyrus Trivia: Miley isn't her birth name. She was born Destiny Hope Cyrus!