Kristian Nairn aka Hodor from Game of Thrones is actually a well-known DJ and was pictured recently at the Hakkasan Nightclub inside MGM Grand hosting an exclusive medieval Halloween celebration.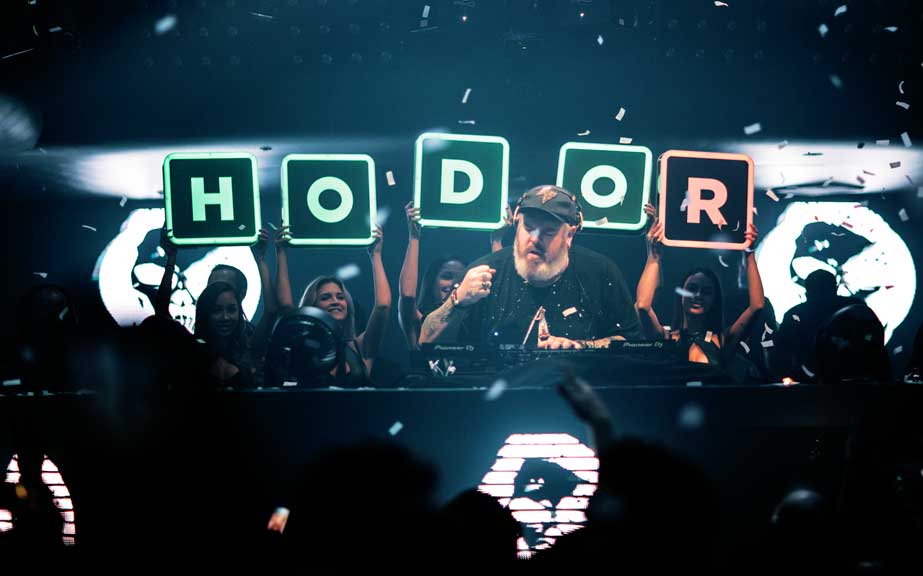 The 41-year-old actor rose to fame when he landed the role as the iconic giant in the hit HBO series.
This was actually his FIRST role in a major tv series as he was a professional DJ before he turned to acting!
The progressive house DJ from Northern Ireland now goes on tour and even hosts nights called 'Rave of Thrones'!
BUT the 6ft 11" star has also been turned into a doorstop after the amazing twist in Season 6 Episode 5 titled The Door.
VIDEO: Game Of Thrones' Peter Dinklage Braves Snowstorm at the Sundance Film Festival 2017
The fun Hodor door stops are all over the internet and are available on Etsy, Not on the High Street or Amazon: Hodor Door Stop
More news from GOT is that Kit Harington AKA Jon Snow and Rose Leslie AKA Ygritte from Game of Thrones have finally made their romance official in a typically British way – by announcing it in a small ad taken out in The Times London Newspaper. Check out the article above.
Hodor Trivia: Hodor's real name is Walder but he became known as 'Hodor' after he had what looked to be a seizure. This left him unable to say anything but 'Hodor' and his new name stuck.