Luke Wilson showed off his buff physique as he played fetch with his dog wearing only a towel in Santa Monica!
The Old School actor first dried off after spending the afternoon body surfing with a friend, baring the cool temperatures of the ocean.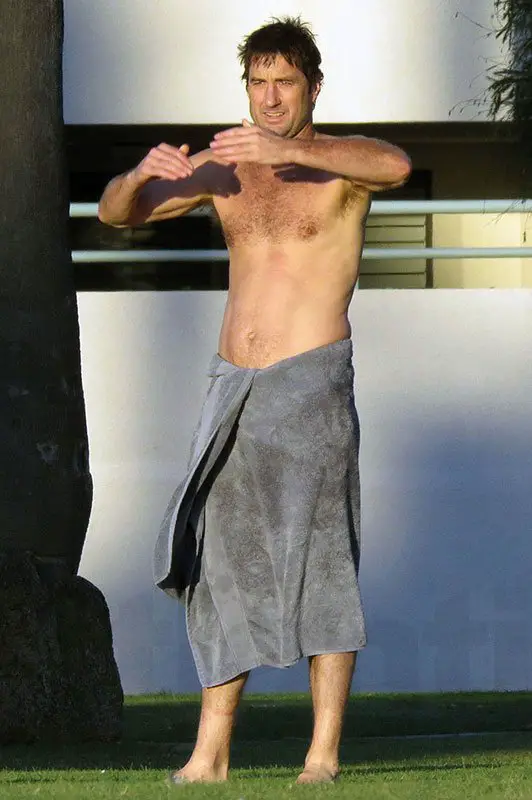 He spent thirty minutes swimming before returning for a game a fetch with his pet pooch who is called 'Brother'.
Luke looked in great shape as he body-surfed on the waves. He recently completed a film with Helen Hunt titled Ride where he played a surf instructor. 
Luke is currently filming a prison comedy with brother Owen Wilson. It marks the reunion of the brothers after 11 years filming apart.
Co-written by Luke Wilson and Buck Ritchey, the untitled film follows a thief who's been falsely accused and slapped with a life sentence thanks to his idiot lawyer!
Read the full article on Consequence of Sound here: Over a decade later, Owen Wilson and Luke Wilson Reunite For Prison Comedy
Check out the video below of Luke playing fetch with his dog, Brother: Celebrity WotNot Video Luke Wilson Plays Fetch with his Dog
As Luke rose to fame he appeared in the X-Files where he played a goofy cop in the episode titled Bad Blood! Check out what Luke looked like in the episode right here: Oh No They Didn't – The X-Files: 10 Stars Before They Hit The Big Time
In 2012 Wilson made a short film called Satellite Beach which has won a string of awards. It trails the Space Shuttle Endeavor as it moved through the Los Angeles streets to the California Science Center.
The documentary focussed on Warren Flowers, played by Wilson who believed he was in charge of the shuttle's journey…but he wasn't. Read the full article by Time Magazine here: Luke Wilson Satellite Beach
Luke Wilson Trivia: According to  Wilson's acting career began with the lead role in the short film Bottle Rocket in 1994, which was co-written by his older brother Owen Wilson and director Wes Anderson.