Former US President Barack Obama joined Prince Harry at the 2017 Invictus Games in Toronto, Canada! Barack joined Harry, who has been at the event all week, for the Wheelchair Basketball Final.
The arrival of the former US president caused quite a stir in the arena as word spread. Barack arrived with Joe Biden and his wife Jill Biden to watch the match courtside with the Prince.
Barack and Harry looked to be enjoying the game as they laughed and chatted on the sidelines, they later posed for pictures with the athletes and fans before leaving.
Harry's brother Prince William enjoyed a Royal Tour of British Columbia last year in 2016 with his wife Kate Middleton and two children, George and Charlotte. Check out the video of the family arriving in Victoria, Canada below:
William speaks French & Kate cheers up Prince George : THE ROYALS ARRIVE IN CANADA
Canadian Prime Minister Justin Trudeau was also in attendance and posed for a picture with Melania Trump and his wife Sophie Grégoire-Trudeau earlier in the week at the Invictus Games in Toronto, Canada.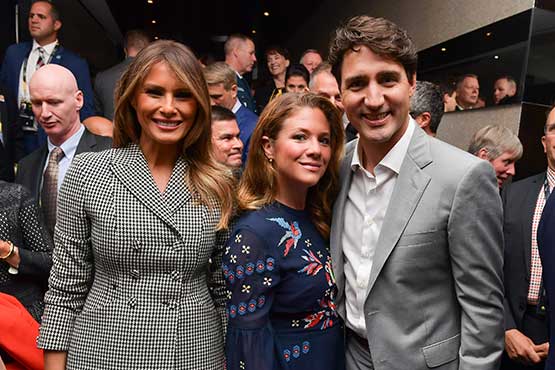 Prince Harry and Obama previously met in England at Kensington Palace during a dinner with Prince William and Kate Middleton. Prince Harry met first Lady Melanie Trump earlier in the week at the 2017 Invictus Games in Toronto.
Prince Harry Trivia: Prince Harry's full name is 'Prince Henry of Wales, KCVO'.