On-screen couple Andrew Garfield and Claire Foy were pictured in stitches of laughter as they arrived at the premiere of their new film Breathe in London at the opening of the British Film Institute's Film Festival.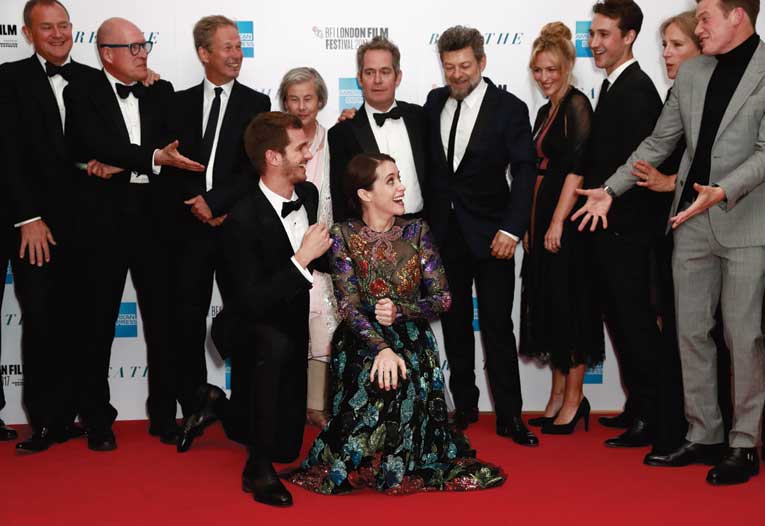 But it was the BFI director, Clare Stewart, turned heads at the event when she turned up in a bright eye-catching dress with several flaps sticking out.
The Mail Online even said it "bore a resemblance to a certain part of the female anatomy."!! Not stopping there director Andy Serkis then crouched down as they all posed for pictures and hid behind the dress with Claire Foy laughing and co-star Tom Holland looking a little bit confused with an awkward look on his face!
VIDEO: Johnny Depp Meets Tom Cruise in Hollywood
Breathe is the directorial debut of Andy Serkis who might be best known for his role as 'Gollum' in Peter Jackson's epic film trilogy based on J.R.R. Tolkien's books The Lord of the Rings. The film also stars Dean-Charles Chapman who plays Tommen Baratheon from Game of Thrones!
Here is the storyline of Breathe according to IMBD.com and Bleecker Street:
"When Robin is struck down by polio at the age of 28, he is confined to a hospital bed and given only a few months to live. With the help of Diana's twin brothers (Tom Hollander) and the groundbreaking ideas of inventor Teddy Hall (Hugh Bonneville), Robin and Diana dare to escape the hospital ward to seek out a full and passionate life together – raising their young son, traveling and devoting their lives to helping other polio patients. Written by Bleecker Street"
Andrew Garfield Trivia: Andrew Garfield's hobby is Philately which is the study of stamps and postal history!