Melissa Benoist returned to filming Supergirl fighting crime as she was pictured filming in Vancouver, Canada.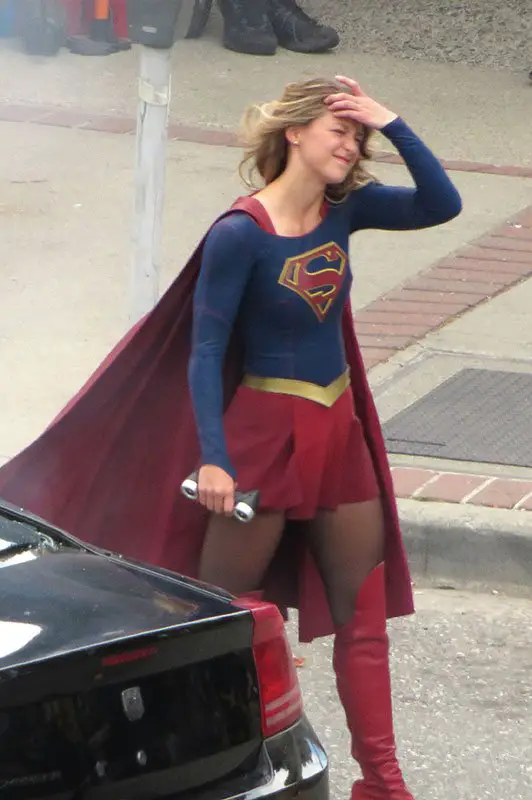 The hit CW TV show is back for the third season after the action-packed ending of Supergirl Season 2 with Supergirl and Superman facing off! Check out the pics of the super-cousins fighting each other here: Supergirl FIGHTS Superman in Season Finale 2×20 ?
Kara (Melissa) returned to National City for Season 3 and was seen wielding a weapon as she walked towards a forcefield in the city of New Westminster.
The scene involved a lot of damaged police cars and extras fleeing as the star returned to protect National City. Melissa recently started dating costar Christopher Wood although he was absent from the set. See our behind-the-scenes video below:
VIDEO: Melissa Benoist Returns to Film Supergirl Season 3 in Vancouver, Canada
We also have this cool video of Supergirl fighting a swamp monster seeing the superhero get SLAMMED into a bench! See the Video on our official Celebrity WotNot YouTube Channel below:
VIDEO: Supergirl Fights a Swamp Monster while director Kevin Smith hands out doughnuts!
Melissa Benoist clearly loves playing the role of Supergirl as she was spotted dancing around between takes on set of the hit CW show with a fellow costar!
VIDEO: Supergirl Actress Melissa Benoist Dances In Between Takes! 
Melissa Benoist was also overjoyed to be back working on set of the The CW television show as temperatures dropped in Vancouver, Canada. She had to keep warm by dancing off against her co-star Peter Gadiot who was playing the character Mr. Mxyzptlk. Check out the pics here: Video Of Supergirl's On Set Dance Off
Melissa Benoist Trivia: Growing up Melissa was a HUGE fan of Buffy the Vampire Slayer!